Blasting America's parents with the teen-shaking shout, "Go Johnny go!" Chuck Berry, dead at 90, taught the world to rock. It took the sly blueberry thrills of Fats Domino, gone at 89, to add the roll.
The absurdist red smoking jacket of Hugh Hefner, 91 ushered in a sexual revolution of pouty Playmates and upscale urges. It was Mary Tyler Moore, 80, who tore up that centerfold, proving that even sexier could be a spunky, single career woman on TV.
Apollo astronaut Gene Cernan, 82, was the last human to walk on the moon in 1972. Only six moonwalkers remain, but all left footprints, untouched in the lunar dust nearly a half-century later.
We lost teen heartthrobs like David Cassidy, 67, and Erin Moran, 56. And we lost the genial Gomer Pyle wisdom of Jim Nabors, 87, who soothed his fans with country humor, a gospel-perfect voice and visions of a homogeneous time gone by.
Everyone, from the most high-flying to the earthbound among us, leaves a mark, an echo, an imprint on those around them and those to come. And sometimes those influencers, whether superstar athlete, embattled world leader or a family's favorite relative, don't realize the impact they're having, the inspirations, learnings or complications they leave behind.
We lost gossip columnist Liz Smith, 94, whose coverage of a brash Manhattan real estate mogul helped invent Donald Trump. And activist Dick Gregory, 84, the groundbreaking comedian who helped break the color barrier on television and seemed to be on a perpetual hunger strike against injustice for the rest of his career
PHOTOS: People we lost in 2017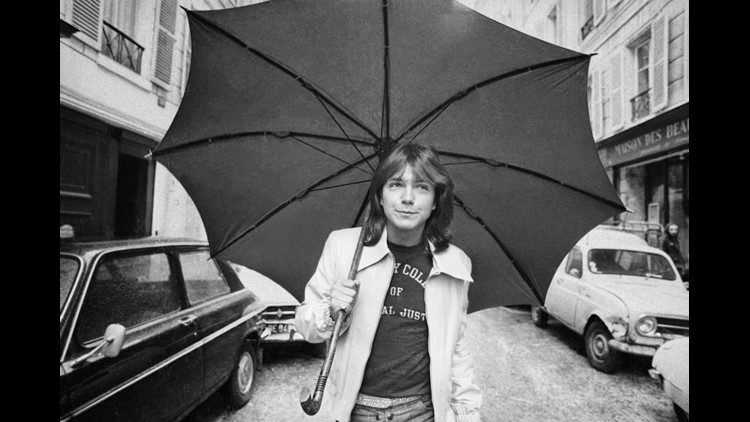 Here is a list of those we lost in 2017:
William Peter Blatty: January 12
Mary Tyler Moore: January 25
Richard Hutch: February 7
Norma McCorvey: February 18
Clyde Stubblefield: February 18
Aaron Hernandez: April 19
Chester Bennington: July 20
Richard Anderson: August 31
Walter Becker: September 3
Harry Dean Stanton: September 15
Penny Chenery: September 16
Jake LaMotta: September 19
Bernie Casey: September 19
Charles Bradley: September 23
Hugh Hefner: September 27
Robert Guillaume: October 24
Ann Wedgeworth: November 16
Malcolm Young: November 18
Jana Novotna: November 19
David Cassidy: November 21
Rance Howard: November 25
Jonghyun Kim: December 19
List compiled by Lindsay Maizland, TEGNA