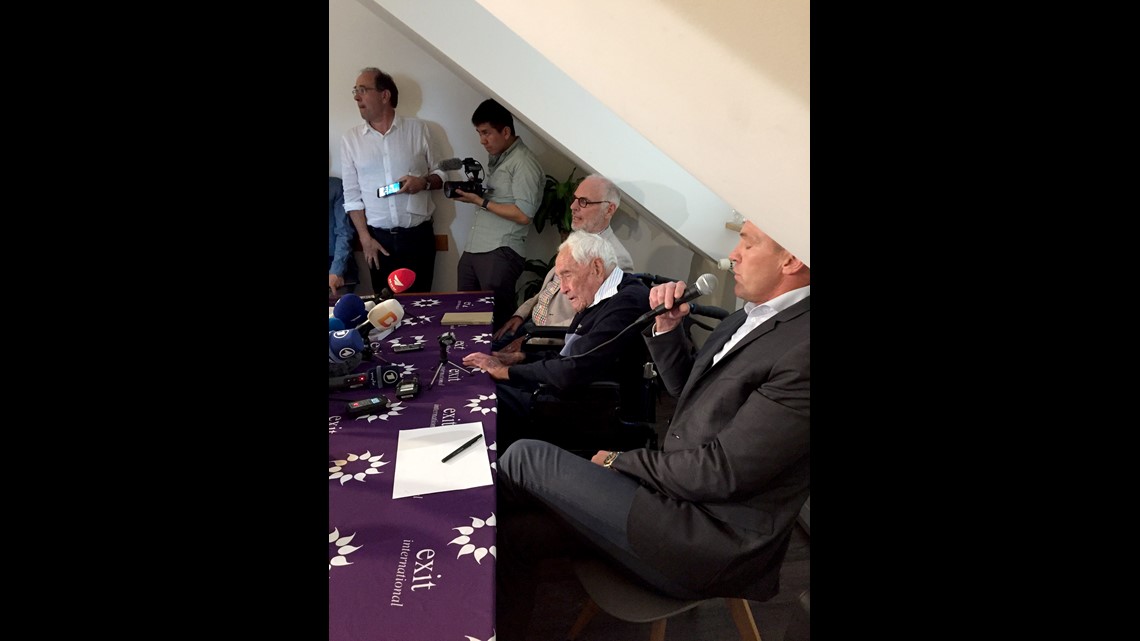 BASEL, Switzerland — A 104-year-old Australian scientist who flew to Switzerland this week to die in an assisted-suicide facility says he has no doubts about going through with his plan on Thursday and hopes his case will draw attention to the issue of aging and dying.
"My abilities and eyesight are declining, and I no longer want to live this way," David Goodall told reporters from a wheelchair at his last news conference.
Asked if he had any doubts, even fleeting, he said, "None whatsoever."
"I hope something positive will come out of my story and that other countries will adopt a more liberal view of assisted suicide," the renowned biologist and ecologist said. "I'd like to be remembered as an instrument for freeing the elderly to choose their own death."
At the end of the news conference, Goodall was asked what he would choose as his final song. He responded by singing in German Ode to Joy from Beethoven's Ninth Symphony.
Goodall, one of about 200 foreigners who come to die in Switzerland each year, isn't terminally ill but said after his birthday last month that he was motivated to take the final step because his quality of life has deteriorated, notably his lack of mobility.
"I am happy to have this opportunity, which I call the Swiss option," he said. "I just wish Australia offered me this possibility. But other countries lag behind Switzerland."
David Goodall ends his life on his terms in Switzerland
Goodall, who arrived in Basel on Monday, flew from his home in Perth, Australia, where assisted suicide is banned to Switzerland, where the practice is legal. He has arranged to die at the Lifecircle assisted-suicide center.
He said Wednesday he has had no pressure from his family to change his mind. "My grandson Daniel will be with me in the final hours," he said.
Assisted suicide is legal in a handful of countries, including Canada, Belgium and the Netherlands, but only applies to their own residents who have incurable diseases.
In the USA, assisted suicide is legal in Oregon, Vermont, Washington, California, Colorado, Hawaii and Washington, D.C. In Montana, medical aid in dying has been legal since a State Supreme Court ruling in 2009
Switzerland's right-to-die legislation, based on the constitutional right of each person to determine the manner of his or her death, is much broader. It doesn't exclude foreigners and gives patients the option to end their life if they have psychological or physical problems associated with age.
The Swiss Academy of Medical Science said this year the right to die should be extended to those who are not terminally ill but live with intolerable pain.
Dignitas, one of Switzerland's three assisted-death groups, told USA TODAY in a statement that Goodall's decision is "the consequence of the absurd Australian law, upheld by ignorant politicians, which denies people like Mr. Goodall access to legal, humane and compassionate end-of-suffering options."
Ruedi Habegger, co-founder of Eternal Spirit, another right-to-die group, said Australia's refusal is "an atrocity." Goodall "should be able to die at home in his bed, like we can do here in Switzerland," he told Swiss media this week.
Goodall, described by the right-to-die group Exit International as its first member, said he tried clumsily to take his life himself at least three times — and then finally decided to get professional help.
Goodall is an honorary research associate at Edith Cowan University in the West Australian capital of Perth and has produced more than 100 research papers and earned three doctorates. In 2016, at 102, the university ordered him to leave his office, calling him a safety risk to himself. Goodall challenged the decision, which was reversed after an outpouring of public support.
Earlier this year, however, Goodall fell while at home alone in his one-bedroom apartment and remained on the floor for two days until he was found by his cleaner, according to The New Daily.
Afterward, Goodall said he was considered incapable of looking after himself. Moreover, most of his friends were dead.
"Up to the age of 90 I was enjoying life, but not now," he said. "It has passed me by, and I have done the best I can with it."
His final news conference Wednesday was aimed at drawing attention to his desire to end his life in hopes that countries such as Australia change laws to be more accepting of assisted suicide.
"His story of elective, rational suicide by the elderly is an important one," said Philip Nitschke, director of Exit International, a right-to-die organization in Australia and other countries where assisted suicide is illegal.
On Thursday, a friend will accompany Goodall to Lifecircle, where he is to receive a fatal dose of barbiturates. The lethal cocktail is normally ingested, but since Goodall can't swallow, the substance will be injected intravenously. Goodall himself will have to open the valve that releases the liquid to comply with Swiss law that bans the interference of third parties in this process.
"The supply of the drug will be filmed. This is the only reliable evidence that the (patient) has executed the application himself/herself and in full awareness," Lifecircle explained on its website.
"Falling asleep occurs within a few minutes. Death usually follows within half an hour," the group said.
Some religious groups and others have spoken against the voluntary death. In 2016, a Swiss bishop told Catholic priests not to give last rites to people seeking assisted suicide.
No one can financially benefit from an assisted suicide, and patients must be mentally capable of making the decision and not be coerced by someone else. A Swiss doctor was to question Goodall to make sure he is of sound mind and his wish to die is well thought out.
A Zurich University study several years ago said most Swiss want autonomy when making end-of-life decisions. The number of people joining voluntary death organizations and choosing assisted suicide has increased sharply in the past few years.