DALLAS — Multiple grass and brush fires across North Texas burned several acres - including some homes and businesses - as an elevated fire risk continued on Tuesday. Dry conditions, warm temperatures and gusty winds helped drive many of the fires that burned within Grayson, Hood, Palo Pinto, Tarrant and Wise counties.
Over the last week, the Texas A&M Forest Service said that state and local resources have responded to 176 wildfires that have burned just over 8,400 acres.
In preparation for wildfires, the Forest Service said it has fully-staffed task forces and equipment staged in Childress, Amarillo, Lubbock, San Angelo, Burkburnett, Fredericksburg, Smithville, McGregor, San Angelo and Mineral Wells.
The Forest Service is asking all to avoid any outdoor activities that could cause a spark while warm, dry and windy conditions are present.
This is a developing story and will be updated as new information becomes available.
GRAYSON COUNTY
The so-called Sandusky fire is currently about 800 acres and 40% contained. Grayson County is just north of Collin County, on the border of Oklahoma.
According to the Forest Service, aviation crews have been called in. Officials are asking for people to avoid flying drones at this time, as it can interfere with firefighting aircraft and force them to land.
HOOD COUNTY
Four fires burned through Hood County on Tuesday, near Granbury, threatening multiple structures. Collectively, 50 acres burned across the four incidents, two of which were believed to have been caused by welding.
In all, two homes were lost. All but one of the fires have been 100% contained.
Officials are asking for people to stay away from the areas where there are working fires:
Meander Court Fire - 100% Contained
Location: Hood County 1909 Meander Ct.
Acreage: 2 acers
Structures Threatened: 7
Structures Saved: 7
Home Lost: 0
Cause: Welding started the fire
Katie CT Fire - 90% Contained
Location: Hood County Katie Court Oak Trail Shores
Acreage: 5 acers
Structures Threatened: 22
Structures Saved: 20
Homes: Lost 2
Cause: Fire Still under investigation
Will Walter Fire - 100% Contained
Location: Hood County/ Will Walters and Mambrino Hwy
Acreage: 40 acers
Structures Threatened: 64
Structures Saved: 60 homes
Structures Lost: 4 buildings
Cause: Fire Still under investigation
Double T Fire - 100% Contained
Location: Hood County Double T Ranch
Acreage: 2 acers
Structures Threatened: 0
Structures Saved: 0
Structures Lost 0
Cause: Welding Started the Fire
PALO PINTO COUNTY
Texas A&M Forest Service said it is responding to Palo Pinto County on the Panama Fire. The fire is an estimated 177 acres and 0% contained.
The Forest Service said large airtankers are currently assisting with retardant drops on the fire.
TARRANT COUNTY
A large grass fire in Kennedale, in southern Tarrant County, burned between 75 to 100 acres Tuesday afternoon.
Crews from 16 North Texas fire departments rushed to the area and within three hours had contained a 4-alarm fire, said Everman Fire Chief Landon Whatley.
Whatley said a 911 call around 1:30 p.m. reported the fire in the 6900 block of Hudson Village Creek Road.
That area is heavily wooded with train tracks and a main power transmission line running through it.
Wind gusts of up to 40 miles an hour caused the flames to quickly spread and thick smoke to envelope much of Kennedale.
Firefighters evacuated several homes and worked to save 15 structures that were in danger.
One business, Riley Machine and Welding, did catch fire.
WFAA photographer Josh Stephen reported sounds of intermittent explosions coming from that machine shop.
"We were very apprehensive of sending guys in," Whatley said. "We did have reports there were 5 to 10 acetylene torch canisters and 5 to 10 oxygen cannisters from the welding supply. We did get with the owner and he gave us a map of where they were."
Whatley said his crews worked with Oncor to shut down power to the welding shop and contacted local railroad authorities to stop train traffic.
By 4:45 p.m., the fire was contained.
No injuries were reported, and Whatley estimated about 70 percent of the machine shop was saved.
It's unclear what sparked the grass fire, but Whatley said conditions remain ripe for flare ups.
He urged caution and said crews would remain on "fire watch" all night.
"Anything, even the smallest spark can set something like this off," Whatley said. "Even a cigarette butt can make this happen."
WISE COUNTY
Forest Service crews are now reporting to the Gate C fire, near Bridgeport, which is about 70 acres and 0% contained. However, officials said it appears that the "forward progression" of the fire has stopped.
This fire started on County Road 3420 and is 10 miles to the west of the fire from Monday, which burned 250 acres.
Crews are working on hot spots right now and maintaining fire lines.
BURN BANS IN PLACE
Burn bans are in place for several North Texas counties, including Comanche, Eastland, Ellis, Erath, Jack, Johnson, Hamilton, Hood, Montague, Navarro, Palo Pinto, Parker, Somervell, Stephens, Tarrant, Wise and Young.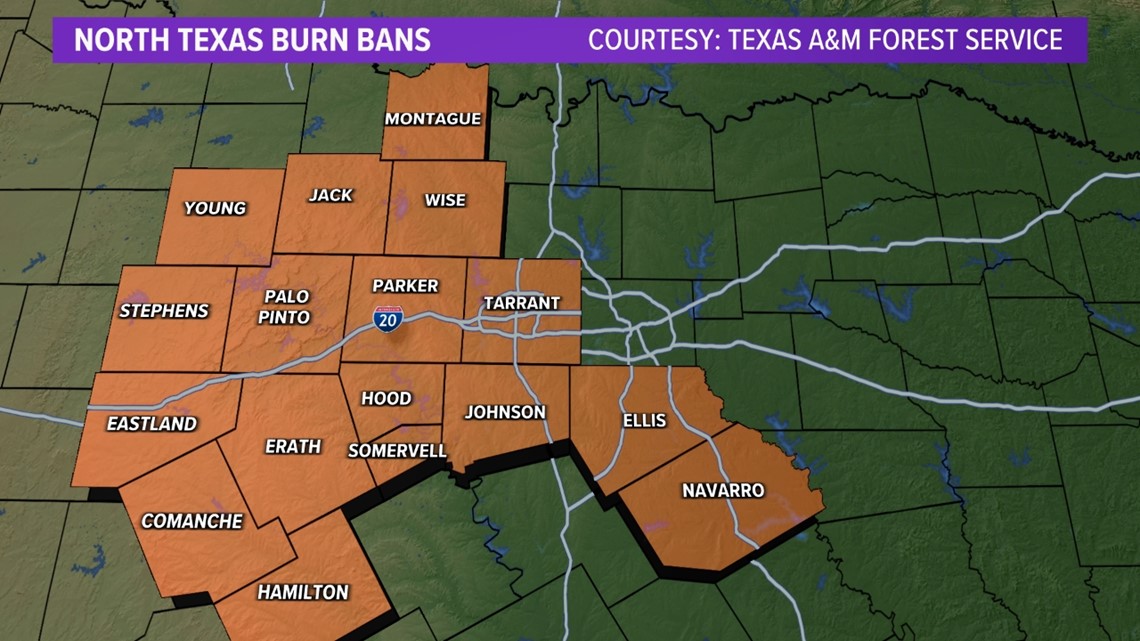 WHEN WILL IT RAIN?
A round of storms will move from west to east across the area during that time. The severe weather risk does not look high, but it is not impossible to have some strong to severe storms during that time.
The main severe threat looks to be damaging wind gusts. However, if we get a line of storms, can't rule out a brief spin-up tornado within that line of storms.
Rainfall totals with this storm system do not look too drought-busting, but we'll take whatever we can get. North Texas could see a quarter to three-quarters of an inch of rain, with more to the northeast.
After the cold front moves through, temps will be much cooler for the end of the workweek. Highs on Thursday and Friday will only be in the 50s.