PALO PINTO COUNTY, Texas — A large wildfire has destroyed eight structures, including homes, and burned hundreds of acres near Possum Kingdom Lake in Palo Pinto County as crews continued to work on extinguishing it Tuesday morning.
The fire didn't see much growth overnight; officials reported it was still at 500 acres and 10% contained, as crews spent the night creating a large fire break along the perimeter of the fire.
Farm-to-Market 1148 east of Chapel Road was closed and evacuated Monday as the fire moved quickly north. Officials say at least eight structures were destroyed, but no one has been hurt.
"We've been pretty busy," Adam Turner with Texas A&M Forest Service said. "This is our second fire of the week and it's Monday."
The fire is happening about 75 miles northwest of Fort Worth on the northern side of Possum Kingdom Lake.
As of 7 p.m. Tuesday, the Texas A&M Forest Service says the fire has still burned 500 acres and is 10% contained.
The forest service also added that there were voluntary evacuation orders.
Turner said a major concern is that fuels like grass and trees are the driest they've been since 2011 when the homes around Possum Kingdom Lake were devastated by a fire, and this week it's likely dryness levels will set a new record.
"That's really, really dry," Turner said. "It's going to continue to dry out."
Helicopters and planes from as far as California were called in to assist in putting out the flames. Turner said the lake cut water reload time from as high as 15 minutes on a typical fire to just 30 seconds.
Keith and Vee Hanssen watched the crews and the flames from their boat on the lake.
"It's very intense when you can see it from the water's edge," Keith Hanssen said.
'It's scary," Vee said. "We pulled up to docks to talk to people just to see how they were doing."
The couple has been on the lake since 1996 and know many of the few permanent residents, but they also own Possum Kingdom Real Estate and sold homes all around the lake.
"A lot of clients and a lot of friends," Keith said. "We're trying to send them pictures and updates and the unknown is always the worst part of it."
Around 5 p.m., the plume of smoke from the fire was visible 30 miles away. Texas A&M Forest Service said in the evening bulldozers would work to build a perimeter around the fire. Extreme heat made it difficult for firefighters to get close to the flames, instead focusing on attacking from the air.
Wind, fortunately, pushed the flames north and west onto hilly, wooded and unpopulated land which saved structures, but made air runs tougher.
"It does add another factor," Turner said. "It makes it more complex. The pilots are having to work harder to focus more on how to maneuver up and over and around those hills."
As the fire was 0% contained through most of Monday, crews warned residents should prepare to flee if needed.
"The ranchers are worried," Vee Hanssen said. "The lake – everybody's worried."
"They should definitely pay attention," Turner said. "Keep aware of what's going on."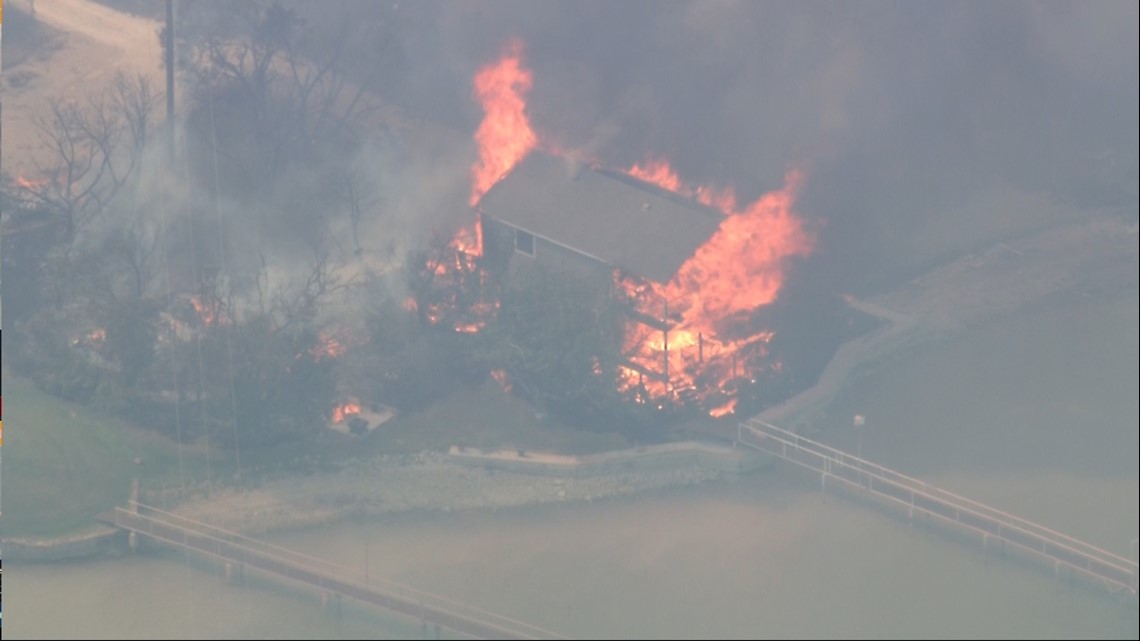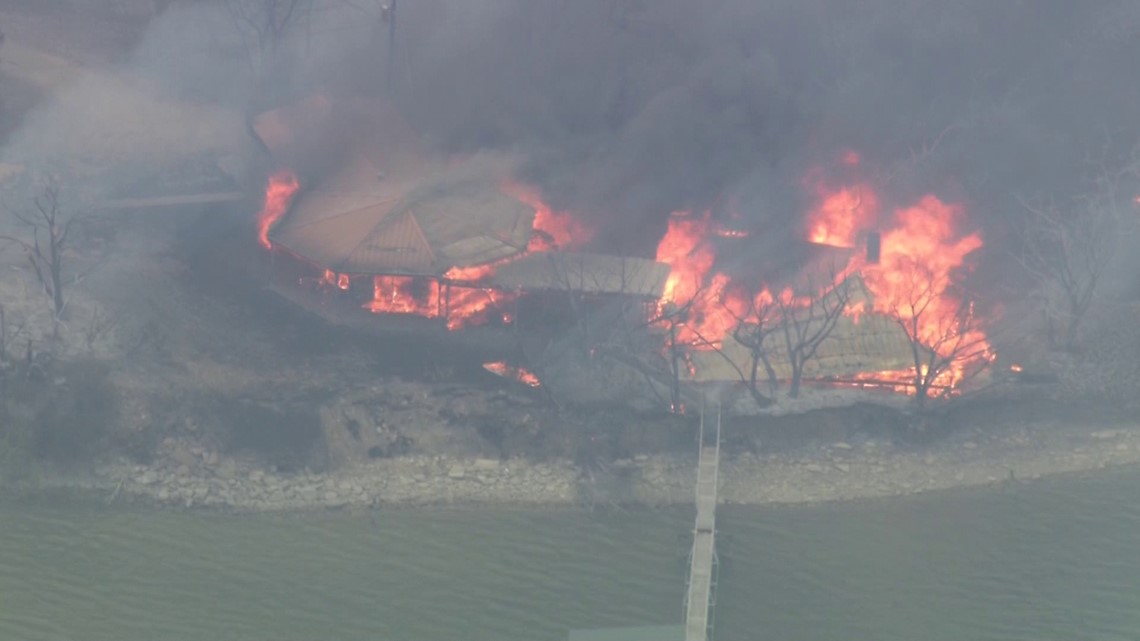 This is a developing story and will be updated as more information is released.