WFAA's Santa's Helpers is celebrating its 48th year of collecting holiday toys for children throughout the Dallas/Fort Worth counties of Dallas, Tarrant, Collin and Denton.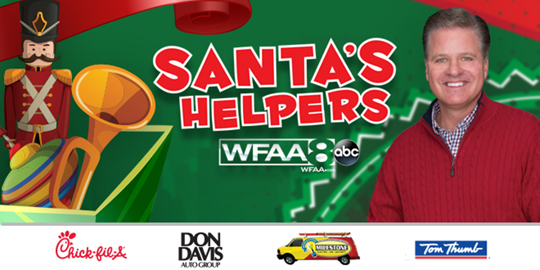 The 2017 Toy Drive is November 24 through December 20, 2017. The 2017 Santa's Helpers campaign is generously being sponsored by Chick-fil-A, Don Davis Auto Group, Milestone Electric and Tom Thumb.



#WFAASantasHelpers
This year, Santa's Helpers will host 5 drive-thru events including:
Tuesday, December 5 - Colleyville Drive-Thru
Colleyville Heritage High School
5401 Heritage Ave.
Colleyville, TX 76034
5:00 P.M. - 8:30 P.M.
Thursday, December 7 - McKinney Drive-Thru
Historic Downtown McKinney
111 N. Tennessee Street
McKinney, TX 75069
5:00 P.M. - 8:30 P.M. (West side of McKinney Performing Arts Center building)
Monday, December 11 - Fort Worth Drive-Thru
Fort Worth Zoo
1989 Colonial Pkwy
Fort Worth, TX 76110
5:00 P.M. - 8:30 P.M.
Tuesday, December 12 - Don Davis Drive-Thru
Don Davis Auto Group
1903 N. Collins St.
Arlington, TX 76011
5:00 P.M. - 8:30 P.M.
Friday, December 15 - Dallas Drive-Thru
WFAA Victory Park Studio
3030 Olive, Dallas, TX 75201
5-10:30pm (northwest corner of Houston and Olive)
NOTE: Santa's Helpers accepts new, unwrapped toys for children aged infant through teen.

Toys can be dropped off at WFAA sponsor locations through Dec. 18th.
· Chick-fil-A
· Don Davis Auto Group
· Milestone Electric
· Tom Thumb

Over 25 community service organizations throughout the Dallas/Fort Worth area (Dallas, Tarrant, Collin and Denton counties) are approved to distribute toys to needy children, age infant through teen.
Some of these community service organizations and agencies which are approved by Santa's Helpers include: Adventure & Victory Youth, Inc., Assistance Center of Collin County, Community Partners of Dallas, Compassionate Hearts Givin Back, Cowboy Santa's, Dallas County Community Action Committee, Dallas International Street Church, Denton County Toy Store, Family Care Connection, Frisco Family Services, Genesis Women's Shelter, GRACE, Hope's Door, Inspired Vision Church, Martin Luther King Jr. Community Center, Metrocrest Social Services, Mission Arlington, New Millennium Bible Fellowship, Northside Intercommunity Agency, Inc., Safe Hands, Salvation Army of McKinney, Sharing Life Community Outreach, St. Philips School and Community Center, Texans Can, The Chocolate Mint Foundation, United Universe, Inc., West Dallas Multipurpose Center, Westmoreland Heights Community Center, Youth World.
All agencies within the Santa's Helpers program are approved based on their ability to coordinate applications from needy families, access the Pieces Iris database for cross-referencing of clients, and to adequately cover zip codes in areas where there is the most need.

COMING SOON