Everything North Texans should know about the upcoming May 6 elections
While not as big as a November election, the May election will still find North Texans making some big decisions between its municipal and school board votes.
WFAA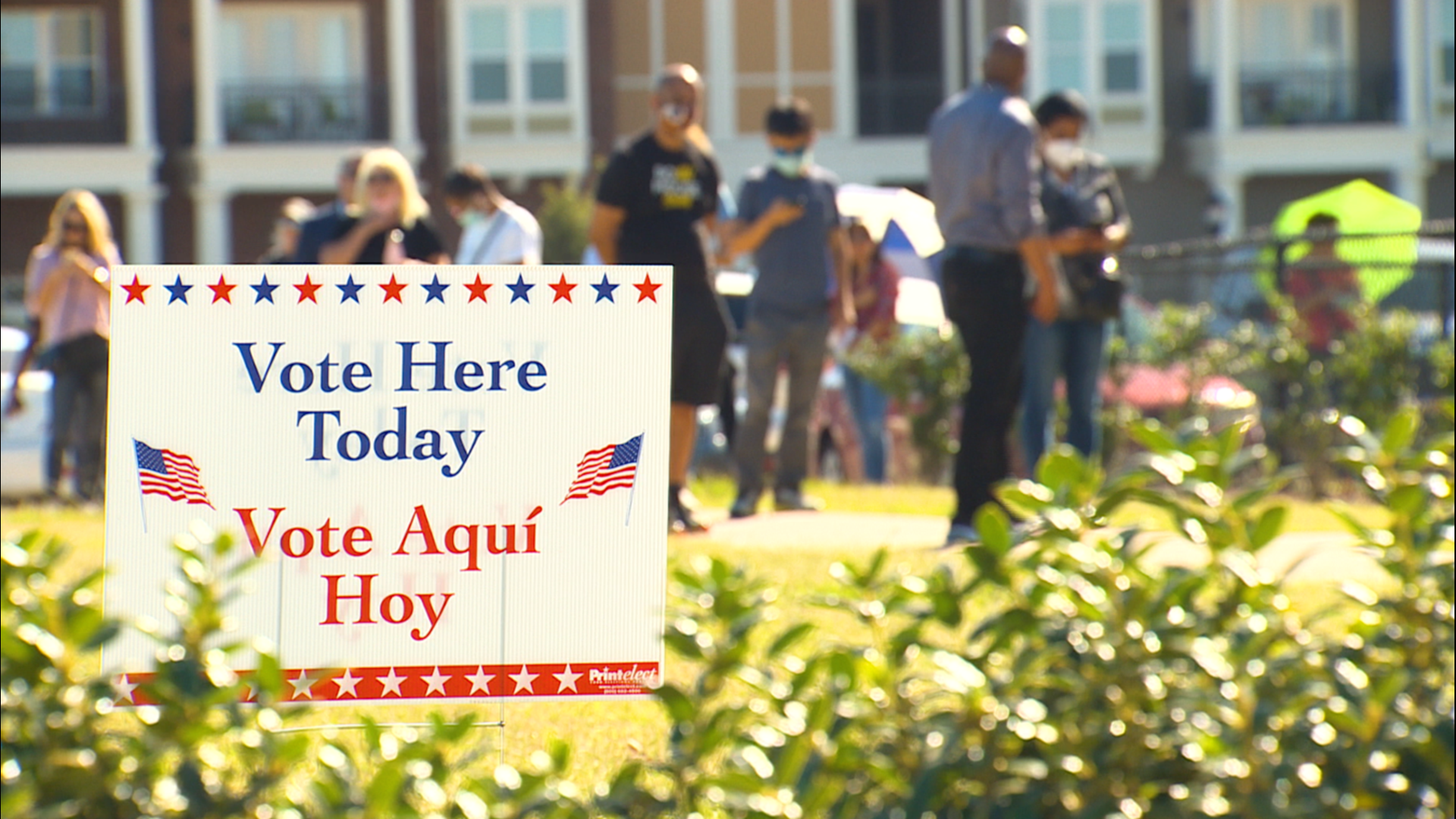 Just six months ago, we had a big midterm election. Now, North Texans already have another big voting day coming up on the calendar.
Another Election Day will day place across North Texas on Saturday, May 6, 2023.
As usual, we'll have all of the latest results here as the come in, looking in real-time at how voters throughout Dallas-Fort Worth and across the state of Texas cast their ballots in this round of voting.
While this year's May elections might not get as much attention as a November general election, they'll still include several key issues for voters across North Texas, and feature an array of local school board and municipal elections.
Voters in McKinney, for example, will decide on a $200 million bond proposal to develop the McKinney National Airport for commercial use.
Dallas and Fort Worth, meanwhile, are among the cities holding mayoral elections, and while mayors Eric Johnson and Mattie Parker face little opposition, both cities will still have ever-important city council seats up for grabs.
The deadline to register to vote in the May election was April 6. If you're not sure whether you are registered, you can check by visiting the Texas Secretary of State's website here.
If you just registered to vote recently, you will receive a voter registration certificate within 30 days. It'll contain your voter information, including the Voter Unique Identifier number needed to update your voter registration online. If the certificate has incorrect information, you'll need to note corrections and send it to your local voter registrar as soon as possible.
Early voting for the May 6 election begins April 24.
To track election results as they come in, be sure to keep a close eye on this page. You can also download the free WFAA app and sign up for alerts to follow along with election results as they come in live.
Detailed information on elections in Dallas, Fort Worth and McKinney are below.
For other cities, keep scrolling, and you'll find links to county election pages where you can see all of the information you'll be presented with on your ballot this election.
Dallas
:
Full election list
Mayor
Eric Johnson
Write-in
Place 1
Mariana Griggs
Albert Mata
Chad West
Place 2
Sukhbir Kaur
Jesse Moreno
Place 3
John Sims
Joe Tave
Zarin Gracey
August Doyle
Denise Benavides
Place 4
Carolyn King Arnold
Jamie Smith
Place 5
Terry Perkins
Jaime Resendez
Yolanda Faye Williams
Place 6
Tony Carrillo
Omar Narvaez
Sidney Robles Marnez
Monica R. Alonzo
Place 7
Tracy Doe Hill
Adam Bazaldua
Marvin E. Crenshaw
Okema Thomas
Place 8
Subrina Lynn Brenham
Davante "Shawt" Peters
Tennell Atkins
Place 9
Kendra Denise Madison
Paula C. Blackmon
Place 10
Kathy Stewart
Brian Hasenbauer
Sirrano Keith Baldeo
Chris Carter
Place 11
Jaynie Schultz
Candace Evans
Place 13
Gay Donnell Willis
Priscilla Shackle
Place 14
Joseph F. Miller
Amanda Schulz
Paul E. Ridley
For more information on the Dallas election, click here.
Fort Worth
:
Full election list
Mayor
Mattie Parker
Christopher Rector
Ken Bowens, Jr.
Alyson Kennedy
Jennifer Castillo
Adrian Devine Smith
District 4
Teresa Gonzalez
Charles Lauersdorf
District 5
William McKinley Jackson
Gerardo Sanchez Corona
Gyna M. Bivens
Bob Willoughby
District 6
Jared Williams
Italia De La Cruz
Tonya Carter
District 7
Jason Ellis
Caleb Backholm
Macy Hill
District 9
Taylor Mondick
Elizabeth Beck
Jason Pena
Chris Reed
Pamela Boggess
District 10
Alan Blaylock
Brandon Jones
District 11
Jeanette Martinez
Rick Herring
Tara Maldonado-Wilson
Cristal Galvan
Christopher Johnson
Ricardo Avitia
For more information on the Fort Worth election, click here.
McKinney
:
Full election list
District 2
Patrick Cloutier
Michael Silva
At-Large 2
Michael Jones
Tom Meredith
Taiwo Ajunwon
Proposition A: $200,000,000 for a commercial terminal and related improvements at McKinney National Airport
"The city proposes $200 million in the upcoming bond election for the design, construction and development of a commercial air service terminal at McKinney National Airport, including taxiways, terminals and other facilities and operational improvements."
For more info on the 2023 bond package on the ballot, click here.
How to vote
:
What you need to bring
You can check for registration information on many county elections websites, some of which include interactive maps to help you find the closest location.
County websites will also often have more information on your local elections and voting.
Below is a list of North Texas county elections websites:
Don't see your county on this list? Visit the Texas Secretary of State's website for a complete list.
What to bring to a polling site to vote
To vote in person in Texas, you must present a valid photo ID. Below is a list of valid forms of identification:
Texas drivers licenses issued by the Texas Department of Public Safety (DPS)
Texas Election Identification Certificate issued by DPS
Texas Personal Identification Card issued by DPS
Texas handgun license issued by DPS
U.S. Military Identification Card that contains the person's photograph
U.S. Citizenship Certificate that contains the person's photograph
U.S. passport
Here's a list of what to bring if you do not have one of the accepted forms of photo ID and "cannot reasonably obtain one":
Copy or original of a government document that shows the voter's name, address, including voter's voter registrations certificate
Copy of or original current utility bill
Copy of or original bank statement
Copy of or original government check
Copy of or original paycheck; or
Copy of or original of (a) a certified birth certificate from a U.S. state or territory or (b) a document confirming birth admissible in a court of law which establishes the voter's identity
If you are unable to present a valid photo ID but can present one of the above forms of supporting ID, you will need to fill out a Reasonable Impediment Declaration.
How to request a mail-in ballot
To vote by mail in Texas, you must be 65 years old or older, sick or disabled, out of the county on Election Day and during the early voting period or confined in jail but otherwise eligible.
The last day to apply for a mail-in ballot for the Nov. 8 election is Friday, Oct. 28 (received, not postmarked). You may submit your application by mail, email (ebbm@traviscounty.gov), fax (512-854-3969) or in person.
To vote by mail in Texas, you must be 65 years old or older, sick or disabled, out of the county on Election Day and during the early voting period or confined in jail but otherwise eligible.