The elephant in ATX: Sexual harassment rampant in Austin's tech, KVUE study finds
An anonymous survey of 464 women in the Austin tech industry reveals that sexual harassment is rampant.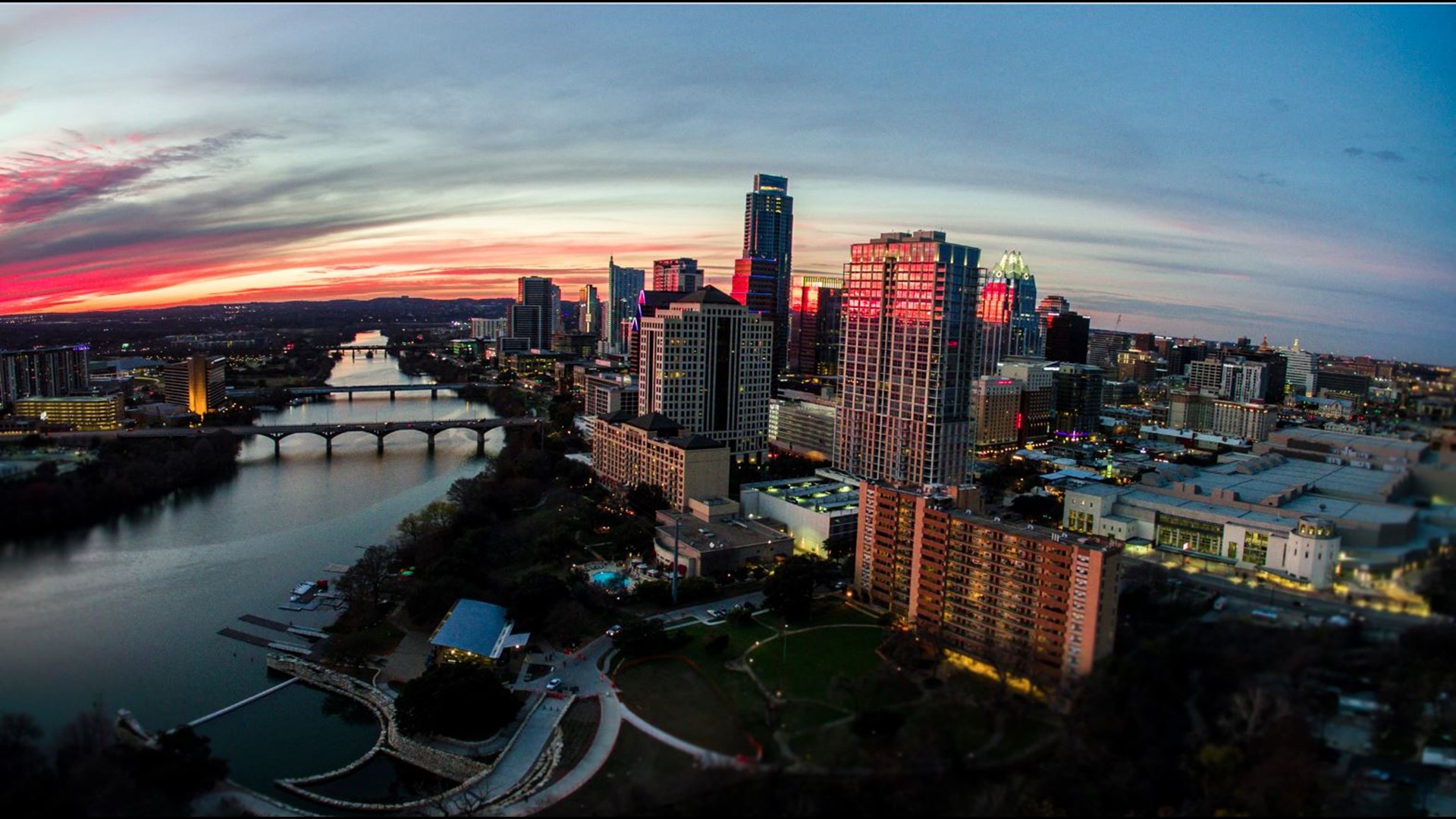 WARNING: Some of the language in this report may be offensive to some.
For some women in Austin's tech workplaces, the sexual harassment is right in their face.
"A pat and roll on your back, a blunt proposal and men who think that your actions are leading them on," the female founder of one startup in Austin said.
For others, it's so prevalent it's kind of turned into a joke.
"I used to have a dick pic folder on my desktop with all my dick pics I received in it," a female engineer at a local startup said. "Some of those belonged to management or coworkers, not just random dickwads from the internet."
"… A contractor looks at my body up and down, a colleague stares at my breasts, a colleague insinuates I should perform oral sex on him," a female engineer at an Austin startup said.
"I can't name how many times I've been hit on. I've been asked to meet up for coffee to talk about market strategy and the beta of my company's product, and it ended up being a bait and switch as a date (in his eyes)," a product developer at a startup said. "I can't go to a meetup without being asked out. Although this to be (sic) considered an honor to be considered 'attractive,' it makes it even more of a struggle to be seen as a peer."
It happens over and over.
"I have been harassed, had unwanted advances, inappropriate behavior and had a stalker," a consultant at a large tech company said.
Those testimonials came from some of the 255 women – that's 55 percent of the female respondents -- who responded "yes" to the question, "During the span of your career, have you ever been subjected to unwanted sexual advances?"
Of the 464 women surveyed, 56 percent said they've received sexual advances from colleagues. Thirty-seven percent said they've received advances from clients and 31 percent said a superior has made a sexual advance.
KVUE's survey was based on a nearly-identical one conducted in California's Silicon Valley after Michele Madansky, one of the coordinators of that survey, gave KVUE permission to recreate it. More than 700 people -- 464 women and 254 men -- of varying positions and levels in Austin's tech industry anonymously responded to the survey.
In Austin, for every one woman working in tech, there are three men working in tech.
'I told him in person and over text that it made me uncomfortable ... It kept happening.'
:
"There is absolutely a problem here in Austin," said the former director of operations at an Austin telecommunication firm.
She's asked KVUE not to reveal her identity for fear of retribution. We will call her Anne.
"I was hired by a man who had previously been a mentor to me, and about a year a half after I accepted the position, I was laid off," Anne said.
She said in that brief period of time, that mentor quickly started crossing the line.
"He would tell me to wear dresses and skirts to work -- that I didn't look like a director unless I did those things. That he preferred my hair long and blonde," she said. "He would close my office door and ask for hugs. Back rubs, neck massages."
Initially, she said she ignored it. She worried that if she said something, it would create more problems.
"I thought he was my friend. I invited him to my wedding. He had eaten dinner at my house," Anne said. "But I think the dynamic changed when I became an employee that reported to him and he felt that he had some measure of control over either my career trajectory or just my ability to keep the job."
But when she couldn't take it anymore, she said she started to speak up.
"I told him in person and over text that it made me uncomfortable -- that I didn't like it and that I wanted it to stop," Anne said. "And it didn't. It kept happening."
For Anne, this experience was the final straw. She hasn't worked in tech since.
"Done," she said. "I don't feel like I could have moved on from my life if I had stayed in that industry, because I would have been waiting for it to happen again."
It's not just Austin's problem
:
Mary Ellen Dugan is chief marketing officer at WP Engine, a hosting company for WordPress sites. When asked about her reaction to KVUE's results as a person of influence at an Austin tech company with hundreds of employees, she said she was disappointed.
"Oh my goodness, it's ridiculously high," Dugan said. "As an executive, it's incumbent upon me and my peers to -- not just for women but for everybody -- to look at -- is everybody feeling that they can come to work and be themselves?"
WP Engine, an Austin-based company, has more than 400 employees. Dugan thinks that because they have a "pretty diverse workforce," she doesn't see a lot of sexual harassment cases at WP Engine.
"If you are intentional you will have a more diverse workforce and I think they will be much more sensitive to any comments or any situations that would be deemed uncomfortable," Dugan said.
Jayne Frasure, a senior human resources specialist at Austin HR, said that from her experience, those percentages revealed in KVUE's study are probably a lot higher. And because sexual harassment is so prevalent, "it's almost an accepted norm for women," she said.
"So people will say, 'Hey little lady,' and things like that -- little comments that are made," Frasure said. "And oftentimes it's offensive to women and they just kind of let it happen and they don't typically defend themselves or communicate 'that's not the appropriate way to speak to me' and things like that."
As co-founder of Women Who Code Austin, Sara Ines Calderon frequently meets with women trying to make their way into the Austin tech industry or who are trying to further their careers in tech. Sexual harassment is a topic that comes up.
"There's staring, inappropriate rubbing on the back," Calderon said. "Obsession with how they look, comments about strippers, what you do with your boyfriend, weird sexual undertone comments, gazes, a touch that probably shouldn't be happening in the workplace."
Meanwhile, in Silicon Valley, the trend was a little more severe. Sixty percent of the 200-plus women surveyed said they have been subjected to unwanted sexual advances during the span of their career. Sixty-five percent said their colleagues have sexually harassed them, 55 percent said they've received sexual advances from clients and 46 percent said they've been sexually harassed by their superior.
Back in August, Google fired a software engineer who wrote an internal memo that questioned the company's diversity efforts and argued that the low number of women in tech positions was a result of biological differences instead of discrimination. Titled "Google's Ideological Echo Chamber," the memo quickly spread outside the company and sparked anger among those inside and outside the tech world.
Susan Fowler, a former Uber engineer, published a blog post in February that alleged systemic sexism at Uber, including being propositioned for sex by a superior. Her blog post detailed similar experiences women told her about during her time at Uber. The post quickly spread on social media.
This trend has been revealed in other industries as well.
A New York Times report uncovered sexual harassment allegations against famous Hollywood producer Harvey Weinstein that spanned decades. It's rocked Hollywood and – as demonstrated through the #MeToo movement – resonated with women in general, inspiring them to share their own experiences with sexual assault and sexual harassment.
A Cosmopolitan survey of 2,235 full-time and part-time female employees in 2015 found that one in three women has experienced sexual harassment at work at some point in their lives. In 2011, ABC News and the Washington Post said one in four women have experienced workplace sexual harassment based on a sampling of over 1,000 adults.
Inspired by the Elephant in the Valley survey, the 3% Movement ran a similar study to gauge the level of gender equality in the advertising industry on Madison Avenue. They found that 54 percent of the women surveyed there have been subjected to unwanted sexual advances
These stories aren't limited to one gender. Men are harassed, too.
Here in Austin, about 25 percent of the 254 men surveyed said they have also experienced unwanted sexual advances.
One man, the CXO of a large tech company in Austin, said "women are obsessed with sexuality in the workplace."
"If they could focus more on the work and their professional development and less upon whether someone notices their curves their careers would be just as fulfilling as any male staff member," he said in the survey. "Women seem to want to be treated as though they are genderless in the workplace. This is unrealistic in the world at large...much less an environment such as work where you work in close proximity to people all day long. How you respond to natural human behavior is what makes all the difference. Again...focus on the work, on your value proposition as a professional...and hopefully when you leave this idealistic 'sexually neutral' workplace you crave you still have a social life afterward to compliment your professional success."
Frasure said it's not about being genderless.
'It's okay to like someone' in the office. But where is the line drawn?
:
It's okay to get to know one another and it's okay to like someone, Frasure said. But when the line is crossed, and a person cannot focus on their work "because there is an individual who is continuing to do things that are harassing," she said "there is a point where we can't expect someone to just put up with that behavior."
"So I understand the perspective that we can't expect a gender neutral environment -- and I don't think anyone wants that -- but we definitely want to be able to say, 'No,'" Frasure said. "We want to be able to say, 'I want to be respected for what I do and what I know and what I'm capable of versus how long my legs are.'"
Some men in the survey wondered where the line should be drawn when it comes to approaching women in a romantic manner in the workplace.
"I have met many people who have dated or married someone in the workplace," said one male who works at an investment firm as a product developer. "A first encounter (e.g., asking someone out for drinks in a social manner) should be considered harmless in many circumstances."
After all, Jim met Pam under the insufferable reign of Michael Scott in The Office.
And Leslie Knope of the Pawnee Parks and Recreation Department went on to marry Ben Wyatt, a state auditor who debuted in the show to evaluate the town's funds.
And although these may not be the best examples of office romance – as the paper company in The Office was an HR representative's worst nightmare and Knope's and Wyatt's relationship resulted in an ethics trial – Frasure said the workplace is "often where we meet the people who we might marry."
But Frasure said it's pretty clear where the line should be drawn when romantically pursuing someone you work with.
"If I ask someone on a date once, and they say, 'No,' that should be the indicator that I shouldn't pursue that opportunity. Obviously they're not interested, so it won't go anywhere. So that wouldn't be considered sexual harassment," Frasure said. "But if I continue to pursue that individual and say, 'I really want to go on a date or maybe just lunch, or let's do dinner' – if I continue that pursuit, that's the point where it really would become sexual harassment."
Although sexual harassment is subjective and there is some gray area, Frasure laid out some definitions of what sexual harassment is and what is generally acceptable and unacceptable behavior in the workplace.
What is sexual harassment? What is acceptable behavior?
:
Sexual harassment can be defined as any form of communication or physical contact that is unwanted, Frasure said. That can include inappropriate jokes, touching, or inappropriate things that are sent via email or text.
"In order to be considered sexual harassment under the law it has to be either pervasive -- meaning that it's happening with some level of frequency -- or it has to be something that's egregious – being that it's such a definitive concern such as assault," Frasure said. "Other things that might be considered egregious are engaging in severe touching or accosting someone in the workplace. Things of that nature."
And how would she define sexist behavior?
That all depends on how you were raised and what your understanding of professional communication is, she said. While a comment may seem harmless to some, to others, it may hit them differently.
"Someone might say, 'Wow you look hot today.' Someone might think that's a nice thing to say to someone because to them that's a compliment," Frasure said. "To us – to most women -- that's not necessarily a compliment. That makes us feel uncomfortable particularly in the workplace."
Calderon said it's up to the company to embrace those definitions and discuss them with their employees.
"I don't think you can have a blanket rule for something like that. I think it's just a matter of does the company want everyone to know what boundaries are? Does the company have these discussions?"
Sexual harassment is one thing. What happens when those instances are reported is a completely other thing.
Problems with human resources
:
Of the 255 women who said they've received unwanted advances in the workplace, 46 percent of them said they've spoken up.
Some spoke directly to their harasser. Some even confronted their harasser when that harasser was their superior.
"I told the manager that sent me a picture of his penis that he needed to excuse himself from reviewing me in the future (he was one of 4 or 5 people that worked above me)," a start up engineer said.
Twenty-five percent of 255 women said they spoke to their direct supervisor after the sexual harassment.
"His supervisor asked me what I wanted to happen," said a woman who works in the legal department of a mid-sized tech company. "I chose to address it directly with the employee. I told the employee that it could not happen again if he wanted to keep his job. I believe his manager reinforced that message. It never happened again."
Only 48 of the 255 women said they reported an incident directly to HR.
A few -- four -- even said they took legal action.
As for the women who said they did nothing in response to receiving unwanted sexual advances, many said they were afraid it would have a negative impact on their career.
Anne, the woman who alleged that her boss continued to harass her despite her pleas to stop, said she considered turning to human resources. But the head of her HR department was a friend of her boss. She worried her report would fall on deaf ears.
"If I had brought it to her, I don't know that anything would have been done," she said. "If it had been done, it would have been solely for the purpose of staving off a lawsuit for the company and I'm sure they would have found some reason to turn it into my fault."
One woman who responded to KVUE's survey said reporting her harassment had a negative effect on how her superiors saw her work.
"Taking action typically is punished. It resulted in an extremely lower set of review scores than anticipated. I was no longer a team player," an engineer at a start up said.
Frasure, the HR specialist with Austin HR, said the best thing in preventing retaliation on the company's end is to have an open door and to effectively communicate with managers who may not know what retaliation looks like.
"It can be, 'Now I'm treating you differently than before you made the report,'" Frasure said. "It can be more open than 'I'm obviously not choosing you for a promotion' or 'I'm obviously not going to allow you to engage in activities that you feel like you should be allowed to participate in.'"
And she said organizations need to make sure there's a strong policy in place so managers understand that retaliation is illegal.
Austin Kaplan, a civil rights and employment law attorney, said he sees retaliation too often in Austin.
"If you were wrongfully terminated – for example, you complained about harassment and the company – and we see this unfortunately very frequently -- turns it around on you and fires you for making the complaint," Kaplan said you have options:
Other respondents said they didn't report the harassment because they just wanted to forget it or they were too embarrassed to report it.
Many said they did nothing because they believed that it would not have made a difference.
Which brings us to another alarming trend.
Many women said they were "somewhat satisfied" to "not satisfied at all" with their company's course of action following their complaints.
"Told my manager and was asked if I 'did anything to make them approach me' and was pressured into not reporting anything because they didn't want to do the paperwork," a consultant at a large tech company said.
"He was fired for grabbing my breast. I was then fired for reporting him, at the end of my 6 month temp position," said a woman who works in a large tech company's marketing department. "I was one of two not hired and had some of the highest scores. When fired, they told me to not be such a 'Huggy person.' To which, I clearly was not, ever."
Like one woman put it, sometimes "telling someone at the company hurts your career more than theirs." But many others said "there is no structure for complaint-filing" at their company.
For a lot of women, that means companies don't have an HR department.
"I spoke to his partner at the tech accelerator. They didn't have HR, so they had me speak to the guy who made an advance in a group setting. He denied everything and blamed it on me," a woman who works in the marketing department of a start up said.
Frasure said companies sometimes don't realize how crucial it is to have a human resources department.
"Oftentimes companies think, 'We don't need HR here because we're a cool company, everybody gets along, we don't have any issues,'" Frasure said. "But the thing people don't understand is you don't know what you don't know. You don't know what can ultimately get you in trouble."
Austin HR works to keep those companies out of trouble by either supplementing a company's small HR department or by providing services to companies with no HR department.
"There are so many laws and things that organizations need to comply with that they don't know unless they have an HR professional supporting them," Frasure said.
Women who responded to the surveys also complained that their HR department is made up of their superiors, making it a little awkward – to say the least – to report an incident.
Frasure said it is imperative that employees know they have a place to turn if they don't feel comfortable with their HR department.
"Ultimately it needs to be a neutral individual who can respond to any concerns or complaints that someone might have," Frasure said. "So I think if the manager is also the HR representative then the organization needs to determine what is that next level of reporting. Is it the COO? Is it the CEO? Who is it?"
So, some women either don't feel comfortable reporting incidents at their – possibly nonexistent – HR department or they weren't happy with their company's solution to their report. But knowing what they do now, what would they have done differently in response to the incidents?
"Probably nothing," a woman who used to work in tech sales said. "It's too difficult for a woman in a male-dominated company to make waves and still keep her job/get promotions/get raises. You suck it up, or you leave."
But what should a company do when a sexual harassment incident is reported? What should you expect from your company when you file a complaint?
What you should do when you're sexually harassed
:
The first step, if you're comfortable enough to do so, is to approach the harasser and "tell them that that's not appropriate and that you don't accept that," Frasure said. Again, she said the harasser may not realize that what they're saying or doing is insulting or inappropriate.
The second step, if necessary, is to file a report with the HR department, your manager or your next level management.
"It's very important that it's brought to light as soon as it happens so that it can be dealt with in the most formal and appropriate fashion," Frasure said.
Kaplan, the civil rights and employment law attorney, said after speaking up, you should follow up with a text or email that shows "this was the complaint I made and this was the time and date that I made it."
And if you don't feel comfortable dealing with it internally, you turn to the United States Employment Opportunity Commission. They're the people charged with enforcing anti-discrimination laws. You can also file with the Texas Workforce Commission or even the City of Austin's Fair Housing Office. All three agencies are joint components of this.
It's free to make a complaint, and at that point they'll open an investigation of your employer.
"Sexual harassment is a form of sexual discrimination that violates Title VII of the Civil Rights Act of 1964," their website said.
So if you believe you have a Title VII claim, you must file it up until six months after the date of the incident. Go here for more information.
Once you go through the process with the EEOC and other agencies, then you can move forward and consider whether or not a lawsuit is appropriate.
Here are some tips from Kaplan on how to deal with sexual harassment at work:
What you should expect from your employer after speaking up
:
If you filed a report with an immediate supervisor, that person immediately needs to communicate the report with the human resources department if it exists in the organization.
"There should be an appropriate investigation to make a determination about what happened and to properly document that situation and make sure that all the appropriate avenues are followed," Frasure said.
Once HR learns about the allegations, an investigation should then follow. That should include speaking with the victim about what happened, speaking with witnesses if possible who can testify to what occurred and ultimately speaking with the accused harasser to hear their perspective.
"And then it's going to depend on whether the harassment was pervasive or severe enough," Frasure said. "It could lead to termination. It could lead to just a simple disciplinary action."
In all cases, though, she said it should lead to education. There should be a clear policy in place and there should be ongoing communication about harassment.
"I believe there should be at least an annual training of what harassment looks like, what is considered harassing behavior and what do I do if I'm being harassed," Frasure said. "Sometimes people forget that they have the right to report it or who they're supposed to report it to."
And it's not just on the victim to speak up.
"… When you see these types of things occurring, speak out," Frasure said. "Because it takes everyone to help stop harassment in the workplace."
Kris Betts contributed to this report.