No food at the State of Fair of Texas is more iconic than the famed corny dog. Now you can enjoy that deep-fried goodness in the form of a beer, mustard included.
Yes, that's the kind of statement you'll find yourself hearing this time of year.
The State Fair, which begins Sept. 28, announced its full list of new foods on Tuesday morning, and Corn Dog Ale was just one of the new concoctions.
Below is the full list, with the photos and descriptions courtesy of the Fair. Go here for information on where to find each item at the Fair.
(Update: We decided to have some fun with how wacky some of the Fair food concoctions can be. So, what State Fair food are you? Use the handy guide below and let us know in our comments on the Facebook post!)
Corn Dog Ale: "Amber ale brewed with a blend of Pale 2-Row barleys, caramel malt, and smoked malt...The combination of subtle smokiness and spices evoke the flavor and aroma of a classic, delicious corn dog. The flavor experience is only complete when the beer is served with the traditional condiment – yellow mustard!"
(Note: The photo below appears to show mustard along the rim of the glass. Margaritas come with salt, corn dog ales come with mustard.)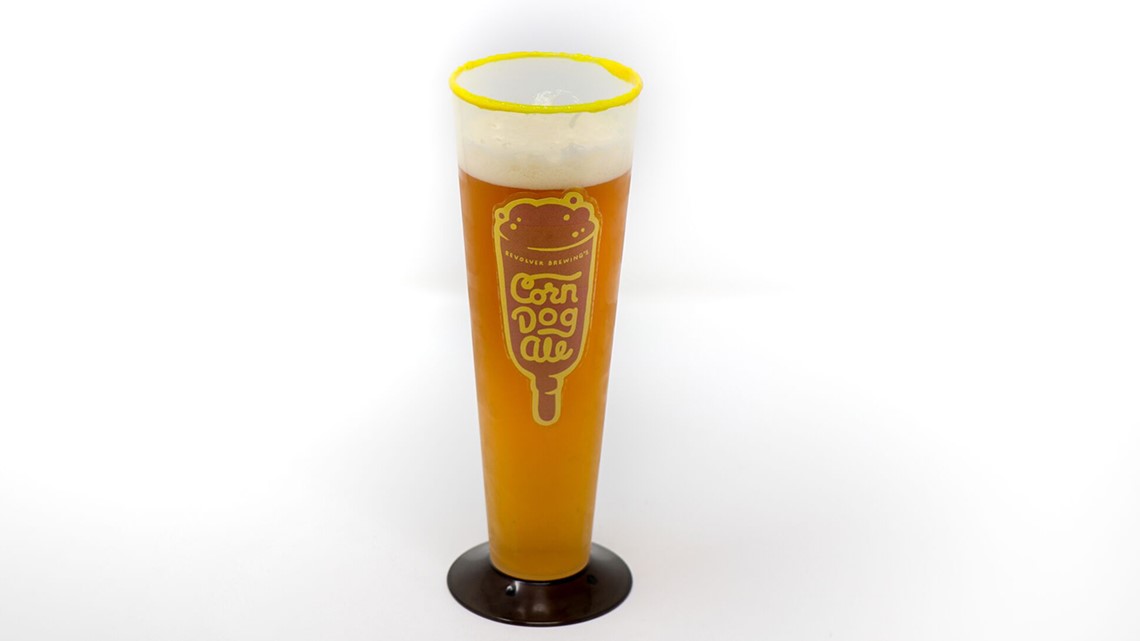 Orange Julia's Beermosa: "...starts with champagne that is flavored with orange Pixy Stix, Blue Moon beer, and the perfect amount of vanilla ice cream to smooth it all together. Served in a Pixy Stix-rimmed cup with a large Pixy Stix plastic straw, this creamy frozen cocktail will awaken your inner child taste buds with memories of Push-Up pops and Creamsicle bars."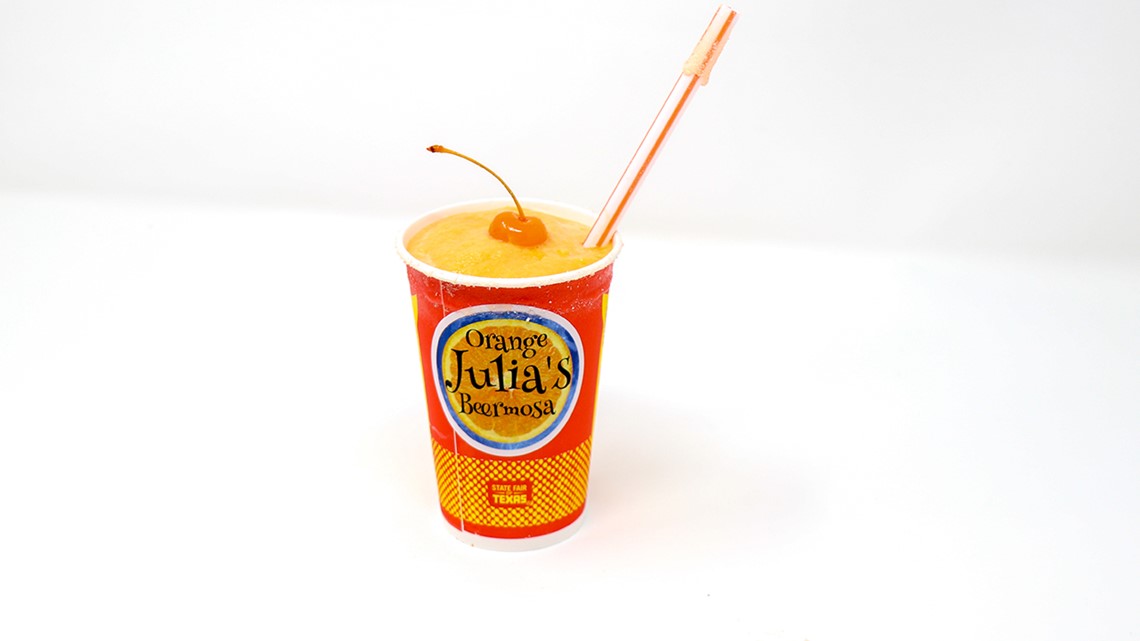 Fried Cup of Corn "Elotes:" "What happens when traditional elotes meets sweet southern corn in a flaky pastry? You get a creamy texture of blended seasonings and Mexican cheeses with a unique State Fair twist that's sure to please...To make the union complete, it is embellished with Mexican cheeses and served with a side of delectable creamy corn dip."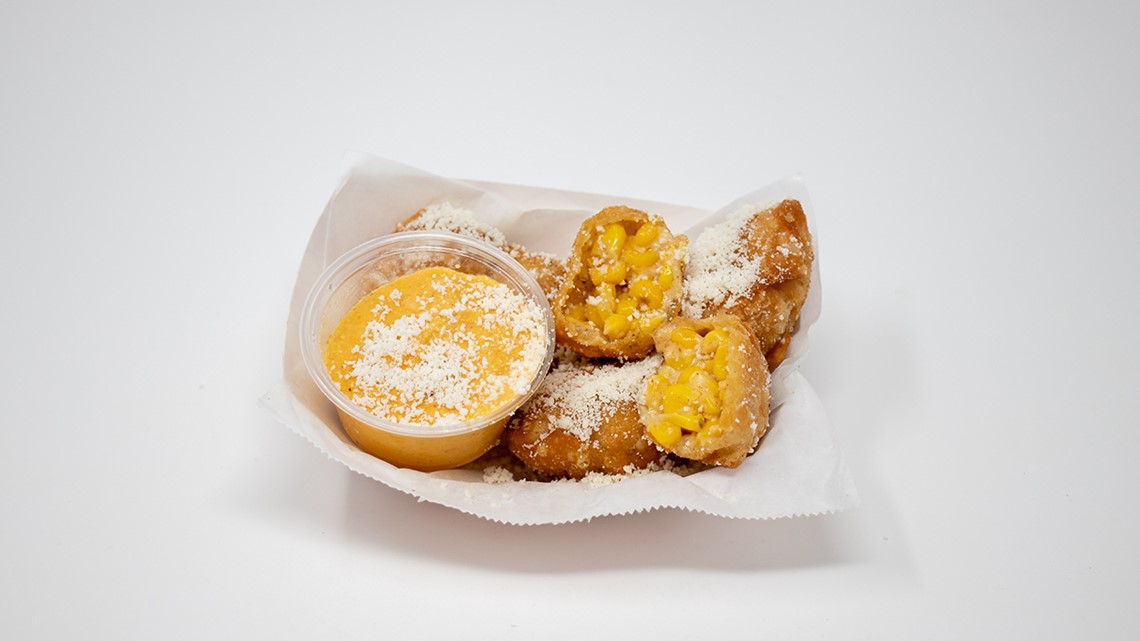 Supra Stuffed Mini Sopapillas: "Three mini sopapillas are injected with strawberry cream cheese filling. The dish is scrumptiously dusted with cinnamon and sugar and drizzled with honey for a sweet finish."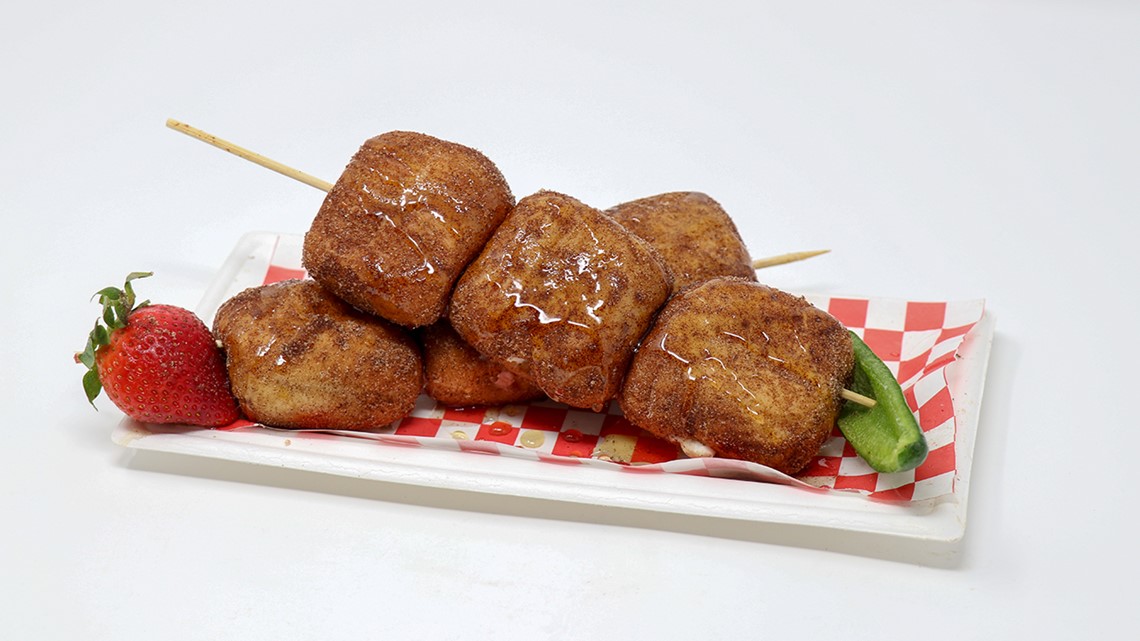 King Crispy Coconut Crab Sliders: "Whole softshell crabs are dipped in our homemade coconut batter and fried until perfectly golden. This crispy coconut creation is then perched on a King's Hawaiian bun. Thus enthroned, our kingly crustacean is dressed in a dollop of creamy Asian slaw (with a hint of wasabi). A top bun and frilly toothpick crown each slider. Each dish is served with fried plantains, spicy Asian mustard, and sweet/sour sauce for dipping!"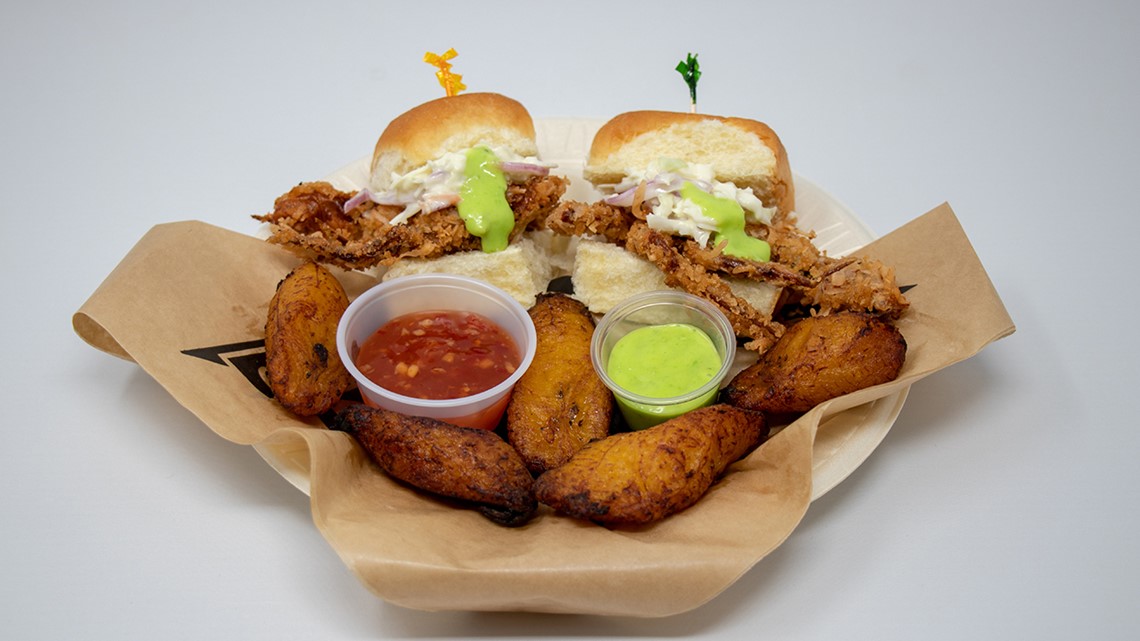 Texas Thai Delight: "Yummy sticky rice is infused with a coconut milk mixture and layered with mangos and more coconut deliciousness. It is then rolled in batter and deep fried for the perfect crunch. The delightful dish is served on a stick with a side of in-house sweet sauce."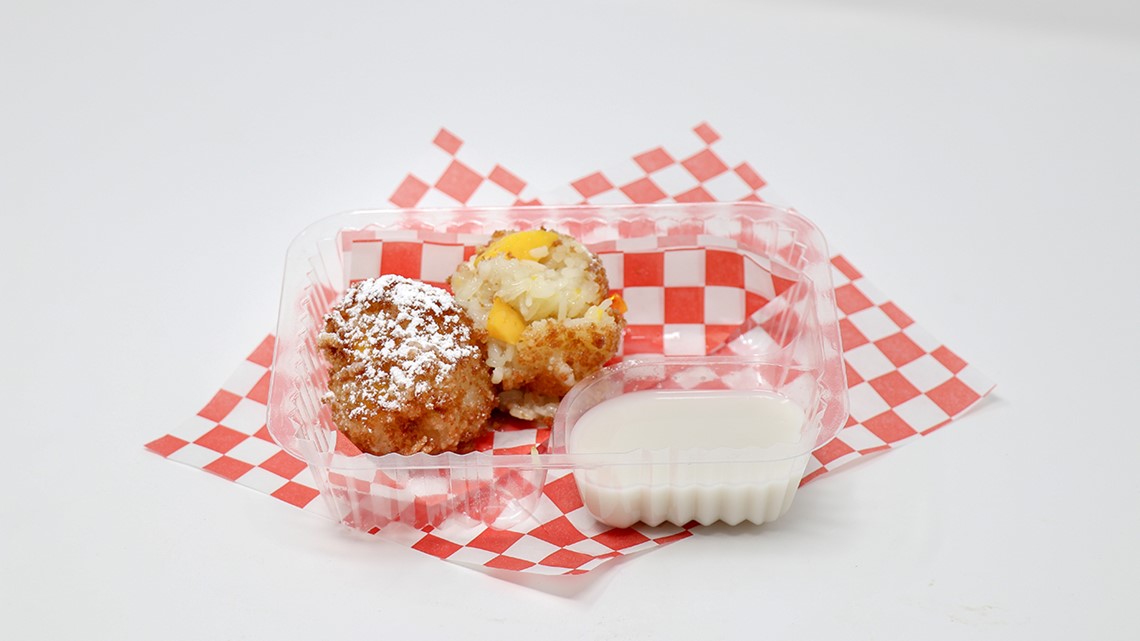 Pico Frito (Deep Fried Pico de Gallo): "A zesty medley of tomatoes, cilantro, onions, and jalapenos are folded into an egg wrap paper and deep fried until crispy and golden. Each dish is served with a side of savory cilantro sauce."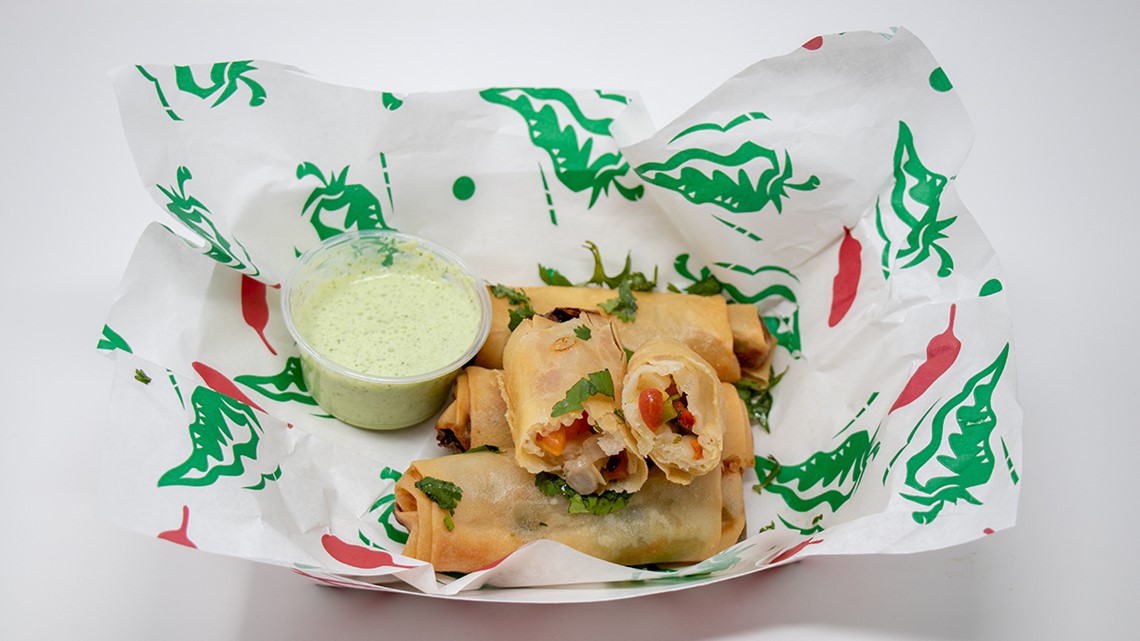 Kool-Aid Pickle-Dilly Sangria: "Our pickle juice Kool-Aid Sangria is a delicious combination of sweet and salty with a fruity back-bone. We take our pickle juice recipe and infuse it with a Fruit Punch-flavored Kool-Aid and allow them to mingle and combine to create a one-of-a-kind adult beverage. Laced with ripe pineapple, cherries, and blueberries, our Southern-inspired sangria puts a spin on this European classic and brings it home to Texas. When the flavors are just right, we add a crisp white wine and top it off with lemon-lime soda. The result is garnished with our crown jewel, a Kool-Aid pickle spear infused with a tart and sweet flavor combination creating a beautiful ruby-red color."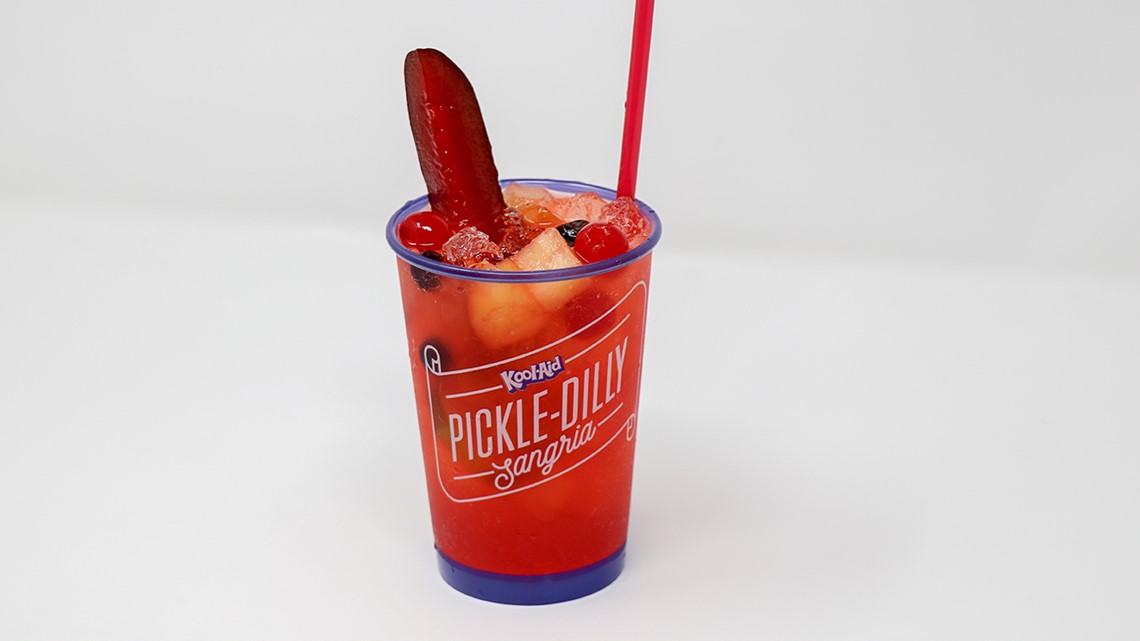 Southern Fried Chicken Nachos: "A smooth blend of cheese, Ro-tel tomatoes, and pico de gallo covers our tortilla chips. They are then topped with our southern fried chicken tenders and garnished with fresh cilantro."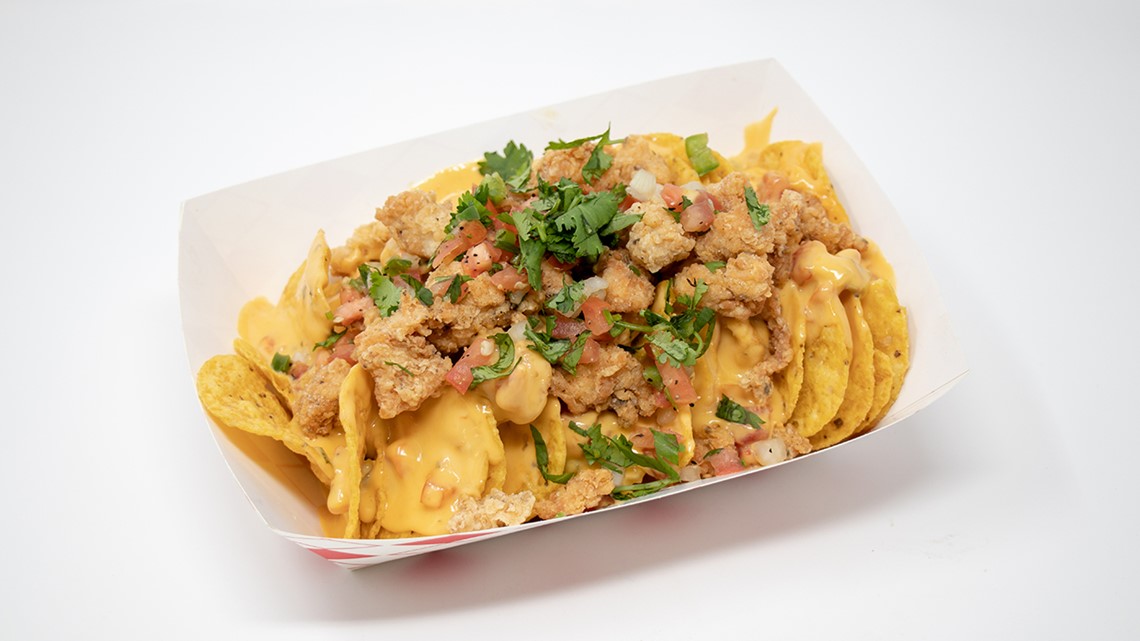 Fruity Dessert Nachos: "This delightfully indulgent dessert starts with a bed of thin, crispy butter cookies, smothered in fresh strawberries, blueberries, and bananas. The treat is drizzled with a classic crème anglaise and rich, smooth Ghirardelli chocolate sauce and then topped with whipped cream."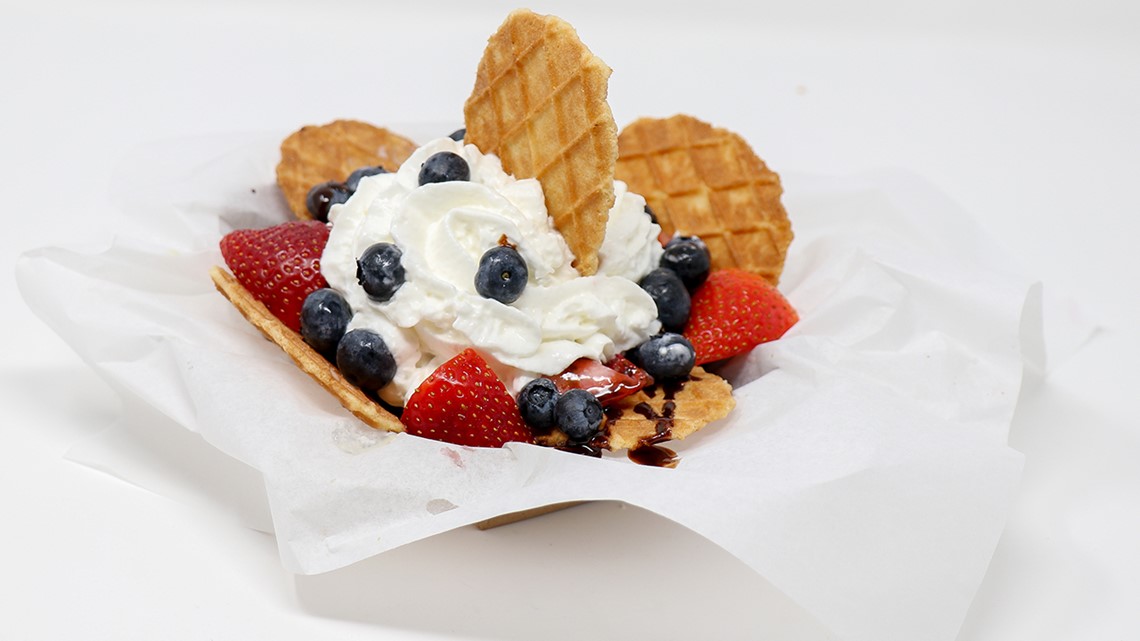 Bacon Brittle: "Thick cut applewood smoked bacon is flavored with a hint of bourbon to create a smoky, sweet and salty flavor with a soft crunchy texture from the brittle!"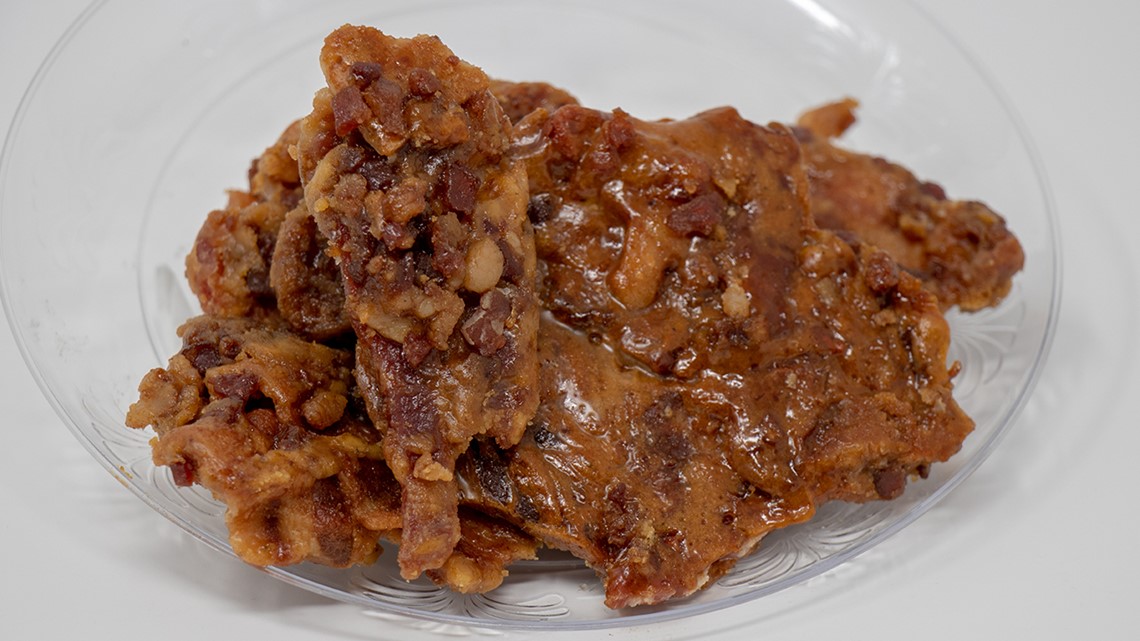 Frosty's Frozen Hot Chocolate: "Our recipe combines special Ghirardelli cocoa mixed with milk and water, and ice blended till 'frosty.' It is poured into a see-through plastic cup and topped with whipped cream, chocolate sprinkles, and finished with a marshmallow and cherry garnish."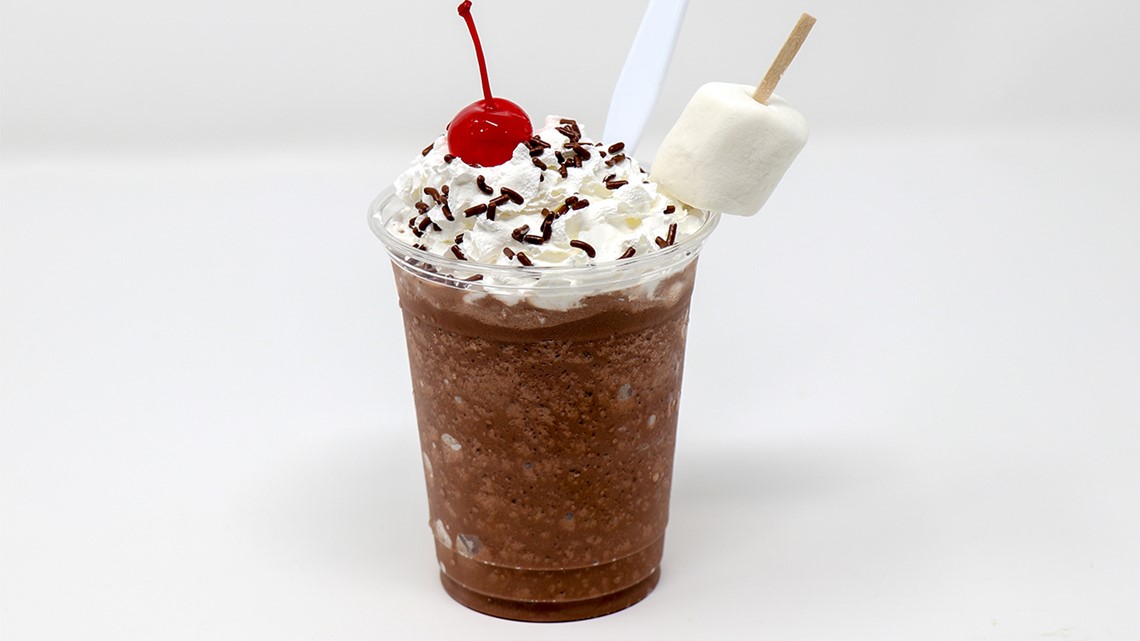 Cherish Erbert Champagne: "A Pixy Stix cherry sherbet champagne is sipped through a large Pixy Stix straw with powdered candy around the rim. A champagne bubble burst with sweet and sour cherry flavor and just the right amount of vanilla ice cream perfectly smooths out this refreshing frozen cocktail."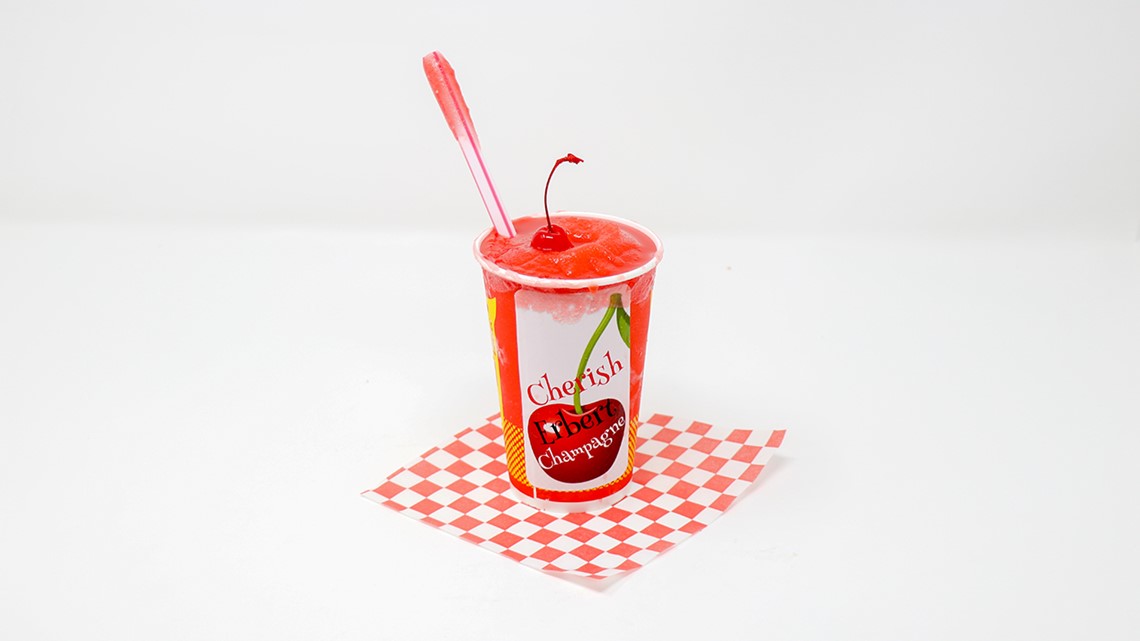 Fletcher's Cheezy Pup: "...the Cheezy Pup is American soft melting cheese on a stick, dipped in Fletcher's famous batter and deep fried to a golden brown. It's Cheezy because the inside is all cheese and a Pup because it is smaller than their regular Corny Dogs."