FRISCO, Texas — We all tend to favor some rooms more than others in the places we live.
If you ask David Kline what his favorite room is inside his Frisco home, he can point you to which one without hesitation.

Kline played defensive back for the Horned Frogs in the mid to late '60s.
He was inspired to follow in his father's footsteps, Forrest H. Kline, who blocked for Davey O'Brien and led the offensive line as a guard in 1938 to TCU's most recent and last national title.
"I love this room because it feels like my dad is right here with me," Kline said.
"Back when he played, they had leather helmets, they weren't plastic like I played with," he chuckled.
Kline's father is in TCU's Football Hall of Fame, and his legend lines most of the walls in the 77-year-old's office, who is still a realtor in Frisco.

The memories are frozen in time and mean much more to Kline this week than they ever have as TCU prepares to play in the College Football Playoff National Championship on Monday.
"It's a different game now than it was back then, it's a much faster game," Kline said with a laugh. "They probably hit a little harder too."
Forrest Kline cemented his legacy alongside quarterback Davey O'Brien and others who secured a national title with a Sugar Bowl win in 1939 over Carnegie Tech 15-7.

Kline showed photos from a 1939 TCU yearbook of the matchup.

He still has the watch his father was awarded for winning that game.
"I think it still can tell time," Kline said while showing the watch to WFAA. "I haven't tried in a long time."

Forrest Kline was an Honorable Mention All-American that season and an Academic All-American. He was drafted to the NFL as the 75th pick of the Brooklyn Dodgers but declined to play to begin teaching and coaching.
He proudly served his country in the United States Air Force until 1945 as an instructor for pilots in inclement weather.
Crazy enough, Kline also played in the very first Cotton Bowl game in 1937.
His brother, George Kline, was also on the 1935 TCU team that claimed a national title.
Yes, without a doubt, TCU football runs deep in the Kline family. David Kline's nephew, Brad Kline, was also a deep snapper for TCU in the early 2000s.
"We are a football family, exactly," David Kline said with a smile.
While growing up, Kline didn't fully grasp what his father had accomplished on the football field until he started playing the game.
He remembers going to TCU games as a boy with his dad and meeting with players from his father's squad to watch games.
Kline said he noticed an unmatched chemistry between his dad and his old teammates -- something he sees in today's team.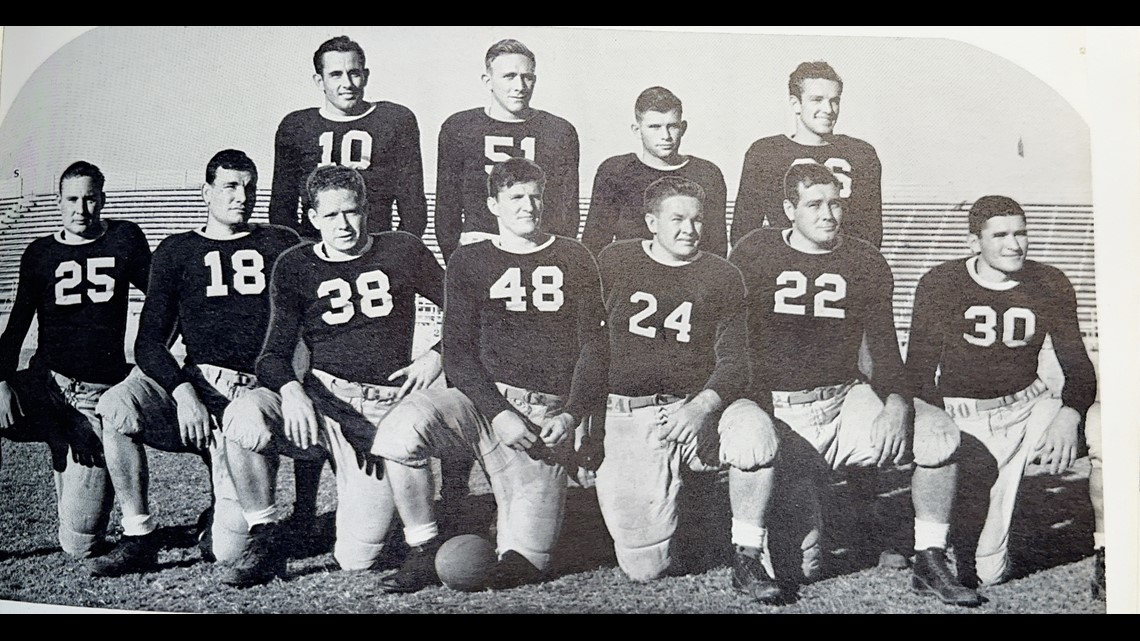 "They enjoyed being with each other and visiting with each other. Back in those days, they had this great chemistry. I see that now with Duggan and all the others. They feel like they're brothers, and they win games because they play together--they don't play separately or individually," Kline said.
Forrest Kline passed away in 2007 at the age of 89.

Kline now works closely with what was TCU's Lettermen's Association. The group shifted to the "Block T Association."
He bleeds purple, striving to keep the past alive with a focus on the future.
"It's been exciting, especially this year," Kline said. "My dad would have loved this, he was a TCU football player until the day he died."
When kickoff comes next week, Kline will be watching -- and knows his father will, too.