DALLAS — This story will be updated throughout the day as new information is released.
One person was killed Monday after a shooting at an apartment complex in southeast Dallas.
It happened in the 4700 block of Meadow Street. The listed address is for the Rosemont at Meadow Lane apartments.
According to police, officers responded around 9:15 a.m. after getting calls of the shooting.
When they got there, they found the victim, 20-year-old Hope Janicenassia Hensley, shot in the neck by a "projectile that came through the window," according to police. First responders took her to the hospital for further medical treatment, but police said she died there.
Aerials over the scene showed several Dallas police officers canvassing the area between two buildings, and photographing the front window of one unit.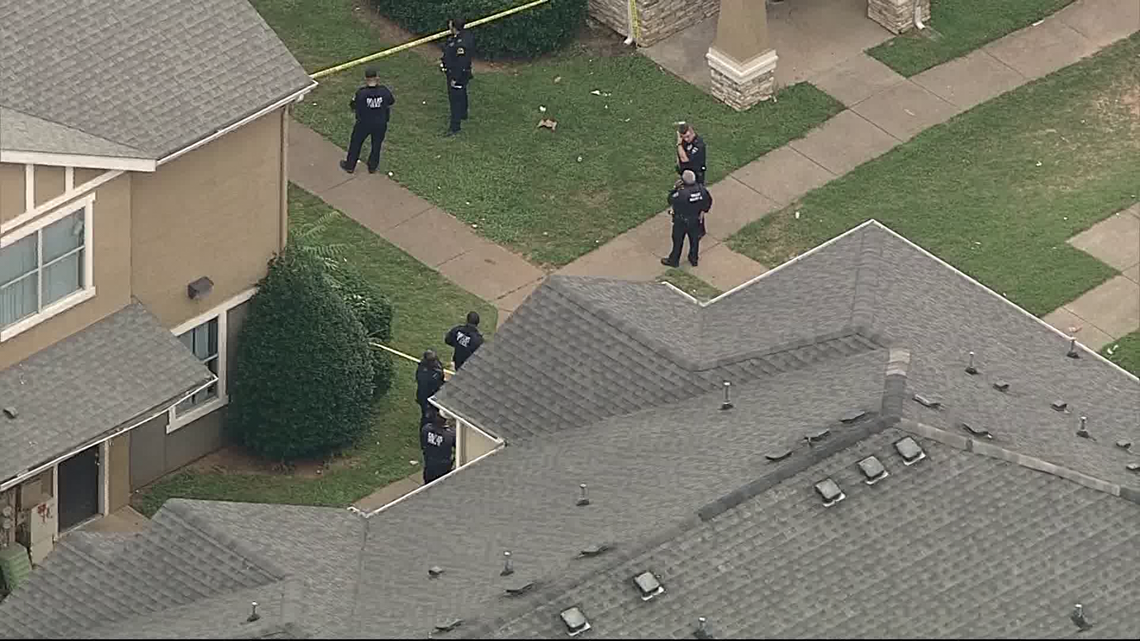 Right now, police don't have any suspect information or what led up to the shooting. They also don't have a motive.
Monday's shooting comes on the heels of a violent weekend in Dallas and Fort Worth. This weekend alone, there were at least eight shootings in the city of Dallas that left 14 people wounded. One of the shootings happened at a strip mall. Eight people were hurt, with two of those victims under the age of 15.
Already, Dallas is just under 100 homicides for the year so far. At this same point last year - a record-breaking year for homicides - the city had seen 92 homicides. 2020 ended with 251 total homicides, far more than the 199 recorded in 2019.
WFAA's Alex Rozier spoke with Sheldon Smith, the president of the National Black Police Officers Association Dallas chapter. He said he is concerned about rising crime in the short term, but said it could also become a long-term issue, too.
"We're a city that continues to grow. Our police department has to grow as a result of that as well, and we're simply not doing that," Smith said. "We're wanting results as if we had the same number of officers that we had 15-20 years ago."
He added that it's tough to recruit anyone to be a cop right now, leaving a significant gap. Smith said the department is about 700 to 800 officers short of where they need to be.
"We've got 3200 officers and we want to be able to handle the crime problem in Dallas," he said. "Overtime is not going to be able to take care of it, we're spending overtime where we should have actual officers that are there in place without the overtime."
Smith said if they have more officers, they could have more presence where the most violent crime is occurring. He added that the new gun laws - allowing people to carry without a license - won't help.
Smith has a lot of faith in Chief Garcia and his plans to reduce crime but said Garcia can't do it himself.
Meanwhile, Crime Stoppers is providing a reward of up to $5,000 for information that leads to the arrest and indictment of this latest deadly shooting. Callers can stay anonymous by calling 214-373-TIPS.