DALLAS — This story has been updated to include details of where donated gift cards can be dropped off at.
Dozens of people are without a home just weeks before the holidays after an overnight fire destroyed a condo building Wednesday in northeast Dallas.
"I was waking up to screaming, shouting, commotion," said Jani Jones, a resident at the Sable Ridge Condominiums, where the fire went to four alarms.
No one was hurt, but the fire damaged 30 units, according to Jason Evans with Dallas Fire-Rescue. Crews determined the building to be a collapse hazard, meaning it will be torn down.
Ninety people are now without homes as a result, Evans said.
Residents described a chaotic scene.
"As I'm jumping over my balcony, my neighbor from the second floor and the third floor is jumping over their balcony," Jones said. "Throwing their kids. You can't go down the stairs. The stairs are melting."
Megan White said she had to throw her two children out the window to neighbors to save them.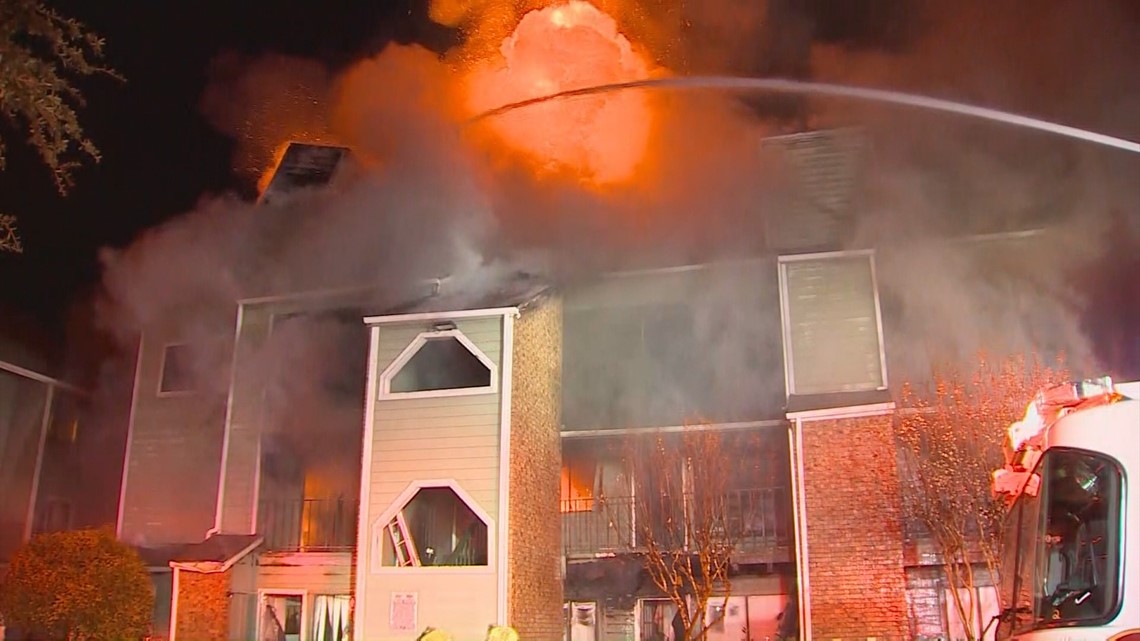 "My babies were still asleep, and I was throwing them out of the window asleep," she said. "I just had to save my kids. All I saw was flames... I had to save my babies."
A neighbor caught White's 3-year-old and 8-year-old children.
"He broke his hand trying to help us," she said. "So, I'm thankful for him too."
But now, White said, she and her children are without a home and most of their belongings, with Christmas just a few weeks away.
"My kids just lost everything," she said. "My kids just lost everything three weeks to Christmas."
Many others were only able to escape with the clothes on their backs.
Fire crews were first called out to the building shortly before 1 a.m., Evans said.
The three-story building, located in the 6100 block of Abrams Road near East Northwest Highway, had fire and smoke coming from the first and second floors by the time crews first arrived on the scene.
According to officials on scene, the fire started in the floor of an apartment unit and quickly spread.
The cause of the fire is still under investigation.
"Everything I own is there," said Kathy Banks as she fought back tears while watching the building being torn down.
The American Red Cross is aiding residents in their recovery effort, a spokesperson said. The organization opened a respite center for residents late Wednesday morning at the Lake Highlands North Recreation Center.
Residents had all gotten out of the building before firefighters got there, Evans said.
The fire was out several hours after crews first responded.
Candelaria Turrubiates, who is three months pregnant and a mother of four, said she lived at the complex for five years.
"I don't know how to tell her that we can't go get your clothes," she said of her children. "I don't know how to tell her that you can't go to school. I don't know how to tell my 3-year-old, 'Mommy can't get nothing for you.' I don't know how to tell my two children there's nothing for you to come home to. There is no home."
The same condo complex had a similarly devastating fire in January 2018. That four-alarm fire left 50 people without homes after a fire spread from the first floor to the roof before the building partially collapsed.
Council member Paula Blackmon is asking the public to donate gift cards for the displaced residents.
Gift cards can be dropped off between 9 a.m. and 4 p.m at the District 9 Council Office in City Hall and the administrative office of Wilshire Baptist Church at the 4316 block Abrams Road.
Donations can also be dropped off between 7 a.m. and 6 p.m. at Lake Highlands Automotive at the 10702 block of Audelia Road.
More on WFAA: