CLEBURNE, Texas — A man charged in a brutal assault at a Cleburne, Texas, hotel last year has vanished, cutting off his ankle monitor before a court date last week, per the Johnson County Sheriff's Office.
The man, 29-year-old Wahib Sadek Hamed, is considered armed and dangerous by the sheriff's office. If he's spotted, investigators said you should not approach him.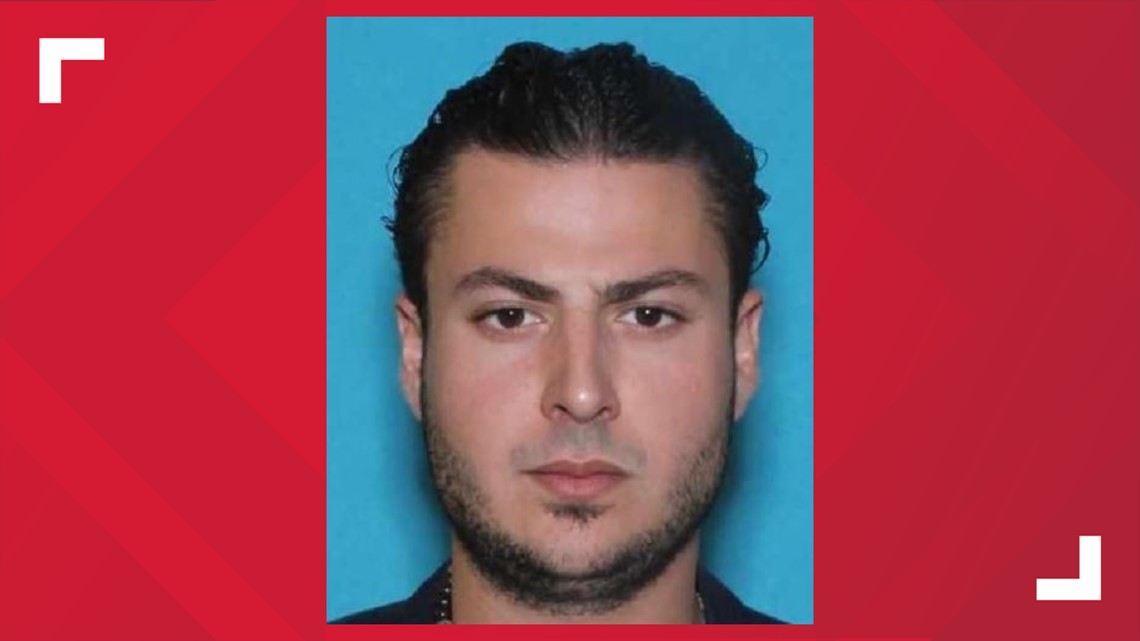 The 64-year-old victim in Hamed's assault case, Danny Keeling, is now speaking about the incident for the first time now that Hamed is missing.
"I still don't remember a lot of what happened," Keeling said. "Friends still ask me if I would do it again. The answer is: absolutely. But I'm still mad about the whole situation."
Per arrest documents from the Cleburne Police Department, Keeling was staying at the Liberty Hotel on a business trip last March and had just checked out when Hamed, who was also staying at the hotel, got into an alleged intoxicated physical altercation with a female front desk clerk.
"He was just going off on one of the ladies who worked there, just screaming," Keeling said.
Keeling got between the two to stop the attack, giving the employee and others enough time to call the police. Hamed then took his frustrations out on Keeling, per arrest documents.
"They said I was laying there face down on the marble floor after the scuffle, and that he just took the back of my head and beat it on the floor over and over again," Keeling said.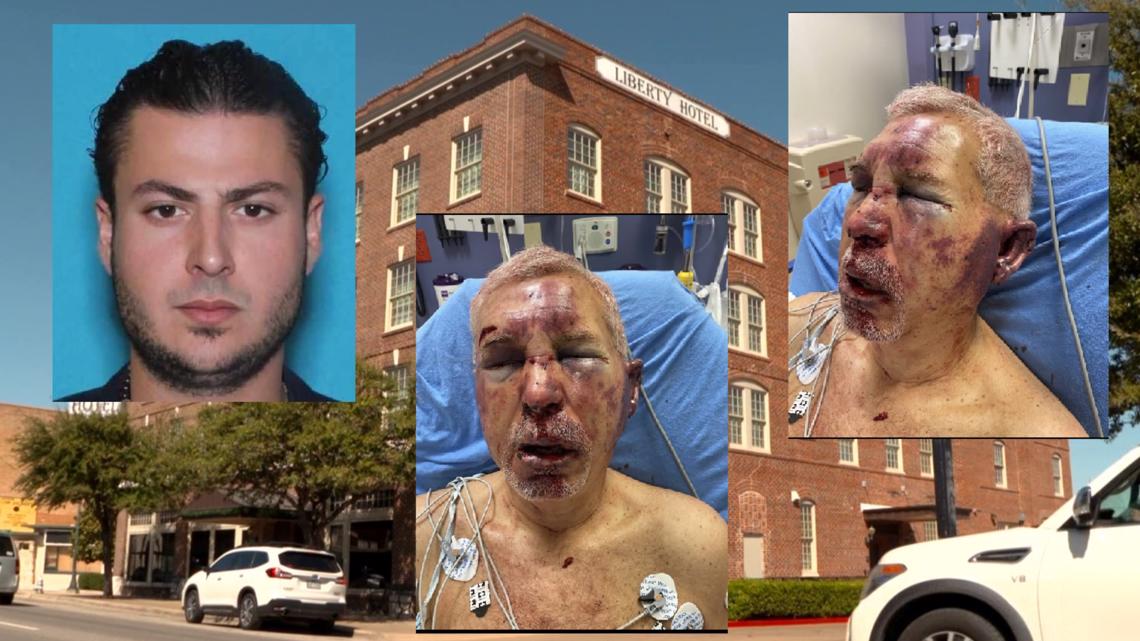 Hamed was then captured by a cell phone walking out of the hotel and toward police before being stunned and subdued by officers.
His arms are covered in Keeling's blood in the video. Keeling was rushed to the hospital, and photos of his injuries underscore how badly he was beaten.
"My whole jaw and teeth were just out," Keeling told WFAA. "I had to get screws and metal brackets during surgery to hold them in place. Eye sockets were cracked and cheekbones too."
Keeling said that the nerves to his jaw and teeth are expected to reconnect due to the surgery he had to repair his broken jaw, which was wired shut for weeks while he healed, but that he's eaten nothing but soft foods since the beating.
He also added that his sense of smell was impacted too. His vision is returning, but Keeling said he still can't drive at night.
Thankfully, he said doctors believe he doesn't have permanent brain damage.
He's back to work where he lives in Brazos County, but still wakes up at night thinking about what happened.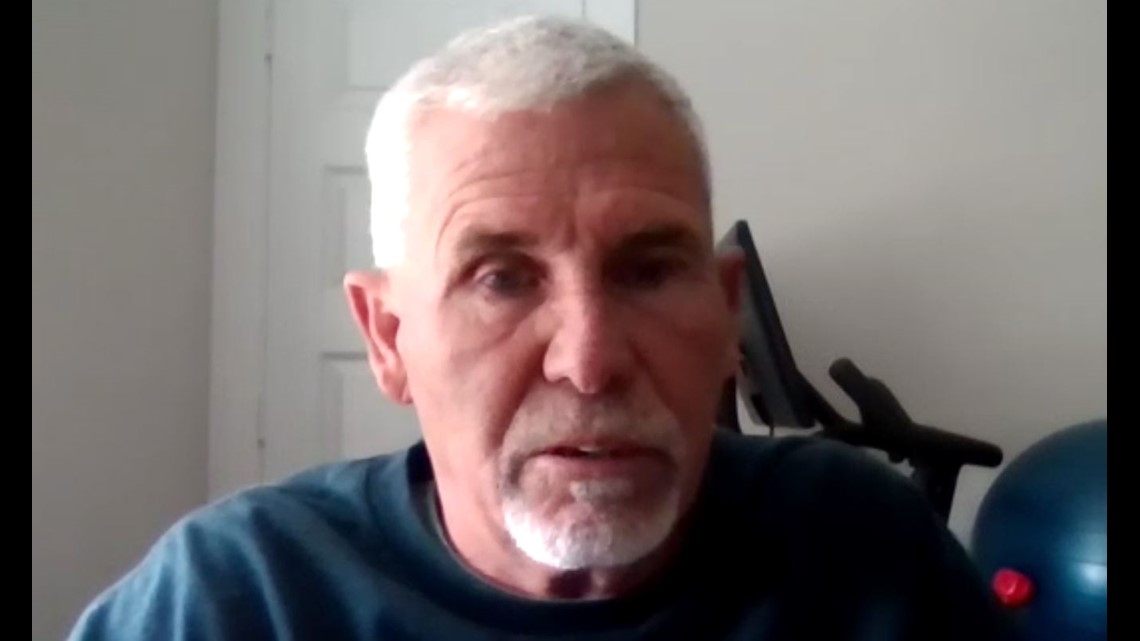 "My body just gets these electric shocks to my face like four or five times a night, so it's just been a tough road back," Keeling said. "My whole head just hurt for six or seven months."
Hamed was charged with resisting arrest and assault causing bodily injury. His bail was set at $1 million, per the sheriff's office.
A spokesperson said Hamed secured bail via a bondsman despite it being set so high. As part of his release, Hamed was required to wear an ankle monitor and home confinement.
At the end of February, the sheriff's office was notified that Hamed had removed his ankle monitor and could not be located. The offices for Hamed's attorney told WFAA they don't know where the 29-year-old is and confirmed that he can't be found.
Police reports obtained by WFAA say that Hamed was going through a divorce with his wife at the time.
Hamed has made statewide headlines before.
Dash camera footage shows Hamed getting out of his car and aggressively approaching the officer before he gets stunned.
At the time, an AK-47, a shotgun, and a handgun, including 200 rounds of ammunition, were discovered in his vehicle. During the arrest, Arlington PD reported that Hamed was making strange remarks and claiming to be a terrorist.
Investigators were skeptical about those claims, yet the FBI and ATF reviewed them.
No updates about that review were available when this article was published, but the sheriff's office said no federal agencies reached out regarding Hamed being connected to a terrorist organization.
A spokesperson only said that the U.S. Marshals and the Texas Rangers are working with them to find him.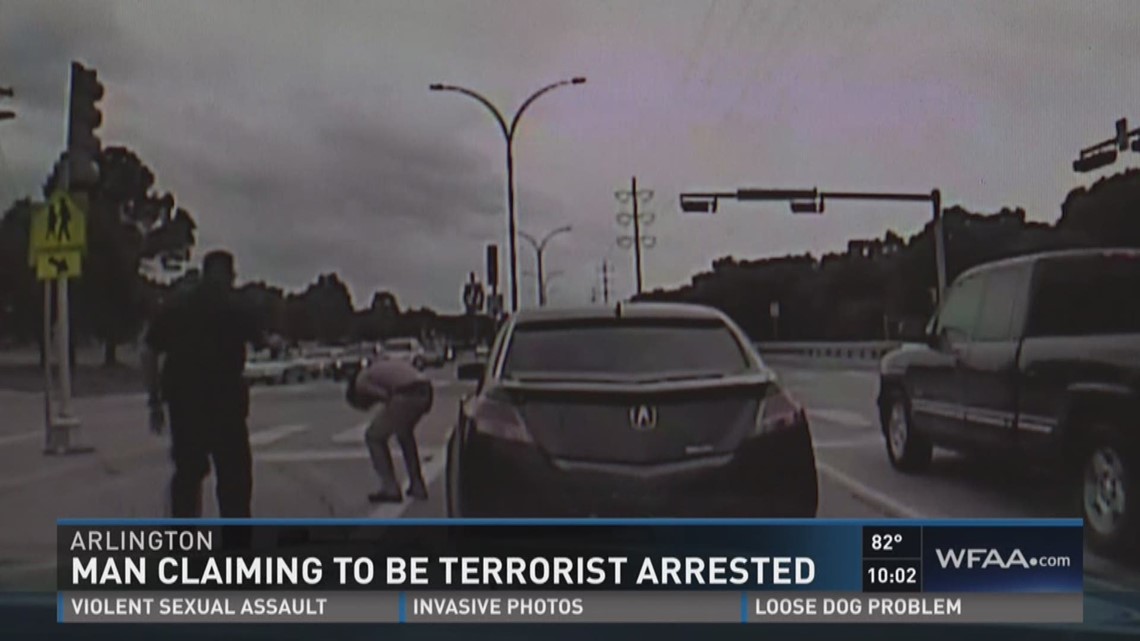 Hamed was charged with harassment of a public servant, making a terroristic threat, evading arrest, unlawful carrying of a weapon and interfering with public duties.
Court records read that he took a plea bargain on the unlawful carrying of a weapon and interfering with public duties charges, resulting in just probation.
The other charges were dismissed. Hamed's probation ended on Feb. 1, 2022 -- just weeks before he got in trouble with the law again.
"I just feel like it's a repeating thing," Keeling said.
Keeling said he just wants Hamed to be found and have his day in court.
"I just want to forget about it," Keeling said. "I haven't gotten a thank you from anyone except the girl I helped at the hotel. I've still got a ways to go with my recovery, and now I know he's got a ways to go too, if he ever gets caught."
The sheriff's office told WFAA that Hamed's bond has already been set to $3 million for the moment he is apprehended and booked into jail for violating his conditions of bond.