DALLAS — This story will be updated continuously on Feb. 21.
The Texas Public Utilities Commission called an emergency meeting Sunday to issue a moratorium on customer disconnections for nonpayment, Gov. Greg Abbott said in a news conference Sunday in San Antonio. The agency's moratorium will also restrict electric providers from sending customer invoices at this time, Abbott said.
The governor explained power across the state of Texas was back to full capacity as of 2:30 p.m., though there are still about 30,000 Texans without power due to equipment damage and other issues. He said he expects power to be fully restored to those without either by later Sunday night or early Monday.
Many Texans are still facing a water crisis largely brought on by the power outages, however.
Baker added about 215 water systems now have safe water to drink for their customers. That leaves about 1,100 water systems still under boil water notices across the state.
Two million bottles of water have been delivered by trucks so far, along with 1.4 million bottles have been delivered by aircraft across the state. "Millions more" water bottles will be delivered Sunday, Abbott said. Officials had previously said the state had ordered 9.9 million bottles of water as of Friday from federal partners.
Some cities like DeSoto are still asking that their residents with water service also continue to conserve their consumption and limit their water use to essential needs like drinking and cooking through the next few days. That's to ensure they can continue to have sufficient water pressure throughout the system as the likelihood of more bursting pipes increases with the thaw.
Other cities like Duncanville, however, have lifted calls to restrict water usage, with the city clearing industrial users to resume normal operations Sunday.
The governor also said he has requested a disaster declaration for agriculture producers in the state from the USDA, saying it was one of the many issues facing the food supply chain across Texas at this time.
Abbott said Texans should see grocery shelves becoming more and more restocked as truckloads of food deliveries have arrived in Texas over the last few days. He said he has suspended regulations to allow more trucks on the road.
All food banks are desperately in need of food and water at this time, officials said.
"We're very concerned about making sure we get food to the Texans who need it," Abbott added.
At the same time, many Texans are beginning to face the full aftermath of the winter storms, with burst pipes causing damage to their homes or sky-high electric bills for some energy customers. Abbott said the state is bringing in more plumbers to help meet the expected demand over the coming days.
There are now more than 3,700 Texas National Guard soldiers responding to the crisis across the state, with state emergency officials giving orders for where the resources and soldiers' help needs to go.

Dallas Parks and Rec warming centers to distribute water
Starting Monday, Feb. 22, from 10 a.m.-8 p.m., Dallas residents can come to any of the Park and Recreation warming stations to fill water containers, Dallas Mayor Eric Johnson said in an email. No ID is required, and residents can fill up to 15 gallons in their own containers per visit. If you don't have containers, the sites will have a limited number of 5-gallon containers available.
Texas Public Utilities Commission issues moratorium on customer disconnections for nonpayment, Gov. Abbott says
Customers facing "sky-rocketing" electric bills will have some temporary relief as officials work through how to handle massive power price increases seen during the outages across Texas last week, officials announced Sunday.
"The Texas Public Utilities Commission called an emergency meeting today to issue a moratorium on customer disconnections for nonpayment," Gov. Greg Abbott said during a news conference. "They are also going to restrict electric providers from sending customer invoices at this time. This pause will give them time to address the electric and power billing challenges that Texans are seeing."
"Texans who have suffered through days of freezing cold without power" should not be subjected to electric bill spikes, Abbott said.
"We will not end this [legislative] session until the state of Texas in so far as its power generation capabilities is fully winterized so we never go through this again," Abbott emphasized.
He added that all energy sources that plug into the state's grid need to be "weatherized and winterized" to withstand summer peaks and winter lows both in terms of temperatures and demand.
In a news release emailed after the Texas PUC's meeting Sunday, Texas PUC chairperson DeAnn Walker said protecting customers is their "top priority."
"The order and directives are intended to be temporary, likely through the end of this week, to address the potential financial impacts that are especially challenging during this extremely difficult time."
You can watch the full news conference below. It begins at 58:30.
Fort Worth rescinds last remaining boil water order
People who live in Fort Worth are no longer under any boil water notices, city officials announced Sunday.
Those who had been under the boil water notice for western Fort Worth can now use their water as normal, officials said. The city had previously lifted a boil water notice for north Fort Worth on Friday.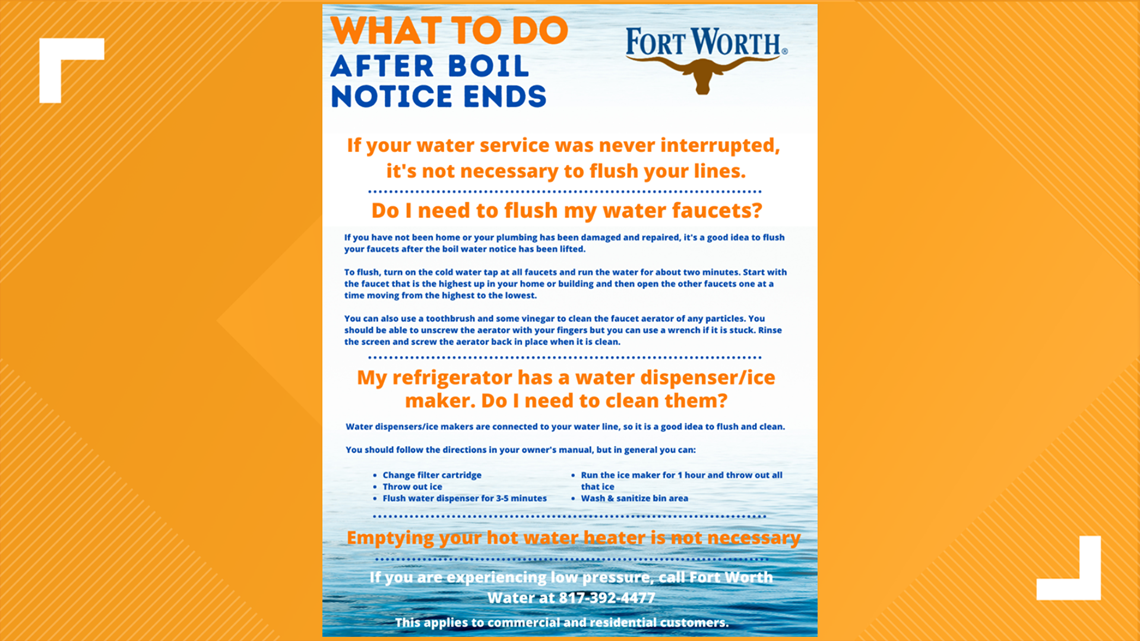 Cities that are customers of Fort Worth and were affected, however, still have to get their own orders lifted by state officials, the city added. Water customers in Aledo, Westover Hills and White Settlement should check with their own providers.
The city has dealt with 521 confirmed water main breaks in the past week. They've repaired 278 and still have another 284 to be investigated.
Relief boxes to be handed out in Denton from Real Housewives star's charity
Care packages full of essential supplies are going to be handed out at Cross Timbers Hope Center on Sunday starting at 4 p.m.
The distribution in Denton is a collaboration with Real Housewives of NYC star Bethenny Frankel's BStrong Initiative and NCS Trucking Company.
One box will be given out per car. Each contains:
20-pound bag of rice
One to two 2-pound bags of beans
1 to 2-pound bag of oats
Protein bars
Immune boosters
Hydration kits
Hygiene supplies like dry shampoo and bars of soap
5 masks, gloves and a large hand sanitizer
The distribution will last as long as supplies do. The Cross Timbers Hope Center is located at 312 W McKinney St. in Denton.
The donation contains more than $180,000 worth of supplies that should be enough to feed 5,000 people, a news release said. Two other trucks are headed to other
Southlake ends boil water notice
Water customers of the city of Southlake no longer need to boil their water, city officials announced Sunday. To see a full list of recommendations from the city on what steps to take to bring your back online, click here.
Mesquite opening libraries for people to file for assistance, giving away bottled water
The city of Mesquite is opening both of its libraries to the public from noon to 6 p.m. Sunday to help people who don't have insurance apply for federal assistance for damage they sustained due to the winter storms. The library will have public computers available only.
To apply for assistance, residents need to:
Take photos of damaged home or belongings.
Make a list of damaged or items lost due to disaster
Those with insurance must file a claim with their insurance company.
Apply online or over the phone to FEMA. Call FEMA toll-free at 1-800-621-FEMA (1-800-621-3362) to apply for assistance or check your application status. If you are deaf, hard of hearing, or have a speech disability and use a Text Telephone (TTY), you may call 800-462-7585.
To apply, you may need an insurance determination letter, documents proving your occupancy or ownership and proof of ID.
FEMA does not give assistance to people who's losses are covered by their insurance.
The city also has a limited supply of water to give out to residents dealing with plumbing issues, officials said. The city will host a distribution event on Sunday at 1 p.m. at Town East Mall near the city's water tower. Each household will receive one case of bottled water while supplies last.
"The city asks that only those residents in most need of this free water attend this distribution activity and leave the opportunity to their neighbors who may currently be in extreme situations," a news release from the city said.
The mall is located at 2063 Town East Mall.
Mavs donate $1.25 million to relief efforts
The Mavericks are giving away $1.25 million in grants and relief to help agencies and North Texans affected by the deadly winter storms.
Owner Mark Cuban and Mavericks players Luka Doncic, Tim Hardaway, Jr., Maxi Kleber, Dwight Powell, along with CEO Cynt Marshall are some of those spearheading the effort with The Mavs Foundation and Chime, a news release said.
According the release, the funds will help pay for:
"Emergency and homeless shelters at the Kay Baily Hutcheson Convention Center, including facility costs, meals and transport to the shelters for Our Calling, Austin Street Shelter, and the Stewpot;
Rehousing for families at both The Family Place and Genesis Women's Shelter, who both experienced burst pipes and severe damage;
Meals and utility costs and warming centers at 14 YMCA locations
Emergency rent for those in low-income housing and those who are experiencing power outages at The Wilkinson Center, Housing Crisis Center and Voice of Hope."
The Mayor's Disaster Relief Fund
"I am always touched by the generosity of our owner. When my boss donates $1 million dollars, it encourages the rest of us to show up and give," Marshall said in the release. "I also am very proud of our players who have always stepped up during our city's time of need. This money will go a long way to get these organizations back on their feet."
Anna no longer under boil water order
The City of Anna is no longer under a boil water order, officials said Sunday morning. Power outages led to the days-long order that was issued early in the week. Officials were able to test the water system Saturday and said that as of Sunday, the water was safe to drink again.
Officials had originally not expected to be able to rescind the notice until Tuesday.
DeSoto to hold water distribution event, resume senior meal service
The fire house is located at 206 S. Parks Street.
The city said it is also hopeful to resume meal service through its Senior Center on Monday. Garbage collection is also expected to resume Monday.
Oncor says nearly 20,000 without power
As of 8:00 a.m. Sunday, Oncor said it currently had more than 1,500 active outages affecting more than 19,600 customers.
The power company is asking anyone still without power to report their outage by calling 888-313-4747, texting OUT to 66267, using the MyOncor app or reporting it on oncor.com
"Icy and hazardous road conditions and residual damage impacts of controlled outages on our equipment has hindered the restoration process, though personnel will continue to work around the clock to restore power as quickly and safely as possible," the company said in a statement on its website.
Lowe's giving away clean-up supplies Monday
Two Lowe's locations in Dallas-Fort Worth are giving away clean-up supplies to North Texans dealing with storm damage. Each event will have 500 buckets filled with supplies to give away, with items like trash bags, DampRid moisture absorber and flashlights.
The events start at 9 a.m. Monday until supplies last. The locations are:
Lowe's of South Arlington
Lowe's of Southwest Dallas