PORTLAND, Maine (NEWS CENTER) — The young boy from Saco who motivated hundreds of thousands of people around the world to send him cards and well-wishes for his last holiday, lost his battle with cancer on Sunday, Nov. 19, 2017.
► PHOTOS: Jacob Thompson
PHOTOS: Jacob Thompson
NEWS CENTER introduced 9-year-old Jacob Thompson to the world on November 1, when Lee Goldberg was invited by family members to meet the special little boy who loved penguins and Christmas.
► STORY: 9-year-old boy wants one last Christmas
Jacob was diagnosed with stage four neuroblastoma in February 2014 when he was just 5-years-old. Neuroblastoma is a cancer that generally affects children and infants. When Jacob was admitted to Maine Medical Center on October 11,2017, his parents were told he only had a month to live.
Jacob wanted to celebrate one more Christmas and with the love and support of thousands of people around the world Jacob did just that. People world-wide answered his small, quiet call for holiday cards, and they did so in a big way.
Tens of thousands of cards flew into Jacob's small hospital room from celebrities to ordinary people whose hearts were touched by Jacob's sweet spirit and simple request.
► PHOTOS: Jacob receives thousands of Christmas cards.
PHOTOS: Jacob receives nearly 14,000 letters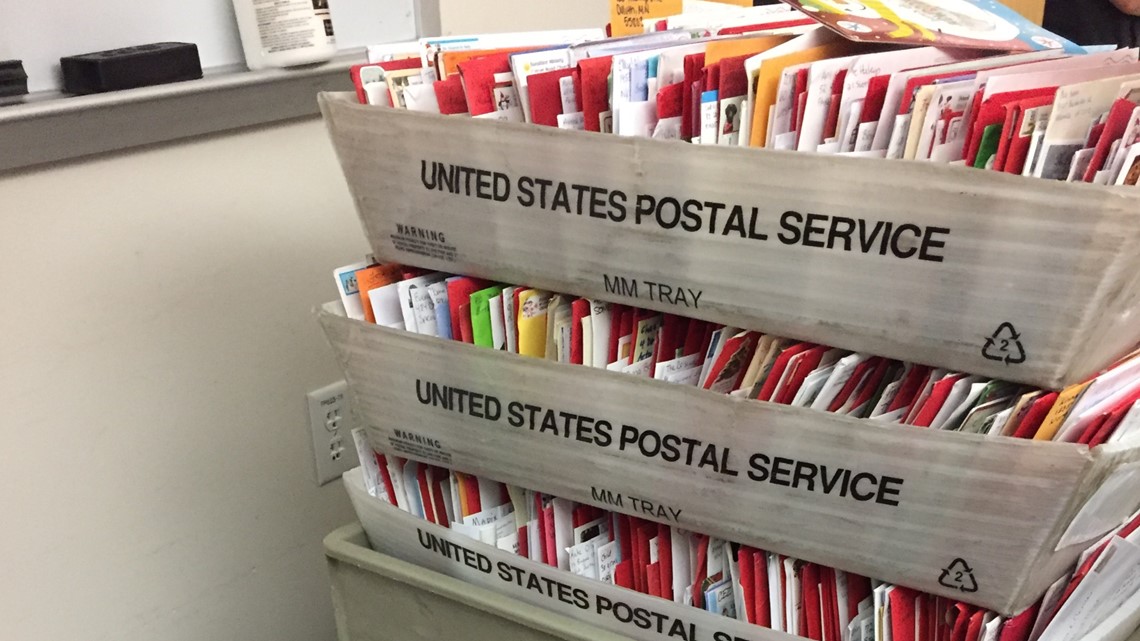 Let's make Jacob's early Christmas as big as he deserves. Here's the card I drew for him. I'm counting on you guys! https://t.co/aVNp0H7efG pic.twitter.com/4SeksvtvyM

— Arnold (@Schwarzenegger) November 3, 2017
"It's phenomenal, because of course I have always thought he was special.. And now the world knows he is special.. He has brought a lot of positive to other people and reminded them that this is the time for giving and sharing" said Michelle Simard, Jacob's mom.
In his last days, Jacob not only received pallets full of mail but had some amazing visitors like the University of Maine hockey team.
PHOTOS: Jacob meets Maine Ice Hockey players
After learning that Jacob loved penguins, the Mystic Aquarium in Connecticut brought the tuxedo birds to Maine to meet their young fan. A common saying of Jacob's was "live life like a penguin".
► PHOTOS: Jacob meets penguins
PHOTOS: Jacob meets his favorite animal!
On November 9th, members of the law enforcement community from across New England caravanned to Maine to visit Jacob.
"A simple request for Christmas cards touches everybody, I think," said Agent Richard Gagnier, who works for the Department of Homeland Security in Boston. He was especially touched to hear Jacob's two favorite things are penguins and police officers. "It resonated pretty deep with a lot of agencies and departments."
"I just hope we bring a smile to Jacob's face," said Gagnier. "He really moved me," he said.
► VIDEO: Police caravan from all over New England to visit Jacob
And just one week before his death, Jacob celebrated his last Christmas with surrounded by his family and with a special visit from Mr. and Mrs. Claus.
"It's what's it's all about. Making kids happy. We go to children's hospital's across the U.S. This is not the only trip we make and if you can make things better for a small child, that's a good feeling for us too." said Santa.
Jacob's family say they have been overwhelmed by the support and love they have felt by fellow Mainers, and strangers they will likely never meet. In Jacob's last days, the family urged people to send cards to servicemen and women as Jacob still had 21 pallets of mail to sift through.
His family created a GoFundMe on Oct. 16 in anticipation of his passing, writing, "No one thinks about having to do this type of planning for their child and because of that we did nor do not have life insurance on him." Donate here.
You can also offer condolences through the family's Facebook page, "Jacob Thompson's Journey."