Top lawmaker responds to News 8 investigation
<p>LIEUTENANT GOV. DAN PATRICK SAYS 'PASSING THE TRASH' MUST END, AND PUTS STATE'S SCHOOL SUPERINTENDENTS ON NOTICE AFTER NEWS 8 INVESTIGATION</p>
Passing The Trash: A News 8 Investigation
DALLAS -- A News 8 investigation has sparked a call from the Texas lieutenant governor demanding state laws change in order to protect students from sexual predators in the classroom.
"Your series gave us all that information that we did not know," said Lt. Gov. Dan Patrick in an interview with News 8.
Earlier this month, WFAA-TV exposed a dirty little secret of the education community. It's called "Passing the Trash."
The term is used to describe how school districts quickly get rid of bad teachers by allowing them to resign in lieu of termination.
Why do districts pass the trash?
Some say it's about saving the district the time and money required to legally terminate a teacher. Others say it's more about saving the district from a messy publicity scandal.
Regardless of the motive, there's a system in place in Texas to stop a predatory teacher who resigns, moves on to a new job at a new district, and ultimately, a new classroom full of unsuspecting children.
But News 8 found that system is not working.
And in half the cases we analyzed, superintendents are to blame.
State law requires superintendents to notify the Texas Education Agency within seven days after a teacher resigns amid allegations of sexual misconduct. When superintendents do not follow state law and make the report to TEA, the teacher often keeps his or her teaching certificate and can easily get another job in a neighboring district.
"How are the superintendents in our state not understanding by passing the trash they're exposing innocent children to be victims of a sexual predator?" Patrick told News 8 after watching our series. "How do they sleep at night?"
Dallas Independent School District Superintendent Michael Hinojosa wouldn't talk to us, but we know he "passed the trash" by failing to quickly report to TEA that a teacher immediately resigned after being confronted with allegations of having an inappropriate relationship with a 17-year-old student.
Nine weeks later, the teacher, Michael D'Spain, got another job at an elementary school in a neighboring district. He worked there until he was arrested and convicted for the inappropriate relationship with the DISD student, a second-degree felony.
D'Spain declined our requests for an interview.
News 8 obtained a letter that Hinojosa's office sent to TEA after D'Spain's arrest. In it, DISD appears to try to conceal the district's failure to report the allegations to TEA.
"If a superintendent 'passes the trash' […] then, quite frankly, I think the superintendent needs to be fired," Patrick told News 8.
When allegations of sexual misconduct first begin circulating on any school campus, it can get messy.
Maribeth Thomas knows that firsthand.
"I felt berated, belittled, intimidated, and reprimanded," said the former Prosper High School teacher.
She claims she was retaliated against last year by Prosper school officials for reporting to city police that a student made an outcry to her. That student told Thomas that she'd been touched inappropriately by a teacher's aide.
Thomas followed state law and Prosper ISD's policy by filing the report with city police, but soon after, she was called into a meeting by her supervisors.
"You could tell it was not a meeting to thank me for doing my duty," Thomas told News 8.
Thomas recorded the meeting, where Prosper High School principal Greg Wright told her this: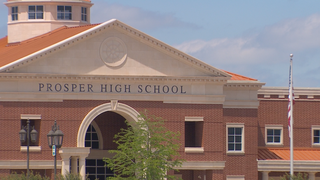 "There's about three incidents that I've been really disappointed in employees and just severely pissed off, and that's one of them. Because I'm all about the team, I'm all about PR, and how this high school looks."
The school district's chief of police, Chad Vessels, can be heard encouraging Thomas to change her report to city police.
"You can call them. I don't know who you spoke to, but you can call them, and maybe redact your statement or change it or whatever," Vessels said on the recording.
He can also be heard encouraging her to break the law and not report future outcries directly to city police.
"If there's an isolated incident, we're certainly going to take care of it, no doubt about it. We are going to do what we have to do by law, but we are going to do it internally."
Thomas has filed a lawsuit against Prosper ISD claiming retaliation.
Prosper ISD maintains she was not reprimanded and declined to comment on camera citing pending litigation.
Thomas pulled her two high school daughters out of Prosper High School and left the district. She now teaches elsewhere.
"If I couldn't protect somebody else's child, how could I protect my own?" she told News 8. "How could any other teacher protect their own kid, or anybody else's kid, if I was being told this?"
Her story is part of a culture of secrecy that we've seen throughout our months-long investigation. It is evident in the text messages sent from teachers to students urging them to keep quiet; in the stories from student victims; and in the teachers' personnel files from school districts.
Take the case of a former Irving ISD coach, for example. When News 8 asked that district for the personnel file for Chris Francis, we received page after page of blacked-out records.
The redacted records made no mention of the fact that the girls' soccer coach was put on leave twice after allegedly having an inappropriate relationship with a player.
The records the district gave News 8 make no mention of a memo the principal wrote, saying, "I have concerns about his judgment and question his honesty."
News 8 obtained the unredacted memo from other sources.
We also learned from other sources that the district checked the "do not rehire" box in the coach's file.
Francis resigned, and 10 weeks later, was coaching again -- this time at Cleburne ISD, where he was arrested and convicted for having sex with a 15-year-old Cleburne soccer player.
Francis declined to talk to News 8, but denied any wrongdoing in Irving.
Irving cited state privacy laws when they withheld from News 8 the details about Francis' departure from their district.
Even the director of teacher investigations for TEA feels shut out.
"When we would ask for information regarding an investigation, we would get literally blacked-out sheets," Doug Phillips told News 8. "You can't conduct an investigation if you don't know who is involved."
When Phillips testified last fall during a Texas Senate Education Committee hearing about how difficult it is to get district to cooperate with his investigations, lawmakers took notice.
"Folks, I'm just saying this has to be stamped out," said committee member State Sen. Paul Bettencourt, R-Houston, at last year's hearing on inappropriate teacher-student relationships. "We are talking about the health and safety of a child! That's what we are talking about here! And I'm astonished and flabbergasted that there are school districts out there that are going to pull this..."
We asked Phillips, whose job it is to protect Texas schoolchildren, why he gets pushback from districts.
"Well, that was my question, too," Phillips said. "As I've been told by the law firms representing the districts […] they're concerned about the liability of the district."
"That's going to stop," Patrick told News 8. "We are going to put a law on the books to address this next session, I assure you."
Until then, Patrick has a warning for the state's superintendents.
"Any superintendent out there who has been doing this, you better stop right now, because your career is going to be over in Texas," he said.