Susan Taylor's son is a toddler in a man's body.
Her 27-year-old autistic son, Paul, was stabbed more than 85 times with a Phillips head screwdriver. The distinctive x-shaped stab marks cover his arms, head and neck. Paul, who is also epileptic, was clutching his blood-soaked Ernie doll in the aftermath of the attack this past July.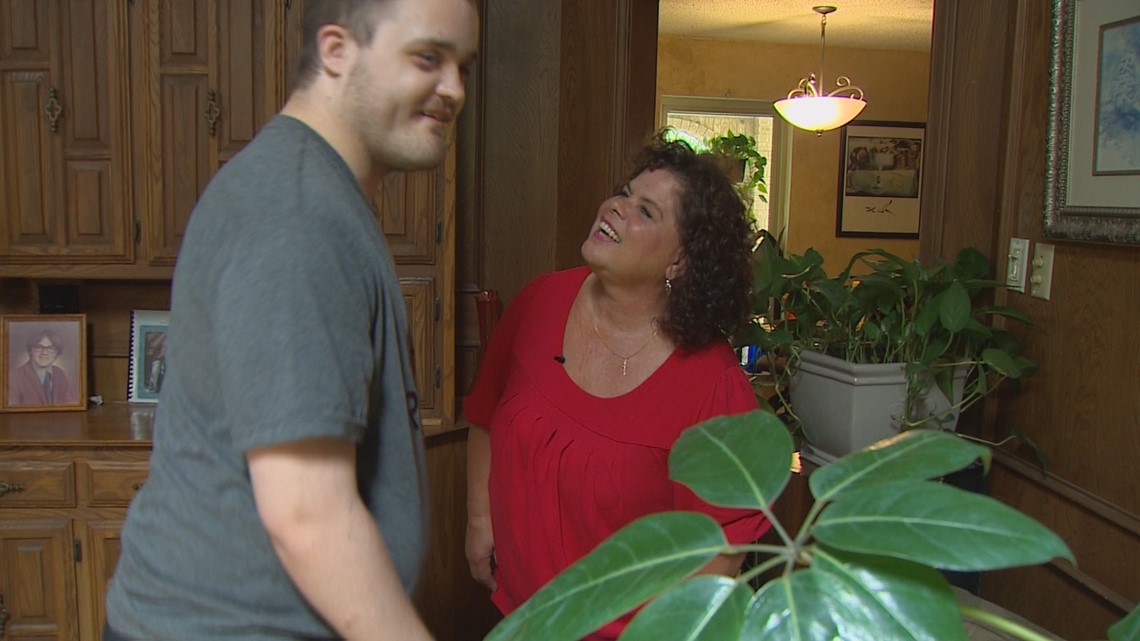 "There are not enough adjectives to describe the horror that this boy lived through," his mother said.
The 29-year-old man accused of attacking him is the mentally disabled son of Bonita Goodman. He has a low IQ. He was diagnosed with paranoid schizophrenia as a teenager.
"Before Gary got really, really sick, he was a great kid," she said.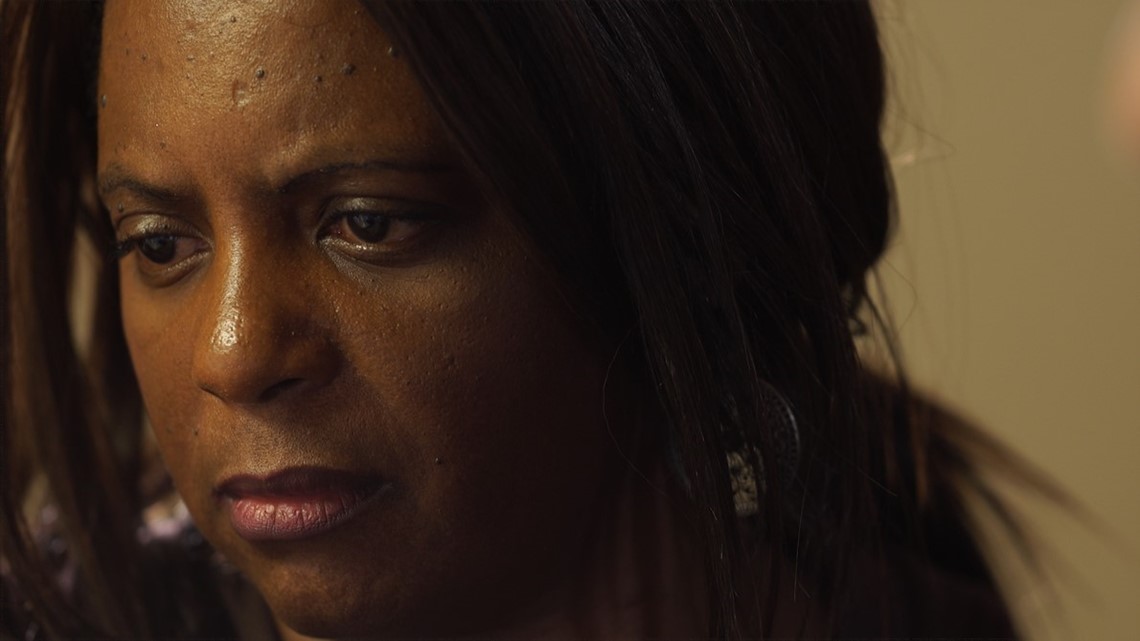 Bonita Goodman and Susan Taylor have never met, but their sons briefly lived together in a Dallas adult foster care home, where the attack occurred.
So how could this happen?
Interviews with the two mothers, as well as police and other sources, reveal that a caretaker paid by the state to protect them did not do his job. The two men, along with a third disabled man, were left alone in the house and that's when police say Gary attacked Paul.
News 8 also found the system designed to protect medical privacy put them in danger. The government and providers closely guard information about whether someone is receiving services for a disability. And if two people have different providers, as was the case with Gary and Paul, those providers are prevented by law from sharing information with each other, even if the clients live together.
"That's where taking the safety precautions too far actually creates a hazardous environment," said Clay Boatright, who has been spent his life advocating for the rights of the intellectually disabled.
Unknown history
Gary and Paul were placed in the adult foster care home, known as a "host home," as part of a federally funded program designed to keep the intellectually disabled out of institutions. Host homes are supposed to be more like a traditional home.
When Susan moved her son Paul into the home on June 29, Gary had already been living there. She had no clue about Gary's documented history of violence. Police records show he had been repeatedly taken into custody by police to psychiatric hospitals over the last three years.
Susan did not know about an Aug. 20, 2017, incident at a group home in Dallas. Police were called there after Gary repeatedly punched another client in the face.
The incident is captured on police body cam videos, which WFAA obtained with an open records request.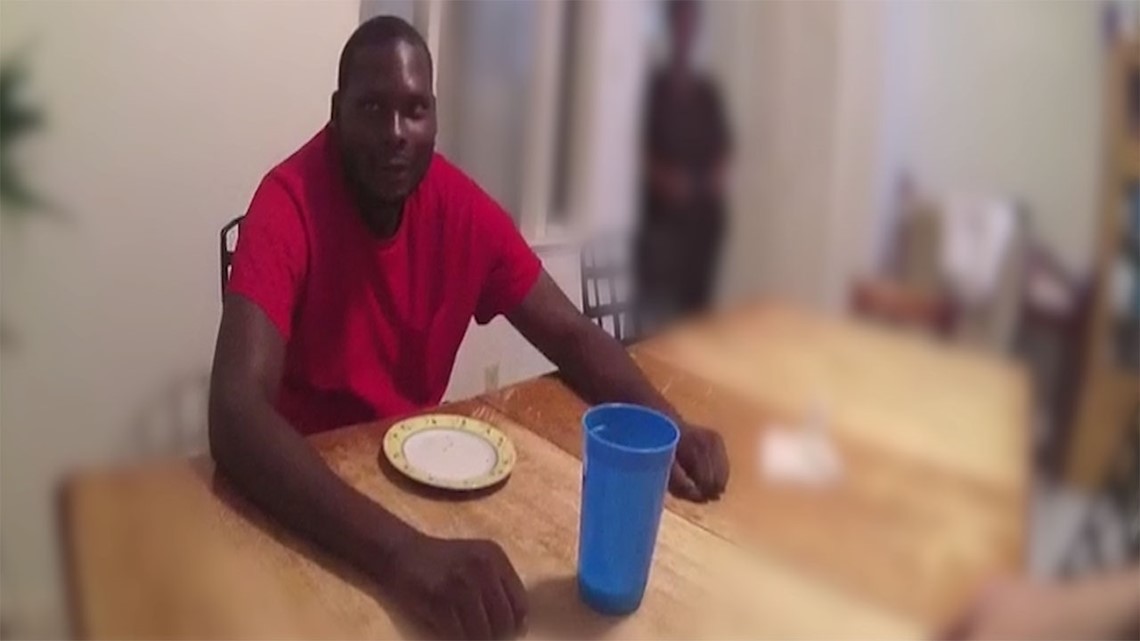 "He was messing with my thumb and I got mad so I started punching him," Gary said to an officer questioning him during that incident.
An officer asked a group home worker if he thought Gary might kill the other client. She initially responded "no," but then added, "I take that back. I don't know. He's violent."
Body cam video also shows a group home supervisor telling told police Gary attacked a staff member two weeks earlier, and that he'd stayed about a week in a psychiatric hospital.
"He's had a lot of episodes," she told officers on the video.
After the incident, according to his mother, Gary decided he wanted a different provider. He picked Abundant Life HCS in DeSoto. That provider placed him in a "host home" run by Rufus Hardy Jr.
His mother said Gary would frequently wander away from Hardy's home on Appaloosa Drive. One time, she said, he showed up on her door step in Fort Worth.
"I said, 'Gary how did you get here?'" she said. "He wouldn't never answer me."
According to police reports, Gary went missing about three weeks before Paul arrived at the Appaloosa home. Hardy told police that he woke up to find Gary gone. Gary was found by police a few days later and taken to a psychiatric hospital.
New roommates
Gary was back in the home on Appaloosa Drive by the time Paul moved in there.
On July 4th – days after Paul's arrival – police say Gary assaulted Paul and gave him a black eye. Hardy had left a man named Stephen Setnik in charge of his clients, according to police records.
Police were not called and Hardy later told police it was "handled in house," records show.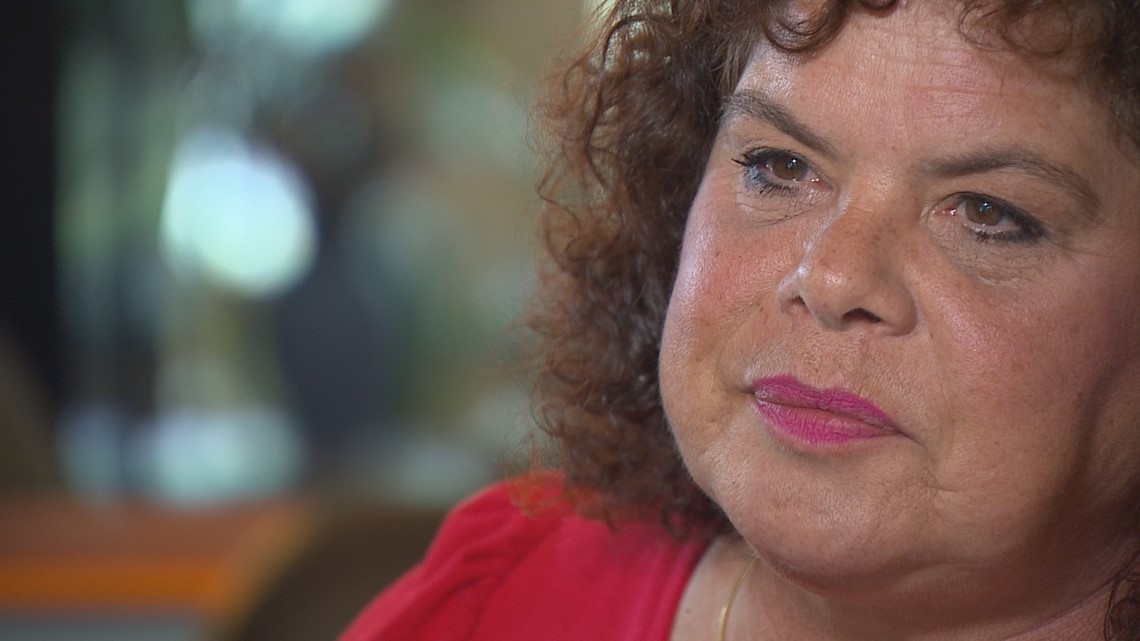 Paul's mother also said she was not told about the July 4 assault. She'd texted Hardy on July 5, asking him how Paul was "assimilating" in his new home.
"He's doing well," Hardy replied.
"They should have told me," Susan told WFAA. "I would have taken Paul out of that situation."
Four days later, Hardy called 911 for a new emergency.
"There's been a bad accident. Very bad," he told the 911 operator.
He said he needed police and an ambulance.
"This had to happen last night, 'cause whenever I woke up, there was blood in the rooms," Hardy told the operator.
Hardy gave the impression to the 911 operator that he was there at the time of the attack. But he had left Setnik in charge of his three disabled clients. Setnik later told police he wasn't there either.
WFAA sought interviews with both Hardy and Setnik, but both declined to talk on camera.
The other client, who is a quadriplegic, told officers he heard Gary and Paul wrestling in Gary's bedroom. He told police he heard Paul "crying and screaming" during the attack, according to police records.
According to the police report, the attack occurred late on July 7, or after midnight on the 8th. No one dialed 911 until about 11 a.m., records show.
No one knew Paul had been injured for hours – not until he walked into the kitchen with his face covered in dried blood.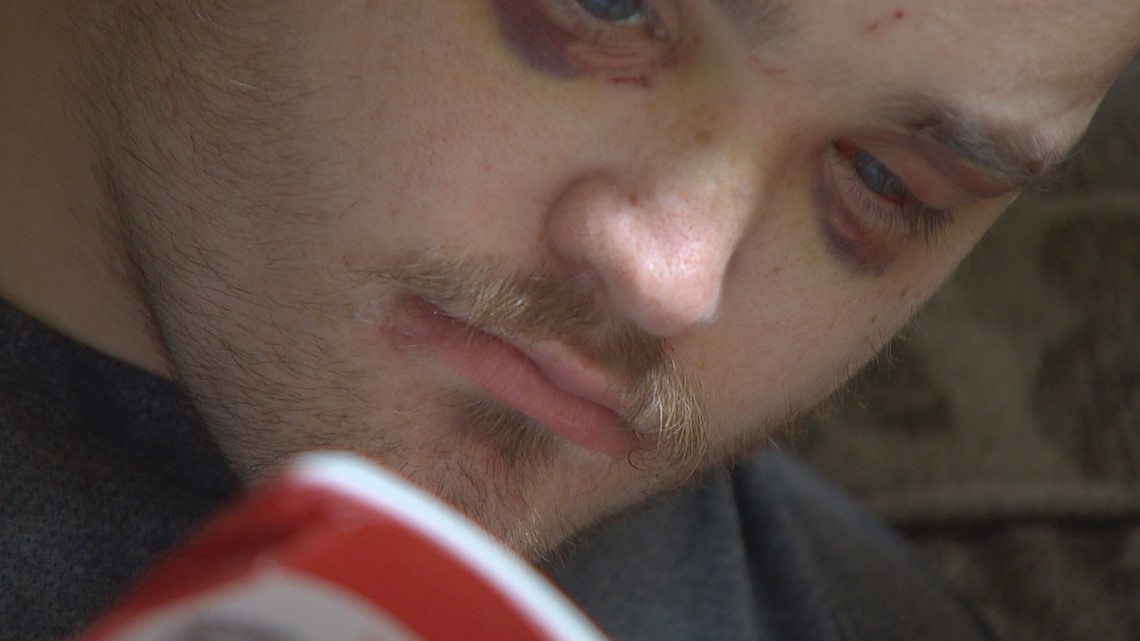 Hardy told police that Paul came into the kitchen and said, "Gary beat me," according to police records. Susan says it would have been impossible for Paul to make that statement because he is unable to communicate in complete sentences or explain who attacked him.
Police recovered a bloody screwdriver at the scene.
"To leave Paul alone with this individual after knowing he had attacked Paul before is unconscionable," Susan said.
Gary fled after the attack. He was taken into custody weeks later. He told a police detective that he told Paul to come into his room and that he then stabbed Paul "a lot of times" with the screwdriver. He said he stopped stabbing Paul when he left his room.
A Dallas Fire-Rescue official was the first to inform Susan of the attack. Hardy told her in a text message, telling her he had some "bad news."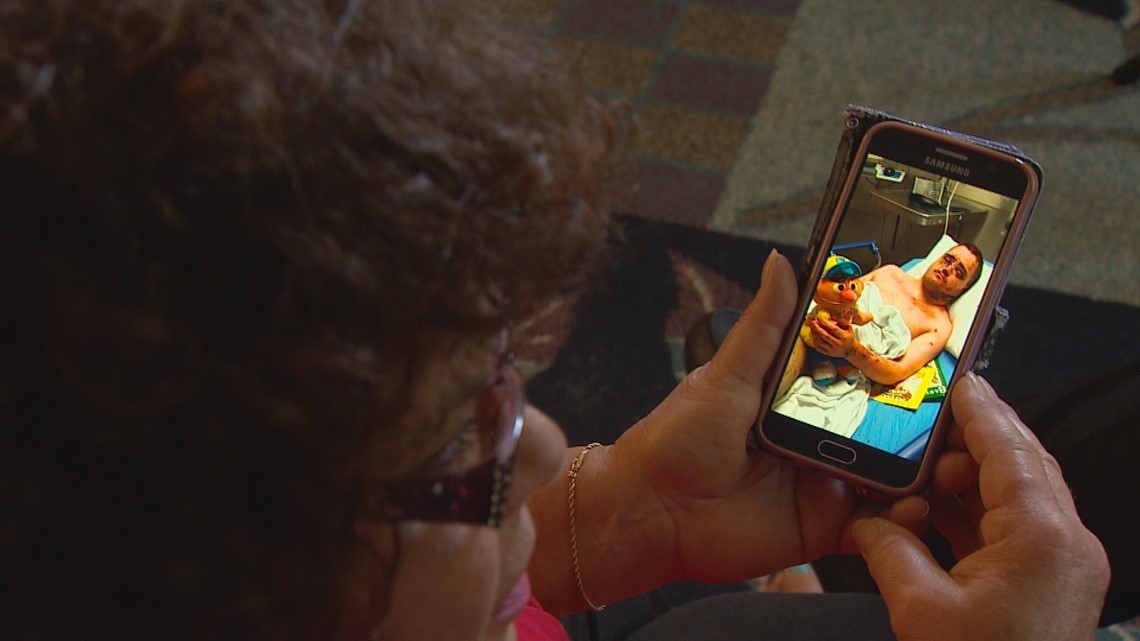 "There was a fight between Paul and another consumer living in my house," Hardy wrote. "Paul is in the hospital."
Hardy did not accompany Paul to the hospital. Susan rushed to the hospital only to find her son covered in stab wounds.
"I tried to find a spot on his head that wasn't injured, to just gently place my lips on his head and I said, 'I love you buddy. It's mama. You're ok,'" she said.
Gary's mother, Bonita Goodman, says after the attack, Hardy told her Gary had run off again and that he had assaulted someone. She says he did not tell her the severity of the attack.
"Oh, this is not good," she said as she looked at the photos of Paul's injuries.
"They should not have been left at that house by themselves because they're like children," Bonita said.
'Sole caretaker'
Paul and Gary were placed in Hardy's home by separate companies known as providers. By law, a host home can have up to three intellectually disabled clients and each of those clients can be placed by different providers.
Paul's provider was a company called Ahora Y Siempre. That company's owner, Francisco Gonzalez, signed a contract with Hardy in mid-June.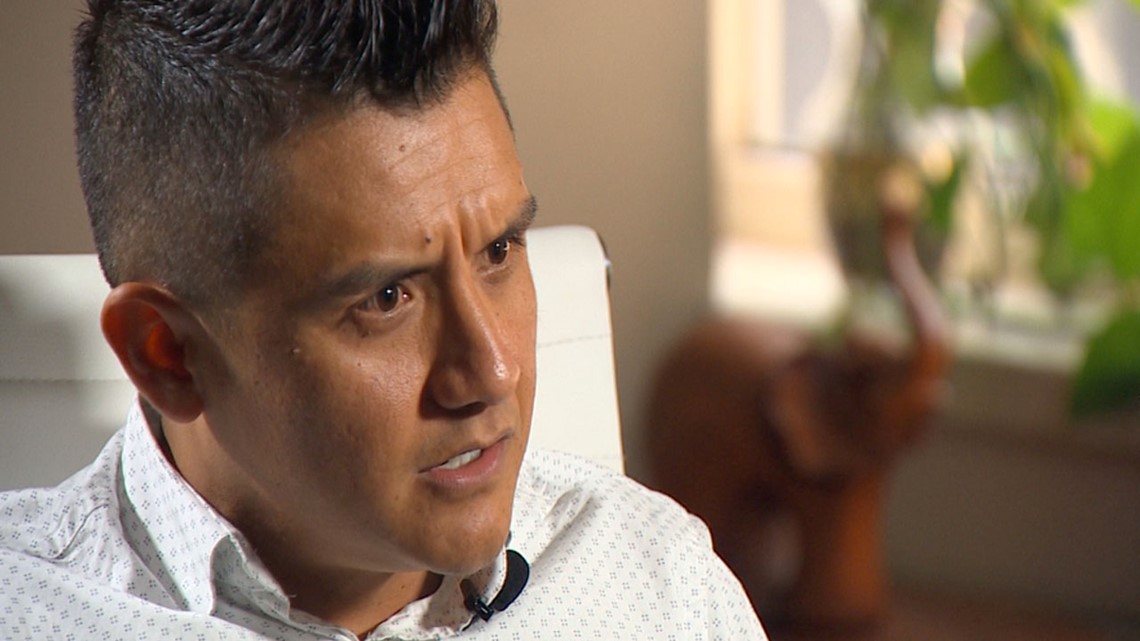 Gonzalez told News 8 that Hardy indicated that he had experience with people with disabilities.
The application also asked if anyone else would be involved in the caregiving. Hardy wrote that no one else would be caring for clients.
"He was going to be the sole caretaker," said Gonzalez, who got permission from Susan Taylor to talk about her son Paul's case with WFAA.
Had Hardy mentioned Setnik, the company would have been required to conduct a background check and train him, Gonzalez said.
Paul was the first – and last – client Ahora Y Siempre placed in Hardy's home. Gonzalez' company cancelled its contract with Hardy immediately after Paul's attack.
"I feel very betrayed by him," Gonzalez said. "We trusted him … Someone like Paul should have not been left alone."
Medical privacy
Metrocare Services in Dallas is the local government group that coordinates taxpayer-funded care for "clients" with intellectual and developmental disabilities.
They say it's up to the person running the host home – in this case Hardy – to "be aware of who is in the home."
Hardy told News 8 via text he was "not notified" about Goodman's violent history.
So why weren't those that need to know informed about Goodman?
It's about medical privacy.
"There is a very strict rule of confidentiality, especially when you're dealing with people with special needs," Gonzalez said.
As a result, neither Ahora Y Siempre nor Metrocare Services could find out, much less share, the history of a client they weren't directly helping – even a violent one.
"You wound end up having three men with severe disabilities with a variety of behavior needs left alone overnight with no caregiver in place," said Boatright, the disability rights advocate who is also father of twin autistic teenage girls. "That is absolute recipe for disaster."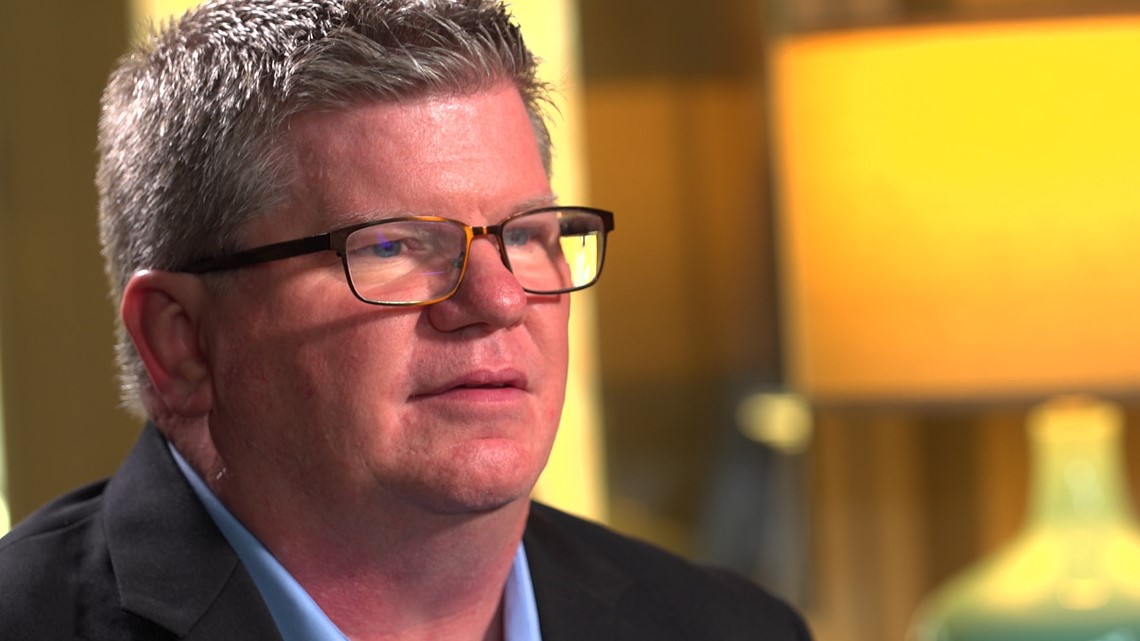 Boatright, whose group disABILITY ADVISE helps families find competent providers for loved ones, said the state should look at making changes so that only one provider can place clients in a host home. That way, that lone provider could know all about each roommate and whether they would be compatible, and not just rely on the host home caregiver to make those decisions.
Hardy is still currently able to care for clients in his home, said Kelli Weldon, spokeswoman for the Texas Health and Human Services Commission.
The state maintains what's known as an Employee Misconduct Registry. According to Weldon, Hardy is not on that registry and "is able to contract with any provider."
An Adult Protective Services investigation of the attack on Paul is ongoing.
Even if an investigation determines that Hardy should be put into the registry, he can appeal and during that appeal he would not be barred from contracting with providers and caring for individuals.
There is no process to temporarily suspend a caregiver pending the outcome of an investigation and appeal, Weldon said.
More than a month after the attack, Weldon confirmed Abundant Life HCS – the provider that placed Gary in the home – had clients in Hardy's home. Abundant Life did not return repeated requests for comment.
Authorities continue to investigate Hardy's role in what happened. Hardy could be charged with a crime under a state statute that holds caregivers responsible if their actions lead to the injury of a disabled individual.
Gary is charged with two counts of injury to a disabled person.
'A danger to others'
WFAA tried to interview Gary in the Dallas County jail multiple times, but jail officials said he was not cognizant enough to consent to an interview.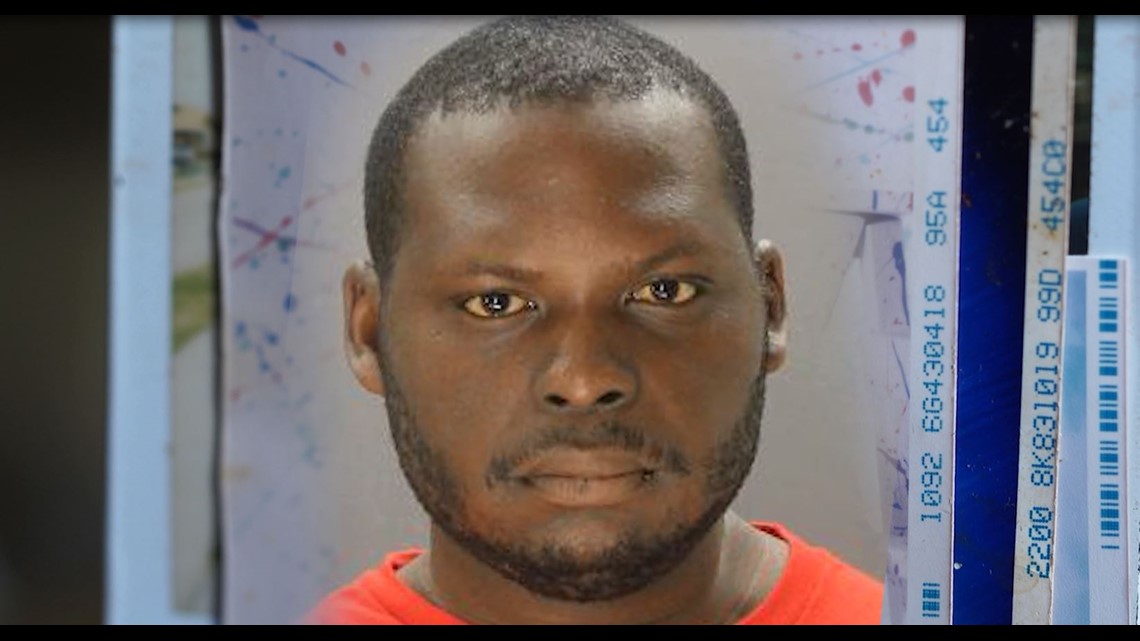 On Friday, based on a psychiatrist's findings, District Judge Amber Givens-Davis signed an order finding Gary "incompetent" to stand trial. The court also found that he "is a danger to others and may not be safely treated on an outpatient basis."
The judge ordered Gary be sent to the maximum security unit at the North Texas State Hospital in Vernon for up to 120 days where he will be treated until psychiatrist's determine that he's competent to stand trial on the charges against him.
He remains in the Dallas County jail, pending his transfer to the state hospital.
"I think he is very afraid and confused and doesn't know why he's in there," said Gary's mother, Bonita. "I don't think he understands at all. I don't think he understands why he's incarcerated. I don't think he understands a lot of things."
Days after the attack, Susan was still trying to comfort Paul.
"Ow," he said, pointing one of wounds on his hands. Susan believes they are defensive wounds from Paul protecting his head.
"I know you've got a lot of 'ows,'" she told her son. "We're going to make all of your 'ows' better."
Paul still has night terrors, his mother said. He's afraid to leave home. His mother's afraid to let him leave.
"Why weren't you there for my son?" she said of Hardy. "When he needed you the most, you let him down."
Paul's family has started an online fundraising campaign to help pay for "private home care and to help with the anticipated medical and legal bills that will soon come our way." Here is the link to the GoFundMe page: https://www.gofundme.com/paul039s-foundation