NEWS 8 INVESTIGATES EXCLUSIVE
HUNTSVILLE – Correctional officers are speaking out about excessive heat and other dangerous conditions inside Texas' prison units following a series of WFAA stories highlighting deaths of asthmatic inmates suffering inside un-air-conditioned prison units.
"These officers are working in a living hell," said Lance Lowry, president of the American Federation of State, County & Municipal Employees Local 3807, which represents Texas correctional officers.
"I'm not about, 'Let's go hug these inmates,'" he told WFAA. "I'm about taking care of these officers."
Lowry and two other officers spoke out to News 8 after our investigation highlighted several inmates who died allegedly from over-exposure to the punishing heat inside the state's un-air-conditioned prison units. Inmates who witnessed the deaths of Curtis Garland Jr., Quintero Jones and H.M. Griffin say all three suffered in the extreme heat and couldn't get adequate medical attention.
The conditions are unconstitutional, according to the University of Texas at Austin Law School Human Rights Clinic. The United Nations Committee Against Torture has called for action to prevent deaths "as a result of extreme heat exposure while imprisoned in unbearably hot and poorly ventilated prison facilities" in Texas.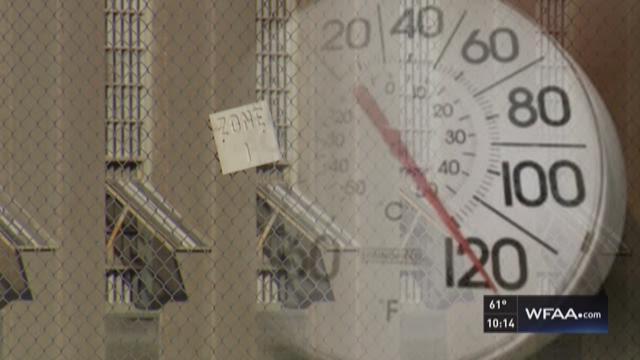 "Nobody wants to talk about it," a correctional officer told News 8 in an interview. "Nobody wants to hear about it and because we don't, nothing's being done about it. It's being swept under the carpet."
Officers spoke to News 8 on the condition we not reveal their identities. They say they fear speaking out could get them fired.
"I get the impression that we are just another form of inmate to them, because that's the way we are treated," the officer said.
Only 30 of 109 Texas prisons are climate controlled. Corrections officers responding to our investigation into heat-related deaths inside Texas prisons say temperatures inside often reach an oven-like 120 degrees.
"We work in that same environment," an officer said. "If it's 120 for them, it's 120 for us, all summer long."
In some ways, corrections officers have a worse time with the heat, as they are less accustomed to it and have to wear more gear for protection.
"You are wearing three or four layers of clothing and you're working in a heat index of 115, 120," an officer said. "It can get pretty unbearable and then you don't always have time to stop and take a break."
According to prison records, in the past five years, 226 corrections officers have reported heat-related illnesses.
The prison's job postings warn potential candidates of "excessive heat."
That heat is being blamed for 14 inmate deaths since 2007, prison records show.
News 8 has documented 21 cases of asthma related prisoner deaths in the past ten years, using a database of in-custody deaths maintained by the Texas Attorney General's office.
Excessive heat is a known trigger of asthma attacks and other illnesses.
"Life threatening conditions can be prevented," the union's Lowry said. "We are not living in a third world country."
Lowry says he speaks for many other officers when he says conditions are responsible for illness among inmates and staff.
Meanwhile, last week, the Texas Board of Criminal Justice, which oversees the prisons, bragged on the agency's yearly accomplishments.
After weeks of declining to answer WFAA's questions about heat-related deaths and illness, executive director Brad Livingston granted us a brief interview.
"We've taken, over the years, a number of mitigation efforts that are intended to mitigate the impact of extreme temperatures," he said.
Livingston said that of the 79 prisons that aren't climate controlled, fans and cooling stations are available to inmates and staff.
But a 2014 report by the Human Rights Clinic at the University of Texas calls Texas prisons in violation of the constitutional prohibition against "cruel and unusual punishment" because of the heat and lack of adequate medical care. The U.S. Supreme Court defines cruel and unusual as "conditions posing a substantial risk of serious harm to inmates."
"With the totality of steps that we take, our facilities, I believe are constitutional," Livingston said. "Certainly, one death is too many."
Officers we talked to say there is an ongoing indifference to conditions for inmates and staff and that more illness, even deaths are a certainty.
"Nobody cares," an officer told News 8. "They are just like, 'A dead inmate? There's nothing wrong with that. We got another one to take their place.'"
Email bshipp@wfaa.com.