GRANBURY — Opposing demonstrations are expected in Granbury on Thursday, where the Hood County Clerk took a religious stand against issuing marriage certificates for same-sex couples.
On Monday, Katie Lang told News 8 that her decision wasn't violating anyone's rights, because other counties were issuing the licenses.
One day later, Lang clarified her position, saying that other employees in her office will start issuing the documents.
"As soon as the appropriate forms have been printed and supplied to my office, the County Clerk's Office of Hood County will have staff available and ready to issue same-sex marriage licenses," Lang said in a written statement on her website.
That does not satisfy Lisa Rosenburg. On Monday, she said she was told that a license was out of the question.
"We got the story that they would never be issuing a same-sex marriage license in Hood County because of Katie Lang's religious beliefs," she said.
Rosenburg said Lang backpedaled after another same-sex couple threatened to sue.
On Tuesday, Rosenburg was told the county will issue a license, but she'll have to wait "three weeks or longer" to marry her partner.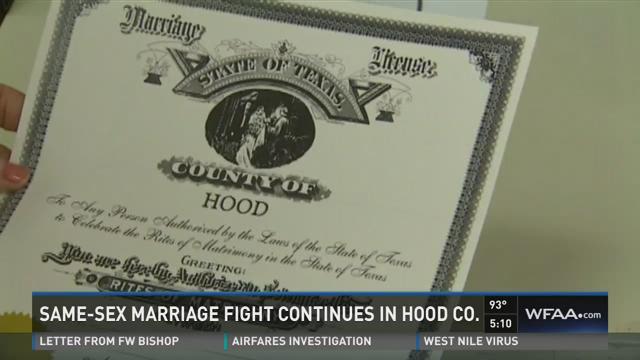 Rosenburg plans to attend a protest Thursday outside the clerk's office. Jessica Winters organized the event.
"If your religious views start to affect the community, you need to step down," she said.
Winters plans to circulate a recall petition for Lang, who is serving her first term as county clerk.
Katie Lang is no longer commenting on the controversy. She referred questions to the Plano-based Liberty Institute. The applicant who had vowed to sue said Wednesday the suit is on hold because licenses will now be available.
The protest is scheduled for 11:30 a.m. outside the clerk's office. A counter-demonstration supporting Lang's right to take a religious stand is scheduled for 11 a.m.