CARROLLTON — A Carrollton family is suing Hebron High School and the Lewisville Independent School District over what they call their teen's wrongful suspension.
Scott and Karen Pittman have a story about their son they wouldn't wish on anyone. They say it happened the morning of March 19 in the showers at Hebron High School.
"My son called at about 9:30, frantic, hysterical... 'Mom, you have to do something, you have to help me,'" Karen recalled.
Her teen said as he showered, another student urinated on him, while a second boy spit on his face and body. In an act of self-defense, he says he hit both "offenders" to try and get away.
He told his mom what happened and she told the school, but they didn't call this bullying. The Pittmans say all of the teens — including their son — were punished for fighting.
"He's the victim, and they will not hear that at all," Scott Pittman said.
He and his wife say this was an act of bullying, and that it has happened before to their son at school. They argued that a straight-A student with no record of trouble who is trying to get away from danger should not have a suspension on his permanent record.
The Pittmans said the district stood firm, so they filed suit.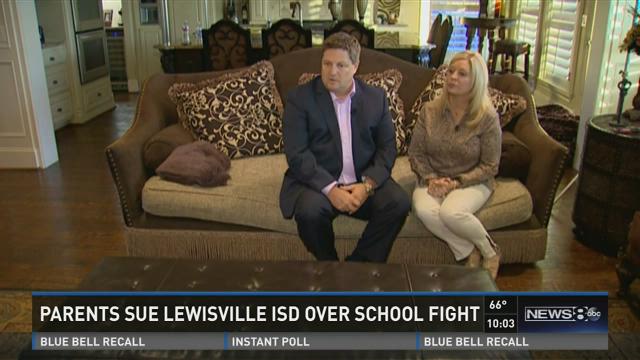 "This was absolutely our last resort," Scott said.
The Lewisville Independent School District legally can't say much due to federal law and the pending litigation. A spokeswoman did tell News 8 in a statement:
"Based upon the findings of an investigation, we followed the discipline clearly laid out in our Student Code of Conduct."
But the Pittmans said they had to take it to this level. They feel the school wasn't keeping their son safe from bullies, so he had to do it himself, and he shouldn't have to pay for it.
"It's the right thing to do, and that's the most important thing," Scott Pittman said.
The Pittmans are represented by Donald Godwin of Godwin Lewis, a Dallas-based law firm.