DALLAS -- Heroin is a cheap drug officers say many addicts rely on for a quick high. That drug is becoming more of an epidemic across North Texas, according to the Drug Enforcement Administration.
"Every community is impacted by heroin," said Daniel Salter, Special Agent in Charge of the DEA's Dallas Field Division. "It's psychologically addicting, it's psychologically dependent, and unfortunately, when heroin is abused, it's a long road to recovery."
Investigators say heroin use, abuse, distribution and sale is such a huge problem across North Texas and Oklahoma, the DEA is now trying to tackle the issue, in part, by using billboard space to reach community members.
The agency is hoping the billboards can help generate tips needed to help crack down on the drug traffickers.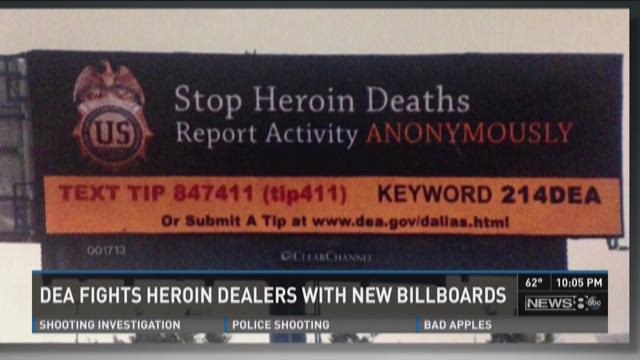 "Our focus is not necessarily on the user," Salter said. "We want them to get help, but we want their information, so that we can identify their sources of supply, their distributors that are selling this poison to our communities."
North Texas gained national headlines years ago when a variation of the drug, called cheese heroin, was linked to several students' deaths. Heroin related tragedies continue to grow.
"I would just say it's gotten bigger," said Salter. "Cheese heroin was something that we saw. It was heroin mixed with Tylenol, and it was popular with young kids. We're seeing straight out heroin abuse now -- not mixing it with anything."
Salter says the billboards will be seen across North Texas on a rotating basis. The signs urge community members and users to anonymously report heroin and illegal prescription drug activity by text, call or e-mail.
"It's a message that needs to get out to the parents, and quite frankly the educators and the politicians, and everybody that will listen, that this is something we can't take lightly," Salter said.
The DEA has been working with several law enforcement agencies over the past year in a Heroin Initiative Task Force. The group partnered with Clear Channel Outdoor on the billboard project.
Investigators say they are hoping community tips can help them identify and track down the sources of the drug supply. They say tips can be sent in by text to TIP411, using keyword 214DEA. Or you can submit a tip at www/dea.gov/dallas.html.