DALLAS — A safe space, hoop dreams and empowerment. It was a joyous day for youth in Oak Cliff as a new basketball court was dedicated to the community Thursday.
Nancy Lieberman Charities, the Naismith Memorial Basketball Hall of Fame and the Dallas Wings teamed up with Dallas Independent School District and the Dallas Police Department to unveil a new Dream Court.
The outdoor court was unveiled at Dr. Frederick Douglass Todd Sr. Middle, featuring two new basketball goals, a high-performance PowerGame surface and the Dream Court logo as its centerpiece.
The idea of "Dream Court" initiative was sparked by basketball Hall of Famer, two-time Olympian Nancy Lieberman in hopes to provide a place where children can build relationships in a safe environment, and to make the game of basketball more accessible to communities.
"Hall of Famer Nancy Lieberman continues to build the game for all and provides awesome facilities in neighborhoods that can use a lift. Her Dream Court concept proves she has not forgotten her roots as she knows what a clean and safe court and a basketball can do for a kid — it can lead to a lifetime of opportunities," said Naismith Memorial Basketball Hall of Fame President John Doleva.
Children in the Oak Cliff community looked on as the ribbon was cut, and took to the court with Dallas police officers, Dallas Wings players and of course the legend herself, Lieberman.

Nancy Lieberman Charities has donated over 100 Dream Courts throughout the U.S., and the one at Dr. Frederick Douglass Todd Sr. Middle School became number 120. Dream Courts serve over five million youth each year, according to the charity.
"This is more than just a basketball court; it is an investment in our kids and in our community. We are lucky to live in a city that makes the effort to provide places and activities to keep our kids busy, teaching them valuable life and social skills and helping them to make the right choices," said Dallas Police Chief Eddie Garcia.
Lieberman, who was recently named the official ambassador of the Dallas Wings, shared how proud she was of her charity, the WNBA team, community leaders and the Naismith Memorial Basketball Hall of Fame.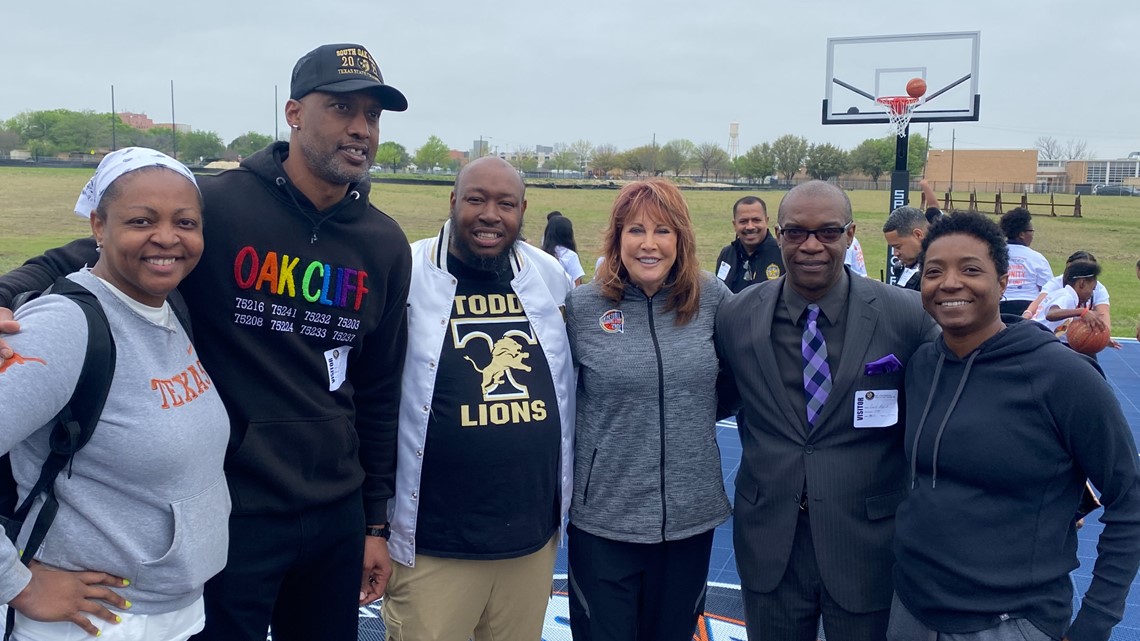 "Life is so good when the Women's Final Four is in Dallas and we get to team up with the community," Lieberman said.
Following the court dedication, the Dallas Wings also provided a youth basketball clinic.