DALLAS – For Audrey Self, progress is best measured in months.
"Every two weeks is when I'm like, 'Wow,'" she said.
It's no cliché that Self, a 22-year-old SMU junior, is a medical miracle.
"Days after they didn't expect her to survive," said Julie Self, Audrey's mother. "Then it was comatose to vegetative. They never knew if she would wake up."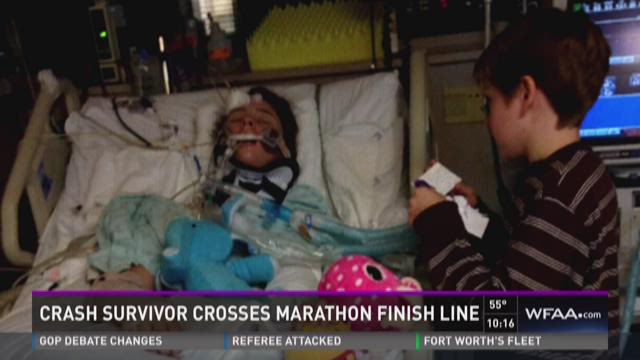 There were no skid marks left in the crash. A speeding dump truck T-boned her Toyota Camry on Northwest Highway in November 2013 leaving the accounting major critically injured and with a traumatic brain injury.
But doctors at Baylor University Medical Center saved her life. Weekly, she still returns to the hospital to work with physical therapists.
"I'm learning how to make everything work in my head," she explained.
When we met her last year, Self used a walker as she hadn't yet regained her balance.
"I didn't overthink it then," she said. "I was just worried like, 'OK, I am not going to fall.'"
Self picked up the violin again in the spring, signed up for an accounting class at Richland College and has since accomplished milestones many take for granted, such as being able to just sit on the floor.
"It's the type of thing we do every day and don't think about and that was a very big deal," her mother said.
On Sunday, undaunted by her disability, Self did something else.
Surrounded by supporters, she walked the last 300 yards of the MetroPCS Dallas Marathon. It was the final leg for her relay team.
"Audrey works very, very hard," her mother said. "She never takes a day off. The significance of her walking across the finish line is representative of a year's worth of work."
Next fall, three years after the crash that almost killed her, Self plans to return to SMU.
"It was very bad that it happened but I can use that now to fulfill my purpose," she said. "My purpose is to help others."
She's a young woman still struggling to help herself. A young woman who understands this is what it is and her life will only be what she makes of it.