CHICO, Texas — Editor's note: The video published above is a WFAA report from April when the collision occurred and before the NTSB report was released.
The collision happened near County Road 1540, about 14 miles northwest of Decatur and injured an engineer and a conductor. The NTSB report says the collision happened at approximately 6:44 p.m on April 16.
According to the report, Union Pacific Railroad (UP) train GSHFCC 15 traversed a main track switch lined toward yard track C-4, traveling about 48 mph and collided with a parked train, labeled as UP RDACO 14.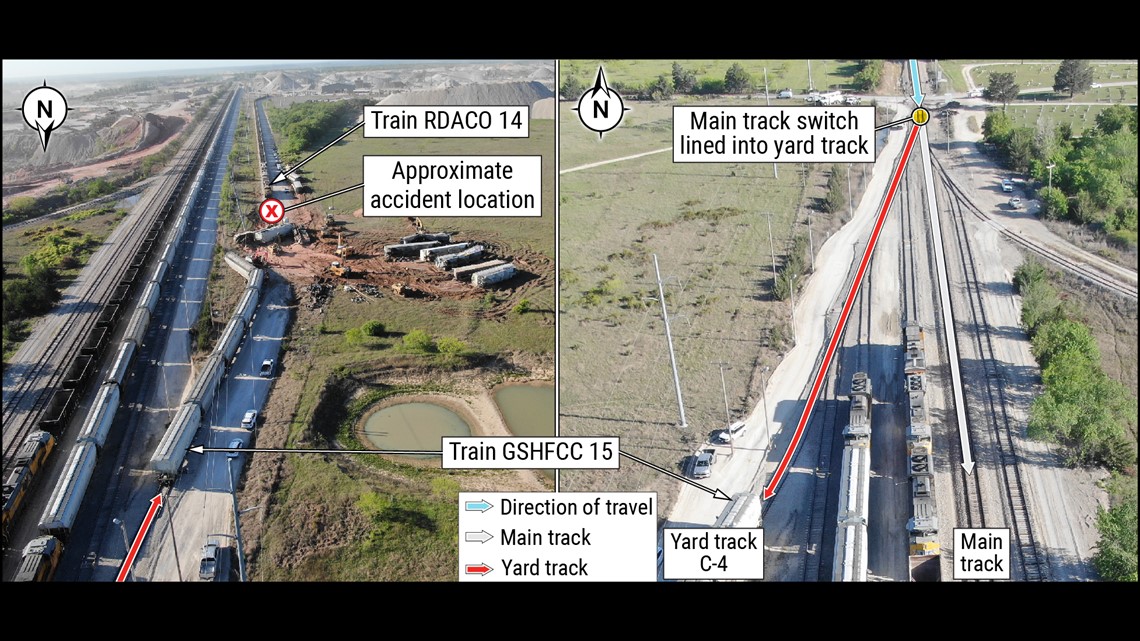 Due to the collision, 12 loaded grain railcars and two locomotives derailed on train GSHFCC 15 and one empty gondola type railcar and two locomotives derailed on train RDACO 14. No railcars were carrying hazardous materials, the NTSB report stated.
The engineer and conductor were seriously injured in the crash, the report states.
The NTSB report says that while train GSHFCC 15 was traveling 48 mph when it passed the main track switch, the engineer applied the train's emergency brakes before encountering the switch. The GSHFCC 15 train did not stop and collided with the parked RDACO 14 train traveling at about 35 mph.
Union Pacific estimates damages to equipment and track infrastructure to be about $4.9 million, the report says.
Train GSHFCC 15 was traveling from Hutchinson, Kansas, to Corpus Christi, Texas.
The NTSB's investigation is ongoing. The NTSB report said "future investigative activity will focus on additional train crew interviews and examining industry-wide operating practices regarding main track switches in non-signaled territory."