LITTLE ELM, Texas — Brittany Corrington started noticing her daughter, Raegan, losing hair when she was 7 years old. She said she noticed the part in Raegan's hair was starting to grow wider.
It took multiple doctor visits before she was diagnosed with alopecia a few months later.
"With alopecia, it's so different for everybody and there's no cure," Brittany Corrington said. "They don't even know why it happens."
Raegan, now 10, said she had never heard of the condition until her mom told her about it and she kept losing hair.
"I was like, 'Okay, I guess we're doing this,'" Raegan Corrington said.
"I believe you have to teach your children to deal with issues head on," Brittany Corrington said. "I can't fix it, but I can give her the tools to go out in the world and be the best that she can be, whatever that looks like."
For a while that looked like working with a non-profit that makes wigs for kids. The problem was that the wigs were expensive, took months to make and weren't the ideal look or fit.
"Sometimes it would be a little too big and it would have, like, a bump, and I could push down on it," Raegan Corrington said.
Last fall, Brittany Corrington's friend connected her with Anjel Coleman, a stylist with a salon just a few miles from Corrington's home. Coleman, who owns Anjelic Artistry Beautique, makes custom wigs.
"I got a call and she said, 'I have a girlfriend. She has a daughter. She's so sweet. She has alopecia, and the wig she wears is not good.' So, I said okay," Coleman said.
Coleman admits she was nervous because she'd never made a wig for a child, but she did it.
She posted a reel of the transformation on her Instagram and received an outpouring of love and support.
"You could tell she was a little shy and just in her little shell," Coleman said. "Baby, when I put that wig on, she was a whole little diva. It made me feel so good."
The wig is blonde, with a middle part.
"It's really natural," Raegan said. "I think the color really fits me."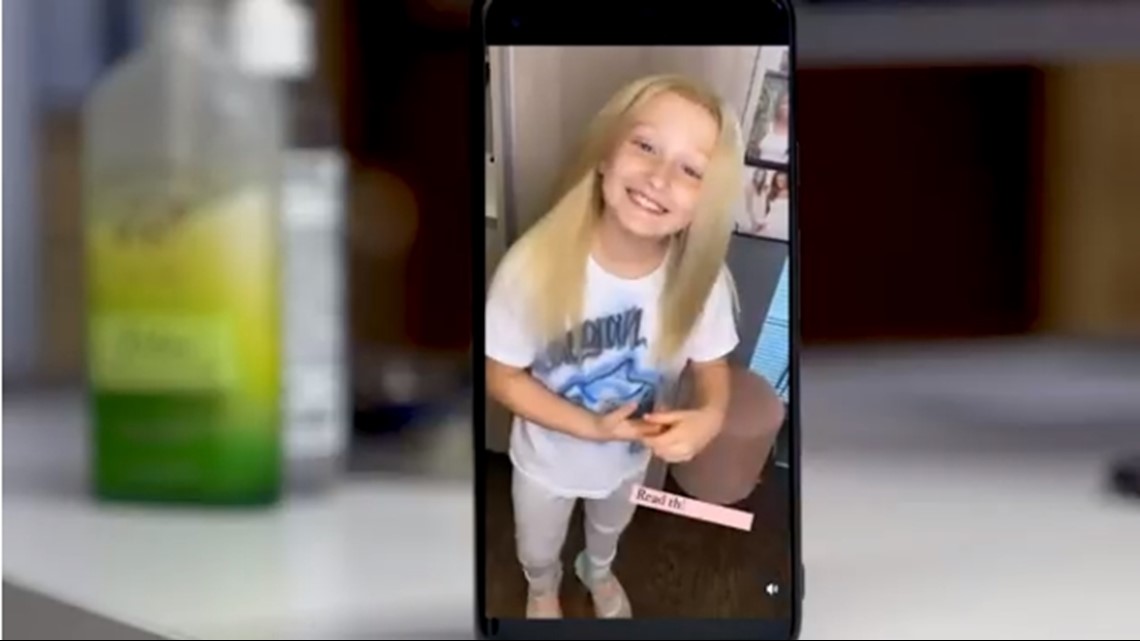 Like all great wigs, Raegan's has a name. Jessica.
However, even though she likes the new more-natural look, she won't necessarily wear it all the time. The past three years have taught her to love herself, in all forms.
"Sometimes I like it without it better," Raegan Corrington said. "It just feels like who I am...my face is still the same. It's not like I changed at all. There's just not hair on my head."
For her mother, finding a good wig was a win.
"Whenever we can get over a hurdle of now we're just a normal kid, it's the best," Brittany Corrington said.
However, her daughter's view of herself, her condition and the world is the bigger victory.
"I'm very proud of her," Brittany Corrington said.
With just a decade of life under her belt, Raegan Corrington has learned a lesson most people search for their whole lives.
"I always have confidence in myself," she said.
Her foundation is built on a loving family, her passion for painting and creating art and her faith.
"That's one thing we've talked about before," Brittany Corrington said. "'God's working through you. He's going to use you to reach people. He's going to use you to reach out to the world and make a difference.' He's absolutely doing that with her."
She didn't choose to have alopecia, but she's chosen to shine through it. She has the choice of new, fabulous wig for when she wants it. Either way, Raegan Corrington knows how to choose herself and love others along the way.