Wait times soar, patients turned away at Indiana veterinary hospitals
COVID-19 forced hundreds of hospitals to divert patients. Many people do not realize the pandemic has also triggered a health care crisis for pets.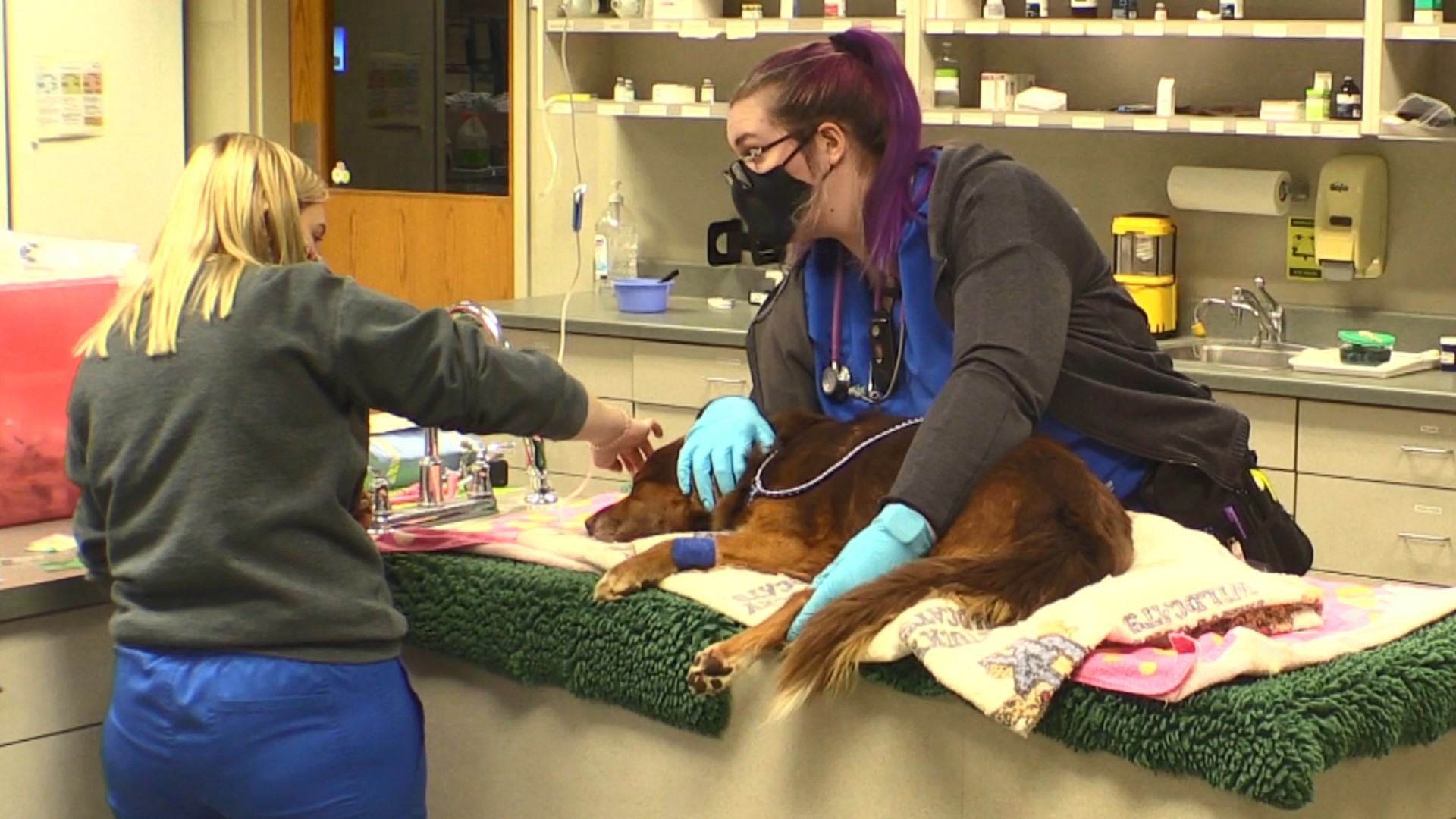 When Dr. James Speiser, DVM, walks into the emergency room, he knows exactly what he's walking into.
"It just never ends," the longtime veterinarian told 13News. "It's all day, every day. There's just too many patients."
It's a Wednesday morning at Speiser's IndyVet hospital on the southeast side of Indianapolis. Seventeen animals have already been treated and are in recovery. Eight more are in the ER being evaluated. And a large monitor at the end of the ER shows ten additional pets are still waiting – most for hours.
Veterinarians and staff already have 35 animals to care for, and it's only 11:15 a.m. on what is usually one of the lightest days of the week.
"Right now, the wait time is listed up there at four to five hours." Speiser said, pointing to new names that just appeared on the wait list. "We've had people wait for up to 12 hours, and people don't like to wait. I don't like to wait. It's just more patients than can be possibly seen by the amount of personnel we have."
When 13 Investigates returned on a Saturday afternoon, the wait time had grown to eight hours. And after nine more emergencies arrived within 20 minutes, the animal hospital was forced to take drastic measures.
"We're currently diverting, only seeing the most critical patients," Speiser announced just before 3:00 p.m. "We simply have to tell some people that we can't see them."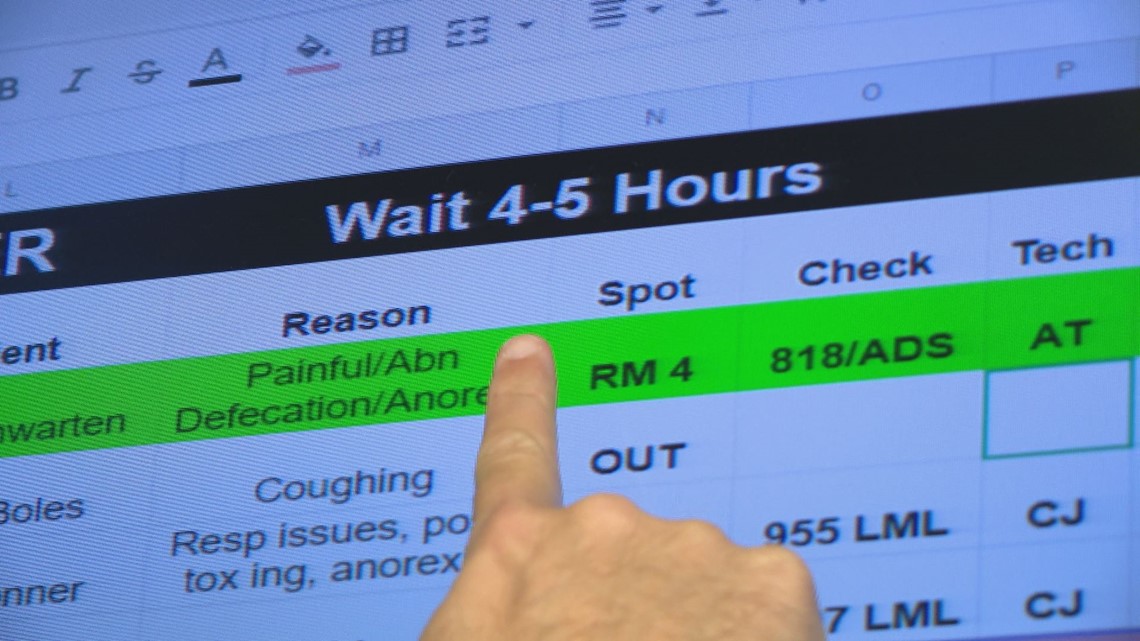 As the veterinarian looked around the patient intake area crowded with animals, doctors and trained technicians, he glanced up at the waitlist monitor that showed some animals would not receive treatment until early the next morning.
The activity is non-stop. The mood is somber.
"It is an absolute nightmare. I've been in this business 45 years. There's never, ever been even close to this type of situation. Ever. And everybody has the same problem," Speiser said.
Diverting patients is a worst case scenario, and it's become all too familiar.
A 13News investigation discovered all of central Indiana's 24-hour veterinary hospitals are increasingly relying on diversions to manage a crisis inside their emergency rooms, and that crisis can lead to devastating choices for families seeking urgent medical care for their pets.
"This is unprecedented"
: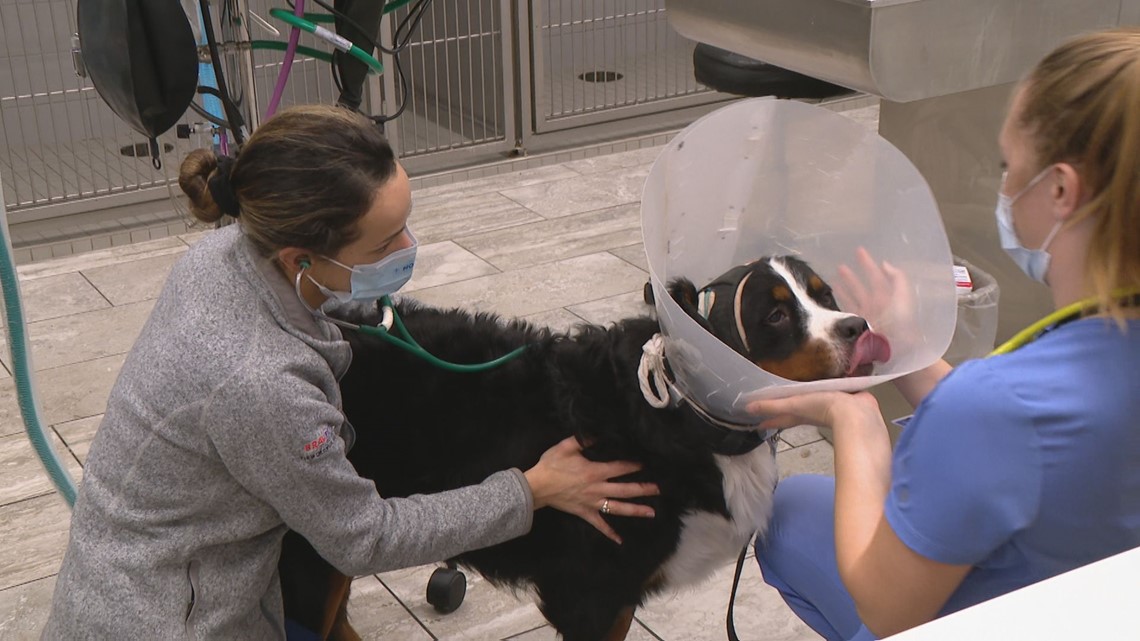 Local pet hospitals say the days of getting immediate care for sick and injured pets are gone – at least for the foreseeable future – due to the overwhelming number of patients flooding their emergency rooms.
13News visited multiple urgent care centers for pets in central Indiana, and wait times are skyrocketing at all of them.
"Four to six hours is an average. Many times it easily goes up to six or eight," said Dr. Johnny "Randy" Cross, DVM, medical director at the VCA Advanced Veterinary Care Center hospital in Fishers.
"On a really bad day, it might be 10 to 12 hours," echoed Tom Dock, director of communications at Noah's Animal Hospitals, which currently operates two 24-hour vet hospitals and several other animal clinics in the metro area.
All of the facilities told 13News they have started diverting patients to other facilities during peak times to prevent even longer wait times.
"Just about every hospital I would say lately goes on diversion at some point in time at least once a day. It's very frequent now," Cross said. "We've never had to use diversion until this year, and this is the first time since our ER opened we've ever had to turn away patients. We've gone from not being on diversion at all to being on diversion at least once a day. This is unprecedented in veterinary medicine."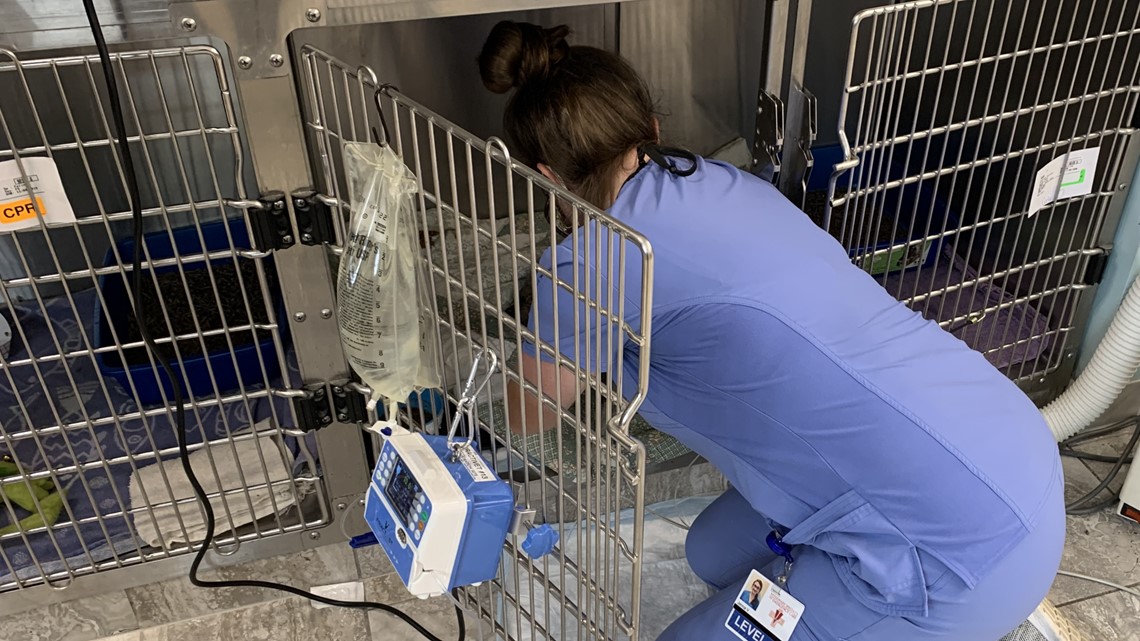 Pet hospitals routinely screen patients to determine the severity of their injuries and illnesses. Like a hospital emergency room for people, veterinary hospitals see the most urgent cases first with life threatening injuries prioritized over those that are less serious. When veterinary hospitals are in diversion status, they usually accept only animals with life-threatening medical conditions and turn away all others until wait times return to more reasonable levels. It can mean a dog with a broken leg or a cat that is vomiting may not immediately get the care they need.
Pet hospitals throughout central Indiana are now working together, monitoring each other's wait times, to divert patients to emergency rooms that might be able to treat them sooner. But even that isn't always working.
"Many times we're trying to divert patients to other ERs and other specialty hospitals while they're diverting people to us," Speiser said. "It's just that bad sometimes."
While some vet hospitals are on diversion status for only an hour or two at a time, others experience much longer stretches. "Some days, we're on diversion 20 out of 24 hours," Speiser told 13News.
Desperate Decisions
: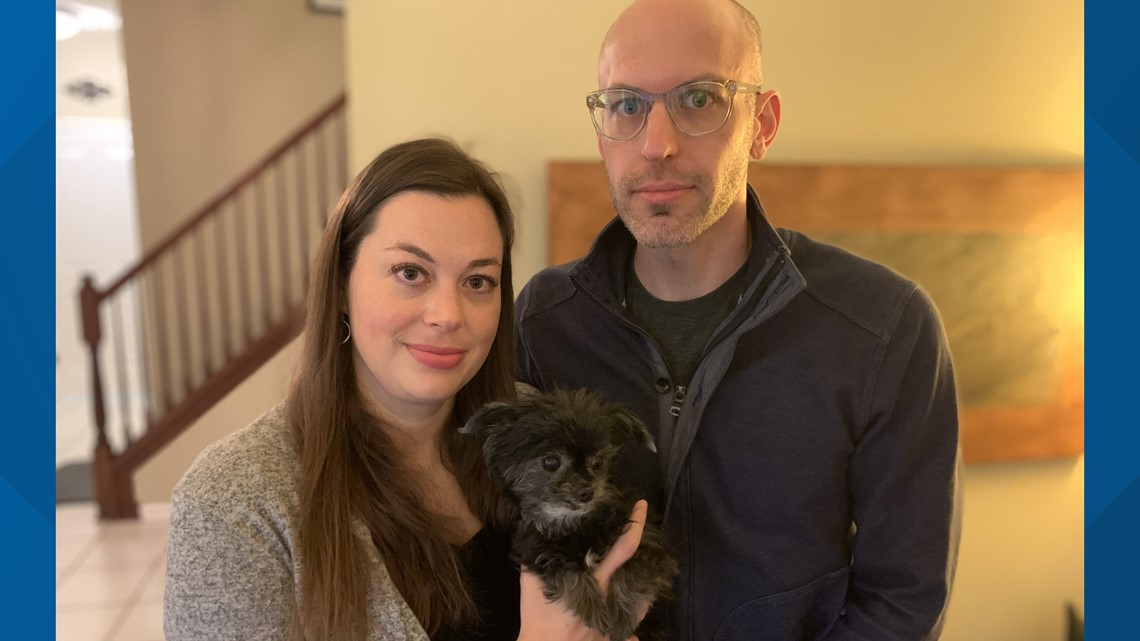 For patients, the wait times and diversions can come as quite a surprise.
Kelsey Burton and Josh Stults did not realize just how overwhelmed vet hospitals are until they needed emergency care on a Friday night for their dog named Dinky Bean.
"She was kind of hacking a little bit, coughing, and then her stomach just like ballooned, got huge" Burton said.
They rushed the Shih Tzu-Yorkshire Terrier mix to a nearby hospital to learn their small dog had a rather large treat lodged in her esophagus. Dinky Bean would die if the obstruction was not removed, but no one at the hospital could perform that procedure.
"There was like this time bomb going off, and we didn't know if there was going to be someone that could diffuse it for us. We couldn't do it, so we were just like 'What do we do?'" said Stults.
The couple told 13News that they and veterinary staff tried calling other local ERs as well as Purdue's veterinary hospital in West Lafayette, but they were told none of the urgent care facilities could see their pet. Unable to find any other emergency room that could treat the dog quickly, the veterinary hospital that diagnosed Dinky Bean's blockage offered a sobering suggestion.
"They were recommending to us to euthanize her," Burton said.
Instead, Burton and Stults drove two hours to a pet hospital in Cincinnati, where a specialist was able to sedate Dinky Bean, push the dog treat into her stomach and save the dog's life. Despite the happy ending, the pet's owners still feel emotional recalling a heart-wrenching, 10-hour wait for emergency care that required an overnight drive to another state.
"We didn't expect to just feel hopelessness, like no one here could help," Burton told 13News.
Why the Crisis is Happening
:
Veterinary hospitals insist they do want to help; they simply cannot handle the huge increase in cases.
Over the past two years, the facilities say their patient load has doubled -- in some cases, tripled – largely due to factors involving COVID-19.
The IndyVet Hospital saw an average of 130 pets in its emergency room at the start of the pandemic. That number jumped to more than 340 patients per week in June 2020 before the veterinary hospital implemented diversions. Now, it treats about 280 animals each week – a number that would be much higher if it did not limit the amount of patients accepted during peak hours.
"These are emergencies that have to be seen, the number that we feel like we have to see," Speiser said. "There's probably another 20% we're turning away and saying 'I'm sorry, we just can see you. Your emergency isn't severe enough.' Nobody likes to hear that, but it's just a fact."
The surge of cases is being blamed on a perfect storm that has left pet emergency rooms swamped.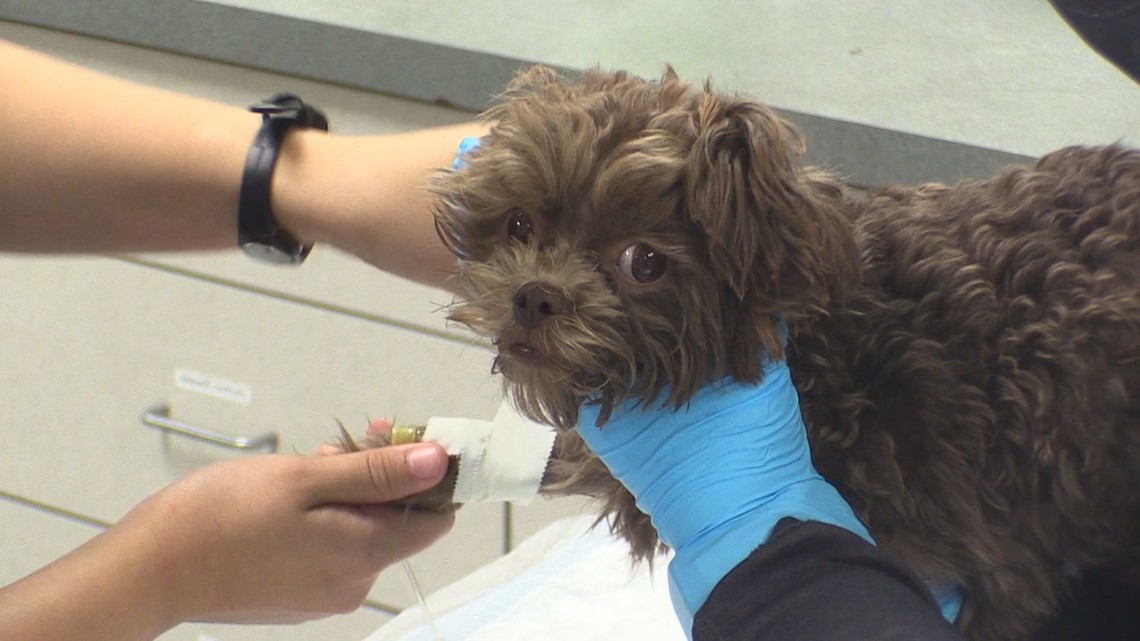 Dock says more people adopted pets during the pandemic. And with many pet owners working from home, they are spending more time with their animals, which means they are also more likely to notice any health problems.
Adding to the influx of patients is the closure of several area vet clinics and animal hospitals. Facilities such as Southport Pet Hospital and Greenwood Vet Clinic shut down during the pandemic because they couldn't find enough staff, and they never re-opened.
Other urgent care clinics have been forced to reduce their hours. Noah's Animal Hospital on the northeast side of Indianapolis used to offer 24-hour emergency care, but is now open only 8:00 a.m. to 5:00 p.m. due to limited staff.
The closures and cutbacks mean fewer animal hospitals are left to handle a lot more emergencies.
The remaining clinics are stretched to the limit, facing a nationwide shortage of veterinarians and skilled technicians who now work longer hours treating a lot more animals.
"It really burns people out," Speiser admitted. "This is not just a local problem. This is a national problem where we don't have adequate personnel anywhere."
The latest job statistics, released in May by the American Veterinary Medical Association, show just how desperate veterinary hospitals and clinics are for trained workers. The AMVA report says there are more than 18 job openings for every veterinarian applicant. For every vet technician and vet assistant applicant, there are job six openings.
How to Avoid Huge ER Wait Times
: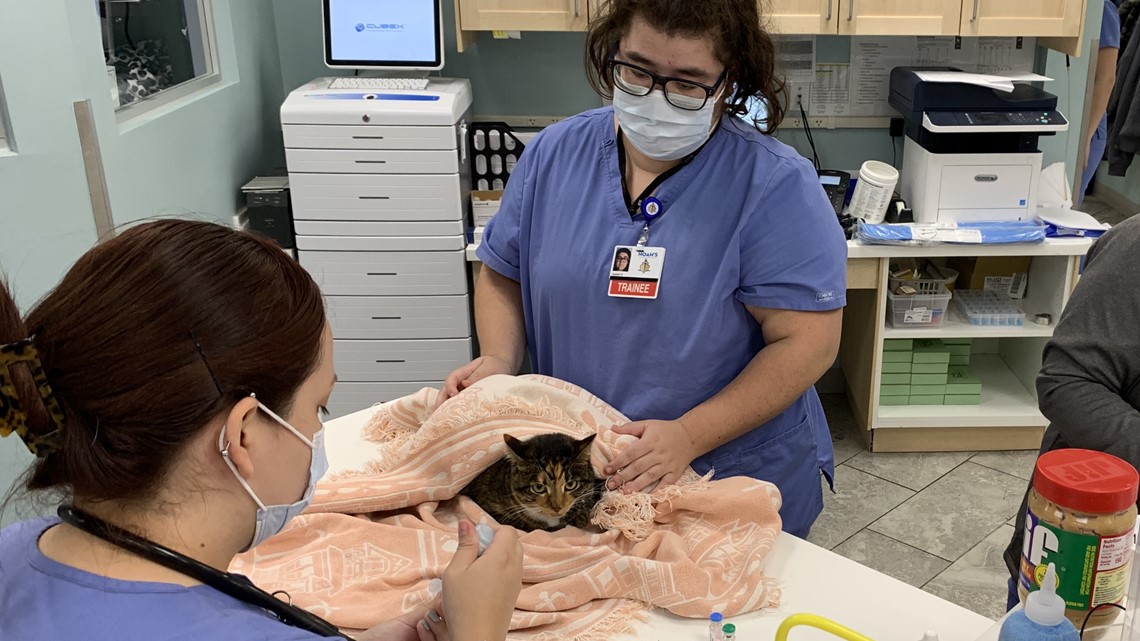 Local pet hospitals tell 13News there is no relief in sight. But they do have a few tips to help reduce your wait and get care for your pet quicker.
Always call ahead – even in an emergency. "By calling ahead, you can find out from that emergency hospital, 'Are you on any kind of a wait right now? Are you diverting patients right now?' And so before you even get there, you know what that wait time was going to be and you can be prepared for that," said Dock. He also recommends bringing a book and a charger for your cell phone, since wait times can be uncertain.
Know peak wait times. Clearly, you cannot always choose when your animal needs emergency medical care, but if you are able to select the time you visit a veterinary hospital, certain times are better than others. Vets say avoid first thing in the morning, right after work and weekends. Those are the times when you'll likely face the longest waits and the highest risk for diversion. Normal business hours from Tuesday through Friday – when many people are at work and cannot take their pet to the emergency room as easily – are times when you'll probably find the shortest waits. The middle of the night (between midnight and 5:00 a.m.) can also be slower times in the pet ER.
Get your pet regular checkups. Help avoid a trip to the emergency room in the first place. "Small problems and things that you are noticing, address them sooner than later," Cross advises. He says preventative health care is as important for pets as it is for humans. And if your regular veterinarian is backed up several weeks or months, it's OK to visit another local vet to tend to a minor issue before it turns into a major problem.
Consider pet telemedicine programs. Wondering whether your pet is having a routine health issue or should get to the emergency room right away? Online services can help you determine which might be most appropriate with a quick phone call or video chat. There are plenty of services and apps, such as AirVet, TeleVet and AskVet that offer different consultation services at various price levels. The best time to check out these types programs to determine if they are right for you is before you need them in an emergency.
If you do find yourself at an emergency clinic with a long wait, understand that veterinarians will triage your pet and treat your animal based on the urgency of their condition, not in the order you arrived. That means an estimated wait time of two hours can increase dramatically if several pets arrive after you with more serious, life-threatening health conditions.
"It's like sitting in an emergency room with your kid who has a broken leg," said Dock. "Certainly that is urgent and you can ask for pain relief, but that's not going to take precedence over somebody who can't breathe or whose heart isn't pumping."
Finally, while this emergency is playing out in pet emergency rooms across Indiana and the nation, veterinary staffs say what's needed most is patience as they try to keep up with record demand.
"The entire veterinary industry is overwhelmed right now. We want to help animals, and if you feel like you can't help or you're turning somebody away that you know you could help, it's a devastating thing," he said. "A little kindness and patience goes a long way."
Clarification: In an earlier version of this story, Ms. Burton's statement that "they were recommending to us to euthanize her" was placed in close proximity to a reference to the Purdue University Veterinary Hospital, which may have given an incorrect impression that Purdue's veterinary hospital recommended that Burton euthanize her pet. The story has been updated to clarify it was another animal hospital – not Purdue's – that evaluated the dog's condition and suggested Burton consider euthanizing the animal due to a potentially life threatening medical issue that could not be quickly addressed by local veterinary hospitals.