A "category killer" is what they call a product so radical it disrupts an entire industry.
And with the ability to get a ride with just the touch of a button, that's what Uber is doing to the taxi business in DFW. In fact, a recent study shows more business travelers in Dallas use Uber over a cab.
So, how does Uber stack up against taxis on two key points: price and speed? News 8 ran an experiment with three people traveling in separate cars, at the same time to three identical locations.
Reporter David Schechter rode in taxi. And two SMU students helped out, too. Caroline Hicks rode in Uber Black and classmate Alexandra Spitzer in UberX.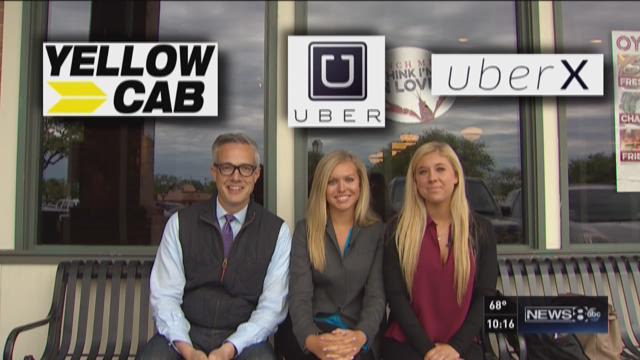 Uber Black is an app that sends a large, black SUV with a professional driver. The cheaper version of Uber Black is UberX. It's regular people, picking you up in their own cars.
Our first of three rides is from Preston Royal, in North Dallas, to the Oak Lawn neighborhood. By the time Schechter was completing his call to a cab, Hicks was about to get picked up by Uber Black. She was picked up in four minutes.
Schechter's taxi arrived in 12 minutes, but ended up taking the slowest route. So, when UberX showed up last, after 16 minutes, it still beats Schechter and his taxi to the destination.
Price Comparison? Uber Black $37, Taxi $17.35, and UberX $15.63 – 10 percent less than the cab.
Now to the airport from Oak Lawn. All three rides arrived within minutes -- though Schechter's taxi stunk like cigarette smoke. But the price difference? Uber Black $76, the taxi $47.32, uberX $23.38 — half the price of the cab.
"It was definitely not worth the price," said Hicks about her Uber Black ride.
"I'm gonna keep taking my UberX's," said Spitzer.
That's smart. But there's a catch. Uber uses something called "surge pricing." It's a secret formula that bumps up prices when demand is high and nobody knows when prices will change.
"Surge pricing can change from area to another," said Tas Noulas, a data scientist at Cambridge University in England.
He is part of a team that crunched stats in New York City and found that UberX uses surge pricing on as many as 1-in-4 trips. That means it's hard for a passenger to know when a taxi will cost more than an UberX, and vice versa.
"What we are seeing in the data is basically for a given trip on average somebody would save $6 if they would make the right decision about which company to take," said Noulas.
And with our experiment, we ran into one more issue with UberX. While its drivers can drop off at DFW Airport, they're not licensed to pick up.
So, on our final ride from DFW back to where we started, it's just Uber Black versus taxi.
Schechter walked to the airport cab stand and was well on his way before Uber Black showed up, the driver was a little confused about which terminal. Taxi $57.05, Uber Black $75.
On the face of it UberX looks like the winner -- though it can't get you home from DFW airport and you never know when the prices are about to surge. ​