This story will be updated throughout the day as new information is released.
The State of Texas reported 4,334 cases of COVID-19, of which 4,157 are considered new. This brings the statewide total to 621,667 confirmed positive cases of COVID-19, since tracking began in March.
Health officials also reported 189 more Texans died from COVID-19, bringing the statewide total to 12,870 deaths.
According to the hospitalization chart, numbers are beginning to plateau, but are slightly up Wednesday with 4,159 people in the hospital. The numbers have decreased to 828 hospitalizations for the D-FW area.
Denton County announces 101 new cases
Denton County Public Health announced 101 new laboratory-confirmed cases of COVID-19 Wednesday afternoon, and no additional deaths. Health officials said of the new cases, 55 are currently active.
The new numbers bring the countywide total to 10,340 confirmed cases, including 101 deaths and 8,410 recoveries.
DCPH says it will provide a free drive-thru COVID-19 testing center at University of North Texas' Discovery Park at 3940 N. Elm Street on Friday, Sept. 4. It will open at 8 a.m. If you're eligible you must pre-register by calling 940-349-2585.
Tarrant County sheriff's corporal died from coronavirus
A 36-year-old Tarrant County corporal died from COVID-19, according to the Tarrant County sheriff.
Charles Holt III died Monday, according to the Tarrant County Medical Examiner's office.
Sheriff Bill Waybourn announced Holt's death on Twitter.
The sheriff said Holt was diagnosed with the coronavirus last week.
He and his wife, Moranda, have three children.
The sheriff's office said when Moranda Holt told her children about their father's death, they said, "It's OK, Momma. We already know dad has completed his assignment here."
Holt started at the sheriff's office in 2014. He was in the booking division and was on the intelligence team.
"He proudly showed up under tough conditions and performed his duties in a positive and honorable manner," the sheriff said in a statement.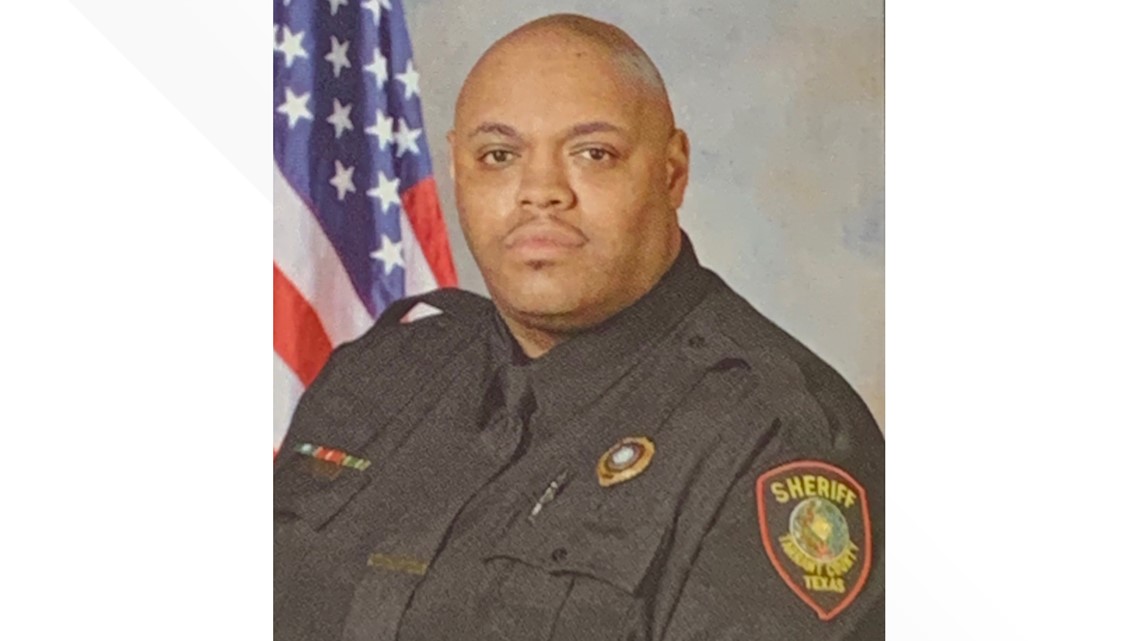 Wednesday afternoon, Tarrant County Public Health announced 210 newly confirmed cases of COVID-19 and four deaths, including Holt's.
So far, there have been 42,070 positive cases of COVID-19, including 560 deaths and 36,472 reported recoveries in the county since tracking began in March.
Dallas County reduced coronavirus risk alert to 'extreme caution'
Dallas County health officials have reduced the coronavirus risk alert from "stay home, stay safe" to "extreme caution."
Dallas County Judge Clay Jenkins said people should continue to wear masks and practice physical distancing but said people can venture out more now.
The county also announced Wednesday a new quarantine housing program for residents.
According to a news release, the program will provide temporary housing for anyone diagnosed with COVID-19, who needs to quarantine for 14 to 21 days but can't return home.
County health officials said this applies to situations where the person may have immunocompromised relatives, elderly parents, or any other at-risk family members.
The program is also only available for people who live within Dallas County, but outside Dallas city limits.
Health care providers may submit a referral application for someone but it does not guarantee eligibility or offer of assistance, officials said.
Dallas County health officials said applications will be reviewed and recommended based on the meeting of eligibility requirements.
The housing program is funded through the CARES Act and is expected to remain in operation through Dec. 30.
Dallas Symphony Orchestra kicks off revised 2020-2021 season
The Dallas Symphony Orchestra announced it will kick off its revised 2020-2021 season this week with the Brass, Organ, Percussion of the Dallas Symphony Orchestra concert on Sept. 4-6.
DSO said concerts this fall will be one hour in length without an intermission and attendees will be required to wear masks.
Patrons will be asked to enter through certain doors at certain times to better maintain social distancing and departures will also be staggered.
Perot Museum announces reopening
The Perot Museum of Nature and Science announced it will be reopening for the first time in nearly six months.
During Labor Day weekend, the museum will host a special "Members Thank You Weekend." Officials said there will be enhanced safety protocols and reduced capacity.
The museum also said it has extended memberships by the amount of time its closure affected particular membership dates.
2 COVID-19 patients at Cook Children's
Cook Children's Medical Center says there are two COVID-19 patients currently at the hospital.
There have been 18,142 children tested for COVID-19, of which 1,148 were positive.
The positivity rate is 6.3%.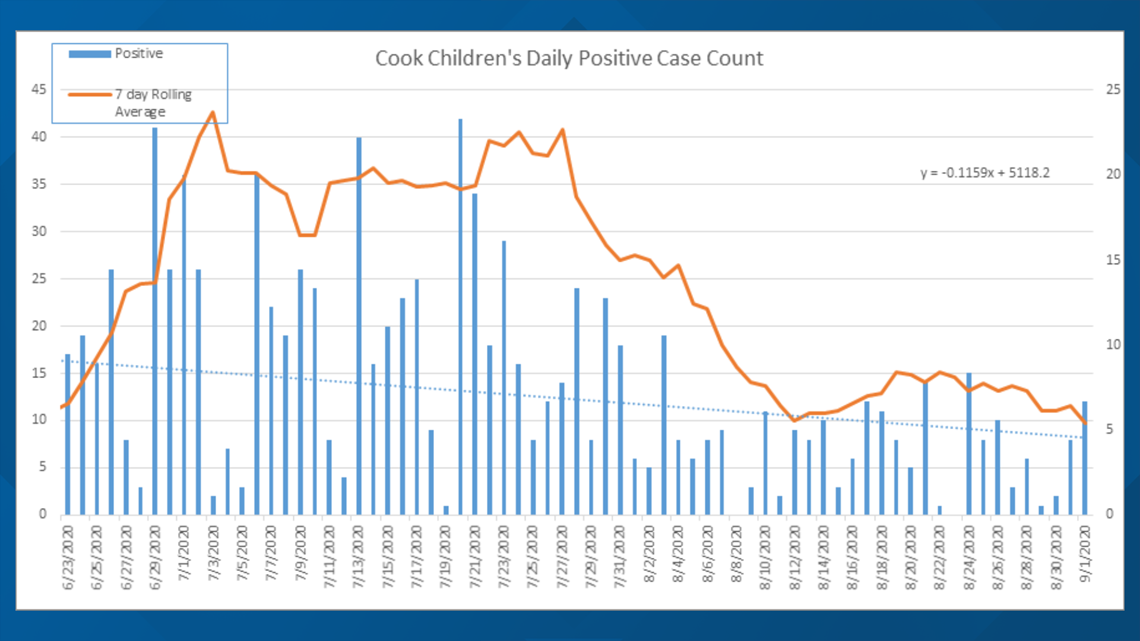 Inmate at Seagoville prison dies of COVID-19
An inmate at the Federal Correctional Institution in Seagoville who tested positive for COVID-19 in early July died on Sunday due to complications from the disease, officials said in a statement.
Wendell Eaves, 63, had long-term, pre-existing medical conditions. He had been sentenced to a 57-month sentence for travel with intent to engage in illicit sexual contact, Bureau of Prison officials said.
He tested positive on July 9 and was placed in isolation. He had been transferred on July 10 to a hospital for further treatment.
He had been in custody since Nov. 8, 2018.
Weather conditions prompt closure of several testing sites in D-FW
Rainy weather conditions have prompted officials to close several COVID-19 testing locations in the Dallas-Fort Worth area.
All walk-up and drive-thru testing sites in Dallas County will be closed throughout the day. Health officials said testing operations will resume Thursday.
And for the second day in a row, the salvia testing site at Dr Pepper Ballpark in Frisco is closed because of the rain.
Anyone who had a test scheduled for Wednesday is asked to reschedule online.