This story will be updated throughout Monday, Nov. 16, 2020.
Dallas County is reporting its highest number of new daily cases Monday with 1,831 cases.
In Dallas County, there was one additional death reported Monday: a man in his 80s who lived in a long-term care facility in Dallas. He did not have underlying high-risk health conditions.
On Saturday, the county set its previous daily record with 1,543 new cases of COVID-19. On Sunday, there were 1,458 new cases reported.
Of the new cases on Monday, 1,695 were confirmed and 136 cases were probable.
Tarrant County reported 900 new cases Monday.
The state reported 6,858 additional new cases and 20 additional deaths Monday.
The current rate for positive cases is 37.4 per 100,000 Dallas County residents, officials said. Of people going to the hospital with COVID-19-like symptoms, 15.3% tested positive during the week ending on Nov. 7.
Dallas County Judge Clay Jenkins called the spike "explosive."
"It is imperative to public health and our economy that we stop the in-home get-togethers and trips to restaurants and bars that are largely responsible for this spike," Jenkins said.
During the past week, 10 schools in Dallas County have temporarily ended in-person classes due to COVID-19 cases, officials said.
Dallas Mayor Eric Johnson wrote in an email Sunday that the increases in cases and hospitalizations were "deeply concerning."
"Dallas is on pace to hit new peaks in the coming weeks. The second wave is here, even though the first wave never truly subsided," Johnson wrote.
The city of Dallas released hospital capacity numbers for Sunday, as reported by 25 hospitals.
Total beds: 5,842
Total ICU beds: 908
Total ventilators: 981
Tarrant County reports 900 new cases
Tarrant County reported 900 new cases Monday.
There have been 82,915 cases, 62,089 recoveries and 794 deaths in the county since tracking began in March.
For the past four consecutive days, Tarrant County has reported daily case totals above 1,000.
Last week, the county reported the highest number of cases since the pandemic began with 8,379 total cases for the week.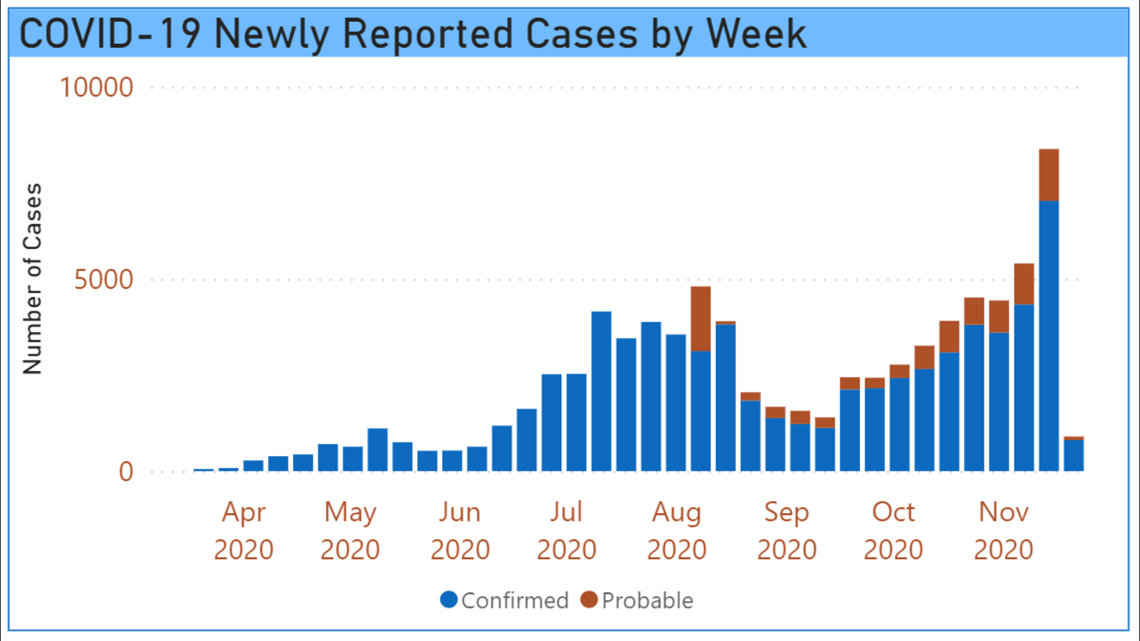 Denton County reports 4 additional deaths, 335 new cases
Denton County officials announced four additional deaths and 335 new cases of COVID-19 on Monday.
The deaths include a Carrollton man in his 60s, a Cross Roads man in his 60s, a Denton man in his 50s and a woman in her 70s.
There have been 19,908 cases, 15,774 recoveries and 146 deaths in the county since tracking began in March.
There will be free testing starting at 8 a.m. Friday, Nov. 20 at North Central Texas College parking garage. Community members must live in Denton County and can pre-register by calling 940-349-2585.