This story will be updated throughout the day as new information is released.
Dallas County health officials announced 2,809 additional cases of COVID-19 Saturday and said that five more residents have died. Of the newly confirmed cases, 377 are considered probable from antigen tests.
Health officials said the deaths include a Grand Prairie man in his 50's, a Dallas woman in her 50's, a Garland man in his 60's, a Dallas man in his 80's and a woman in her 80's who was a resident at a long-term care facility in Dallas. All of them had high-risk underlying health conditions.
The countywide total stands at 206,329 confirmed cases COVID-19, including 1,858 deaths since tracking began in March 2020.
Health officials also announced Saturday that they have found the first known case of the UK coronavirus variant in North Texas.
The more infectious variant was found in a Dallas man in his 20s with no recent travel history outside the country, according to officials. The man is stable and in isolation, according to a news release.
"These numbers, along with near record-high numbers of COVID hospitalizations, a low number of adult ICU beds available, and the announcement earlier today of first reported case with the B.1.1.7 variant in Dallas County, are all reasons for our public health experts to be concerned about this virus in our community and region over the next several weeks," Dallas County Judge Clay Jenkins said.
Tarrant County reports more than 3,000 new cases
Tarrant County continues to see an increase in cases and deaths reported during the ongoing COVID-19 pandemic.
Saturday afternoon, county health officials reported 3,023 new cases and eight deaths.
The latest victims to die from COVID-19 ranged from a Bedford woman in her 90s to an Arlington man in his 60s.
Health officials said seven of the eight people who died had underlying health conditions.
Tarrant County has reported 1,833 confirmed deaths since tracking began in March.
Parkland Hospital administered nearly 1,200 vaccines during walk-up clinic
Parkland Hospital administered nearly 1,200 vaccines Saturday morning during a walk-up clinic for people 65 and older.
The hospital posted on social media around 8:30 a.m. announcing that no more vaccines were available and asked people not to show up to the clinic for the remainder of the day.
"Thank you to all who could join us," the hospital said.
About 1,200 more doses should be available for Sunday's clinic, according to a hospital flyer.
People can call 214-590-2201 to find out how many vaccines are still available each day before going to the hospital.
Parkland said it hopes to help residents of underserved communities who have no access or limited access to the internet.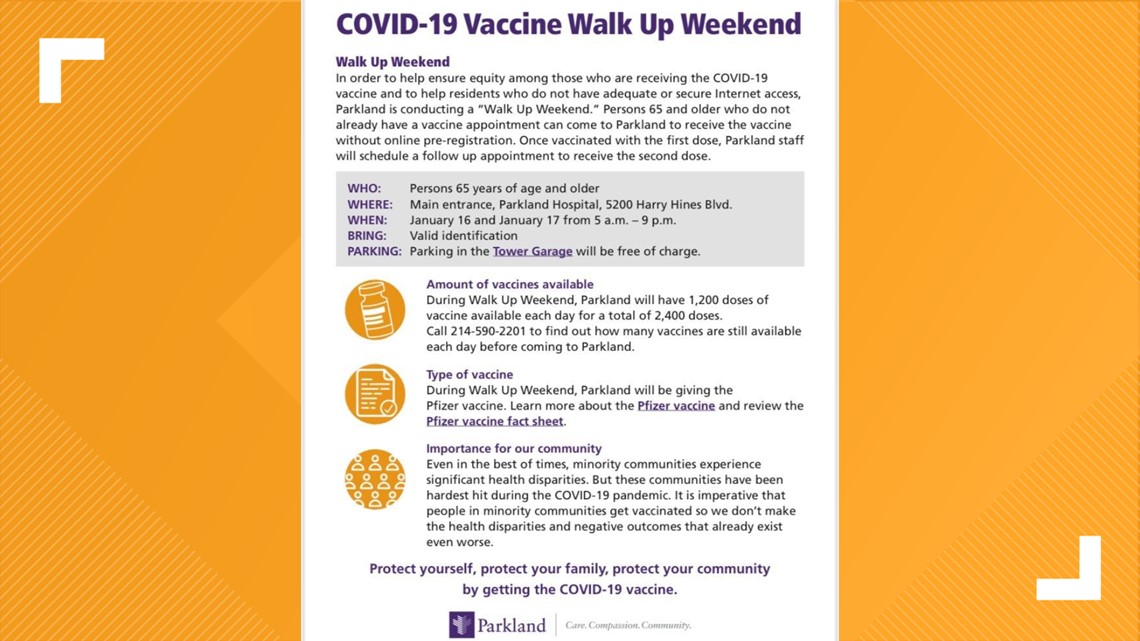 Judge Clay Jenkins also shared on Twitter that more than 10,000 people received their COVID-19 vaccine at the Fair Park mega-site this week.
Dallas County Judge Clay Jenkins and some City Council members announced Wednesday the county was relaxing registration requirements to allow residents 75 and older to show up without an appointment and register on-site to get the vaccine.
The relaxed rules continued for Thursday and Friday. However, Jenkins said the Fair Park location would resume its appointment-only requirement Saturday.
The location will be closed Monday in observance of Martin Luther King Jr. Day, Jenkins said.
Denton County adds 459 cases
Denton County Public Health announced 459 cases of COVID-19, of which 447 are active cases. This increases the countywide total to 46,272 COVID-19 cases since tracking began in mid-March of 2020.
DCPH also reported 325 newly recovered cases of COVID-19, increasing the countywide recovery total to 32,098.