DALLAS -- The ambulance which carried Ebola-stricken nurses Nina Pham and Amber Vinson from Texas Health Presbyterian Hospital to Dallas Love Field Airport was one of multiple transports that American Medical Response made specifically for Ebola patients in the U.S.
Chief Medical Officer for AMR, Dr. Ed Racht, told News 8 that employees had about eight hours to prepare an ambulance Thursday before it was to transport Pham. In those hours, employees had to use a precise method based on CDC guidelines to make sure healthcare workers didn't get sick.
Dr. Racht says it takes four to five people to specially wrap the ambulance with plastic from the floor to the ceiling and around any equipment medics may use. Then three people watch as the crew who will be riding in the ambulance suit up in protective gear.
For two hours they go over a very precise sequence of steps for putting on and taking off head-to-toe gear -- that includes facial protection and, in some cases, a battery-operated respirator.
This gear is also worn by the patient.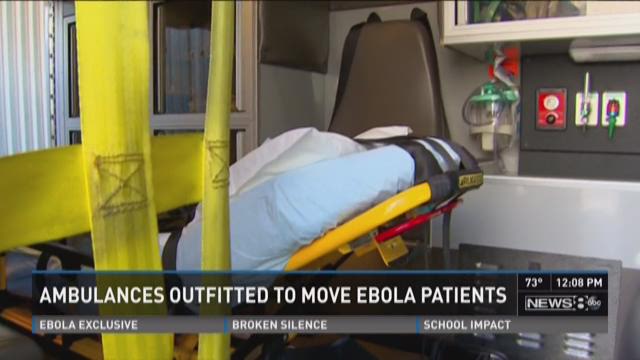 With two healthcare providers infected in the last week, these steps have been scrutinized and tweaked.
"One of the things that has changed literally in the past 10 to 14 days is the importance of doing monitored decontamination and monitored doffing of equipment, to have a group of individuals watching each and every step and stopping if there is any risk of potential contamination with this removal," Racht said.
So far Austin-based AMR has only transported two known Ebola patients, Pham and Vinson. After each transport the staff goes through a debriefing to look at ways they can improve.
WFAA.com's Jordan Armstrong contributed to this report.