ELLIS COUNTY — Miguel Martinez and Daniel Dankert seemed ready to die, one way or the other.
They stole a police car on Tuesday night. Then after being stopped on Interstate 35E south of Waxahachie, they refused to get out of the vehicle.
For more than an hour, an Ellis County Sheriff's Department negotiator used a police radio to try and convince the brothers to end their standoff peacefully.
Martinez did most of the talking. At times, it seemed like he might give up. Most of the time, it was clear this would not end well.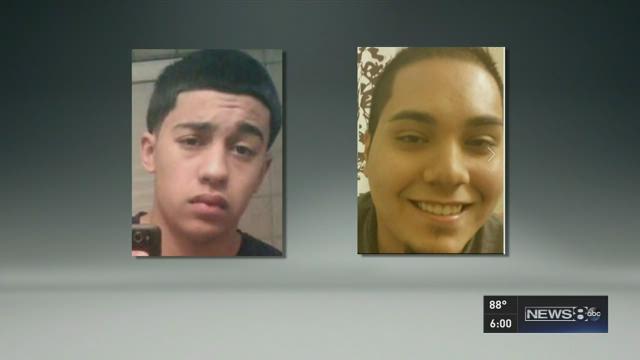 "I can't go back to jail," Martinez said. "My brother can't go back to jail."
In the end, they did not return to jail.
Martinez, 18, and Dankert, 23, lay dead at the end of the police standoff, stunning those who knew them.
"He should have thought through everything before he did that," said Jackie Pimentel, Martinez's on-again, off-again girlfriend.
Pimentel attended a Garland charter school with Martinez. She described him "sweet" and "playful," and said she couldn't believe how his life came to an end.
She said Martinez did struggle with a "bad temper and anger" — something that comes through loud and clear in the recordings of the final 75 minutes of his life.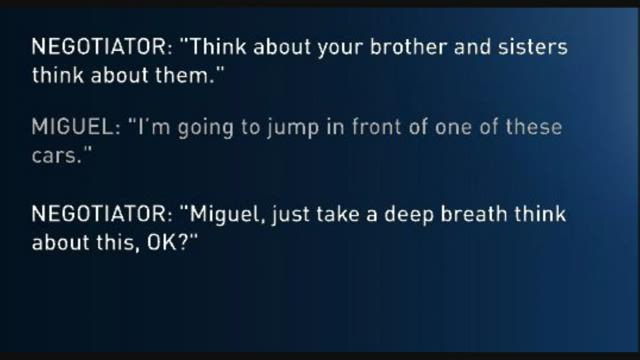 Dankert received deferred probation in Bexar County in 2012 for interfering with an emergency call, a misdemeanor. Otherwise, he did not appear to have a serious criminal history.
The events that led to the brothers' deaths began as they were returning with a friend from a trip to Port Aransas.
About 8:34 p.m. Tuesday, Italy police pulled over the brothers' 1999 Saab at a gas station near State Highway 34 and Interstate 35E. The two brothers were handcuffed and placed in the back of a police Chevrolet Tahoe.
Martinez somehow climbed into the front of the Tahoe and drove off. An Italy police officer was injured in the process.
Officers chased them along roadways in southern Ellis County. Sheriff's deputies, Milford police, and Texas Department of Public Safety troopers assisted in the pursuit.
At times, Martinez was driving north in the southbound lanes.
An Ellis County Sheriff's negotiator talked to Martinez for more than an hour over the police radio.
He appealed repeatedly for Martinez to stop the Tahoe, according to recordings of their conversation. By then, two of the tires on the police vehicle were blown out, and sparks were flying. The negotiator warned him that the car would catch fire if he didn't stop.
Martinez refused to stop.
"I'm just a stoner, and I wanted to get away from all this," Martinez says via radio.
Most of the time Martinez appears to be desperate to die.
"Tell them to shoot on sight," he said.
The negotiator told him that police didn't want anybody to die.
"Miguel, nobody wants to shoot you, man," the negotiator assured him. "Nobody wants to hurt you."
Martinez finally stopped the Tahoe on I-35E near the town of Forreston. But his tone became increasingly despondent. He told the negotiator he has been abused. He said he felt abandoned by his family. He said he used to be a "good kid."
"When I was in 9th grade, I went to jail," Martinez said. "My mom decided not to pick me up when she could have. That's how I met most of the people really started getting in deep with. I just wish I could go back to that day. And just stuck to school. I used to be actually pretty intelligent."
He said he chose to sell drugs because it was easy money.
The brothers indicated that people were out to get them because they owe them money. He said they came to Port Aransas looking for him.
"I owe too much money," Martinez said. "I'm dead anyway."
Martinez threatened to stab himself and his brother. He threatened to jump off a bridge.
He said he wanted to die, but not by his hand.
"I can't go to heaven if I take my own life," Martinez said over the police radio.
Dankert said he was distraught over not seeing his son. He said his ex-girlfriend is taking him to California. He lamented that he would never see his son after this.
"How am I going to protect him in jail?" Dankert asked.
"You'll get out of jail," the negotiator assured him. "You're not going to be there forever ... it's not really a big deal ... right now, all we're dealing with is a stolen vehicle and some marijuana."
In the end, the brothers asked to make a phone call. They wanted to speak with the woman who had been with them just before they drove off in the police car. They said she was a friend.
Dankert said he wanted to contact his son.
"I want this one phone call so I can call my son and tell him I love him and miss him," he said. "That's all I want right now. Anything else and we're going to do something stupid. Please."
Moments later, Martinez promised that he's about to be "that guy."
"What does that mean?" the negotiator asked.
"I'm just going to kill us both," Martinez replied.
The negotiator tried to calm him.
"I thought you and I had developed a better rapport," he said. "Miguel, what would the chances be of just giving yourself up right now?"
Martinez responds bluntly: "Zero," unless they can make that phone call.
"I really wanted closure with my mom before I went to [expletive] prison for like 10 or 20 years," he said, "but just a smoke would make me feel happy... I'd be good."
Moments later came Martinez's final transmission: "Hang on, I'm shooting you guys."
A gunshot was fired inside the police car; Martinez got out with a gun in hand.
Police shot him.
Police have not said if Dankert died by his own hand or by his brother's.