MIDLOTHIAN -- A seven-second video captured the mysterious killer with a distinctive walk.
The killer roamed around Midlothian's Creekside Church of Christ for a half hour dressed all in black in police tactical gear and a bulletproof helmet.
Missy Bevers, there to teach an early morning Camp Gladiator exercise class, was killed one year ago from Tuesday. She died from puncture wounds to the head and chest.
Students arriving for the class found the body of the 45-year-old mother of three.
"The morning of April 18, 2016, if you would have told me that we would be in this parking lot talking about this case a year later, I would have thought you were out of your mind," said Midlothian Assistant Chief Kevin Johnson.
Bevers' killing shocked the tiny town and made national headlines. Nothing was taken from the church, not even her iPad and planner. What the killer used to kill her investigators won't say.
They are also mum on whether they recovered the weapon.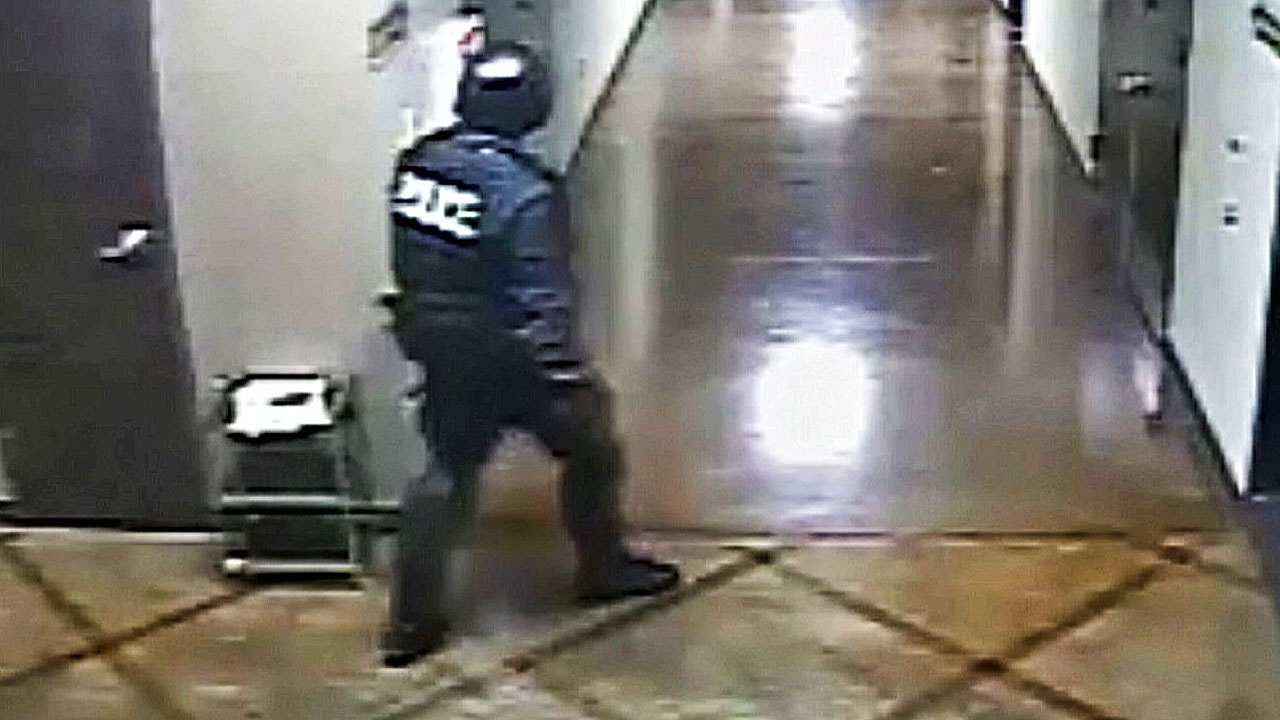 "It's a vital piece of information that we want to protect until we have an opportunity to confront the killer with it," Johnson said.
Her husband, Brandon Bevers, didn't talk Monday. But in prior interviews, he's said he didn't believe she was the killer's target.
Renee Jones, head trainer for Camp Gladiator and Missy's friend, said her friends and family have endured a rollercoaster of emotions.
"You have sad moments," she said. "You have angry moments. You have moments where you're up here because you remember all the amazing things she did and said."
Bevers lived in nearby Red Oak and was formerly a special needs public school teacher.
The day she was murdered, Bevers arrived at the church at about 4 a.m. Investigators say the killer used a pry bar to smash glass and open a side to door to the church. The building didn't have an alarm and outside surveillance cameras weren't working.
Motion-activated cameras show the killer wandering around from room to room. The video didn't capture the actual attack. The person was wearing a bulletproof vest with the word "POLICE" on both sides, as well as a helmet concealing their face. The killer appeared to be carrying a tool used to break windows.
Investigators have spent thousands of hours working on the case. In the initial month of the investigation, they were just shy of 20 outside investigators working the case, as well as a dozen Midlothian police personnel, Johnson said. For many of them, they spent 70 to 80 work weeks on the case.
A year later, police have sifted through about 1,400 tips. Johnson says there are still a few "lingering people of interest" who haven't been excluded. A full-time investigator remains assigned to the case.
No one has been publicly ruled as out as a suspect, not even her husband. Johnson says Bevers' husband has been all but cleared and they no longer consider him a person of interest, much less a suspect.
He says they intend to keep the investigator assigned to the case as long as there are leads to follow. Midlothian police regularly meet with FBI agents who have been working on the case, too.
"Sometimes there's a lot of work to be done on the case and sometimes there's not a lot," Johnson said. "It's still very much active and open."
Is the killer someone investigators are already familiar with? Johnson couldn't answer that question.
"There's lot of split opinions on the case whether the killer was familiar with the church, whether the killer was familiar with her schedule, whether she was targeted or not, or whether it was random," Johnson said. "Some people believe it may have been a burglary gone bad. Some people are adamantly against that theory. Some people see a woman in that video. Some people see a man."
And so who killed Missy Bevers remains a mystery. But Jones has faith that Bevers' killer will be caught. The class she's teaching Monday night will be in her friend's memory.
"The hard part for us is just acknowledging the not knowing," she said. "I believe God's work is not done. I believe it's coming. I just don't know when."