MIDLOTHIAN -- The reward for information leading to an arrest in the murder of Terri "Missy" Bevers has doubled, reaching $20,000.
Police announced Friday that SWFA Outdoors is offering a $10,000 reward, adding to the previous $10,000 reward offered by Oak Farms.
As for the murder investigation, police say they still have many questions.
"Our investigative team has conducted dozens of interviews, reviewed volumes of electronic data and received over 800 tips, which we continue to work through," they said.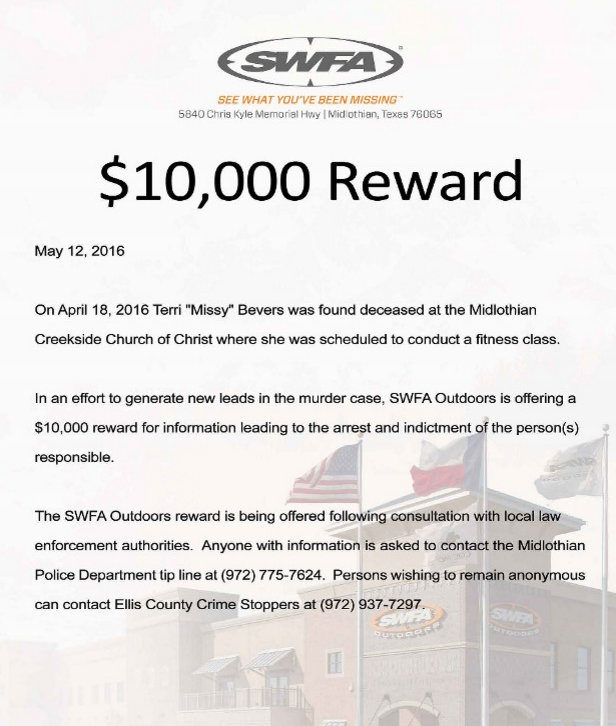 Bevers, a mother of three, was murdered at Creekside Church of Christ on April 18. Surveillance video showing the suspected killer in what appears to be police tactical gear has been at the center of the case. Police believe she was targeted.
The FBI has stepped in to help with the investigation, along with the Tarrant County DA's Digital Forensics and Technology team.
Police also squashed rumors that an arrest has been made in the case.
"Despite recurring rumors circulating through social media and some media outlets, we have not made an arrest in this case. To say that an 'arrest is imminent,' does not reflect information published by this agency," police said. "While it is unlikely that we would pre-announce any planned arrest, please rest assured that we will make every effort to promptly notify our media partners and the public when this killer has been caught."
All tips can be made by calling (972) 775-7624 or Crime Stoppers at (972) 937-PAYS.