DALLAS — A Dallas police sergeant with a checkered disciplinary past is now facing serious allegations that he lied in a drunken driving case.
The concerns surround whether Sgt. Stephen "Tiny" Baker fabricated the original reason for the 2012 traffic stop and then continued to lie about it, even in the face of video evidence.
Baker, a 21-year-veteran of the department, was stripped of his badge and gun earlier this month. He remains on administrative leave pending an internal investigation.
"There's a big problem, because we can't have people being above the law, and we can't have people breaking the law to enforce the law," said Ashkan Mehryari, an attorney who represented the man arrested in that DWI case.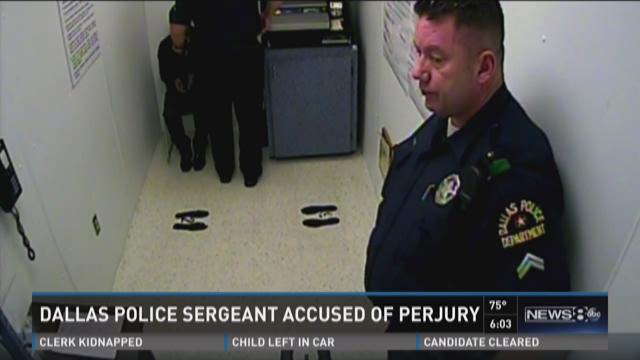 In that case last month, Baker boasted of his importance in DWI cases, calling himself the department's "resident expert." Baker coordinated the department's intoxilyzer (breath-testing) program at the jail. He conducted many of those tests as well, meaning his testimony would be crucial in court. Sources said he also delivered blood samples collected in DWI cases to the lab.
Legal experts said Baker's situation may well put other cases in jeopardy if the Dallas County District Attorney's Office determines that he was not a credible witness.
"If he's going to be an essential fact witness, then it could affect their ability to prosecute the cases," said Toby Shook, a former high-ranking Dallas County prosecutor.
The DA's office declined to comment. But sources with knowledge of the situation said cases involving Baker are already being collected and reviewed.
Dallas police officials say their investigation is continuing. They downplayed the seriousness of the situation.
"Currently, there is no indication that the outcome of the investigation should have any effect on other criminal cases," Assistant Chief Patricia Paulhill said in a written statement to News 8.
Officer disputes video evidence
The traffic stop at the center of Baker's troubles occurred in the early morning hours of July 6, 2012, at the intersection of South Carroll and Columbia Avenues.
Dashcam video shows a Ford Mustang — driven by Marcial Salazar — making a right turn. The dashcam shows Baker running a red light to stop Salazar, indicating that Salazar actually had a green light when he made the turn.
After Baker pulled him over, Salazar initially denied having had anything to drink. He soon admitted that he had been drinking. Salazar failed a series of field sobriety tests and he was arrested.
Baker explained to Salazar that the reason he stopped him was because he ran a red light.
"You drove right through the light, making a right turn without stopping, sir," Baker said in the recording.
Last month, Salazar's case was heard in County Criminal Court No. 3.
That dashcam video was played over and over for Baker. Baker repeatedly insisted that Salazar ran the red light, refusing to acknowledge his error.
"I don't make too many mistakes," he testified.
At one point, Baker said his light turned from green to yellow as he approached the intersection. The video shows his light was red the entire time.
"I've never seen someone stare at a blatantly red light and declare it 'green' with a straight face," Mehryari said. "I said, 'Officer, I don't mean this disrespectfully, but this is the only solution I can really come up with to reconcile these events: Are you color blind?' He said, 'No.'"
Baker also insisted that he was in a parking lot when he first saw Salazar. The video shows that's not true, either.
"The officer is just plainly on the street," Mehryari said. "It was a baffling situation. I didn't understand why he was lying about certain things."
In the end, Judge Doug Skemp concluded that it was not "very probable" that the lights were red in both directions.
"I find the officer wavering on when, where, why, and how he saw the red light," the judge said, according to a court transcript. "Whatever light he saw him run, it's clear that the car was in the street and not in the parking lot, which calls into question his credibility on that issue. So I do find the officer's testimony that the defendant ran a red light not to be credible."
The judge granted Mehryari's motion to suppress. He then instructed the jury enter a finding of not guilty.
Mehryari said the jury was visibly upset and "borderline scared" that Baker could be someone who is training and supervising other officers. He said prosecutors were taken aback by Baker's reaction to the judge's ruling.
"He insinuated the Dallas Police Department didn't care," Mehryari said. "When the judge found him to not be credible, he didn't care — just shrugged it off and walked away."
"It was a wrong decision"
Long before this, Baker already had a troubled disciplinary history.
In 2000, he was suspended for harassment and doing personal business on duty after — among other things — he ran driver's license checks for personal reasons and spied on an ex-girlfriend to see if she was sleeping with her boss.
In 2003, Baker was suspended for failing to report a traffic accident.
In 2012, his supervisors recommended that Baker be put in a personnel development program for troubled police officers because he had had four "inappropriate use of force" complaints spanning two years. The complaints had, at one point, led to him being removed from patrol and transferred to the communications division.
He was in the development program from February to May 2012.
While he was in that program, he got in trouble yet again for putting another officer in danger. In March 2012, Baker had a rookie officer crawl into an apartment through a window to unlock the front door to retrieve items belonging to a domestic violence victim.
After the rookie got inside, a man suddenly appeared and had what appeared to be a gun in his waistband. It turned out to be a pellet gun.
"It was a wrong decision, and I know it was a wrong decision," Baker told commanders, according to an audio recording of his April 2013 disciplinary hearing. "I was just trying to take care of the complainant, who had been beaten up pretty good and had no place to stay."
Assistant Chief Tom Lawrence told Baker that he had put another officer in danger and showed poor judgment by taking a victim back to where she had been assaulted. Lawrence also mentioned Baker's long disciplinary history.
"Please, Steve, learn from this," Lawrence told him. "Don't come back here again."
Baker responded, "Yes, sir."
He received a five-day suspension.
A few months later, Baker was promoted to sergeant. That boost in rank was given even though an interview board had unanimously recommended that Baker not be promoted, based on his disciplinary history and work history.
By then, he had already been transferred to the jail.