COLLIN COUNTY – Testimony continued Wednesday morning in the capital murder trial of Melina Muniz, the woman accused of killing her fiance's 2-year-old daughter.
During opening statements Tuesday, the lead prosecutor told the jury Muniz planned Grace Ford's murder. The defense stated that there are holes in the prosecution's timeline.
Both sides plan to bring at least 30 witnesses to the stand during the trial, which is expected to last into next week.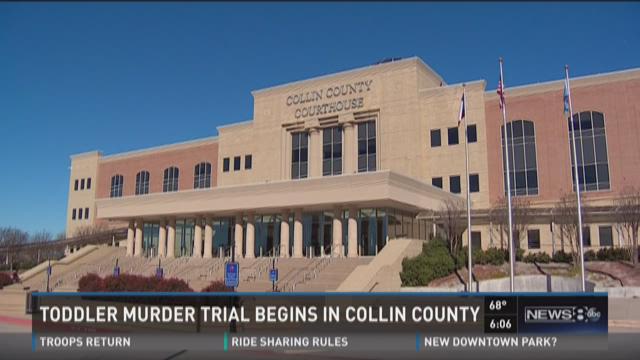 Muniz is accused of killing Grace Ford last January in the Plano apartment she shared with Ford's father. Officials believe she then staged a home invasion and sexual assault in an attempt to cover it up.
The toddler was found unconscious in her crib with duct tape over her mouth. She died several days later.
A doctor who treated her told the jury Tuesday that there was evidence she had been sexually assaulted.
A police officer who arrived at the scene said Ford was unconscious with no pulse. Her eyelids changed color and her lips were purple or blue, he said.
Muniz was also found with her mouth taped shut and her pants down in a separate room of the apartment. She first claimed that a man broke in and sexually assaulted her, but investigators said her story didn't add up.
The officer on the stand said Muniz's response to a supposed sexual assault or home invasion didn't seem normal to him.
They say surveillance video shows Muniz brought Ford with her to buy duct tape hours before the crime, and Muniz and Ford's father, Mitch, were in the process of breaking up because he found provocative pictures on her phone, the lead prosecutor said during opening statements.
Jury selection went late into Monday evening. A pool of 115 potential jurors were required to fill out a questionnaire asking if they had seen media coverage of the case, and if they had come to a conclusion that would influence the verdict. There was a larger pool than normal due to the coverage.
If found guilty, Muniz faces life in prison without the possibility of parole. The prosecution decided not to pursue the death penalty.
WFAA's Monica Hernandez and Jordan Armstrong contributed to this report.