DALLAS COUNTY -- A man suspected of stealing a worker's truck is in custody Friday morning after he led officers on a chase for half an hour through several North Texas cities.
Joshua Aguilera had stolen a car from Grand Prairie and crashed at a metal recycling plant near Westmoreland Road and Interstate 30, police say. At the scrapyard, he stole a work truck after getting into an altercation with the truck's owner, Norman Junge.
WFAA
Junge threw his hard hat at the window and banged on the car while trying to open the door. Aguilera took off with Junge's dog inside, allegedly trying to run him and his co-workers over.
When HD Chopper 8 caught up, Aguilera was driving along State Highway 114, heading into Lewisville. Several Dallas police patrol cars and DPS troopers were following behind, and even managed to shoot one of the truck's tires out.
Photos: Man arrested after police chase in stolen truck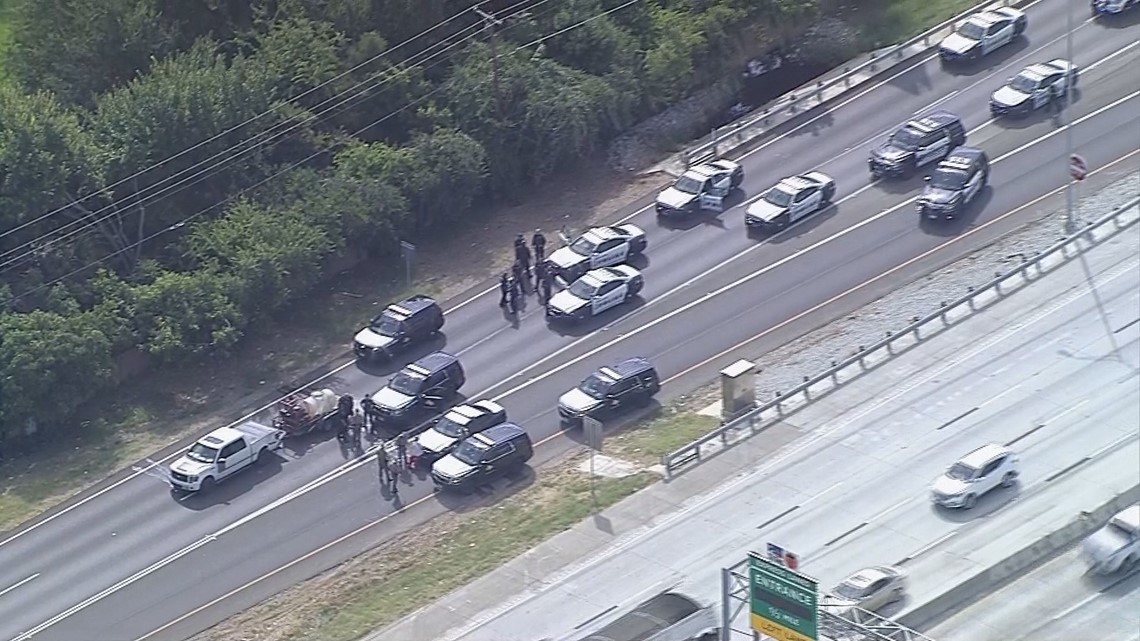 Just before 10 a.m. Aguilera pulled over near I-35 and Corinth Parkway in Hickory Creek, putting his hands up and surrendering.
Junge's 10-year-old dog, Mia, was still in the vehicle. He was escorted by police to the scene, where the pair were reunited.
"The Dallas Police Department did a great job, they were right there, communicated everything with us, and I really appreciate them," Junge said.
"My biggest concern was that he was gonna throw the dog out the window," he added.
READ: When this scrapyard worker's truck was stolen, all he cared about was his dog
No injuries were reported.
Joshua had already been fleeing Grand Prairie police by the time he crashed at the scrap yard. He and his brother, Jonathan Aguilera, were wanted in connection with a car burglary. Jonathan crashed a car near I-30 and Hampton, and tried to run away, but police later arrested him. Joshua kept going and crashed near the scrapyard, where he allegedly stole that work truck.
WFAA