DALLAS — First Assistant District Attorney Heath Harris broke into tears as he talked about trying to get justice for Deanna Cook.
"All I can tell you is, we promised this family that we could get them their day in court," he said.
On Monday, Judge Larry Mitchell delayed the trial of Delvecchio Patrick for the fifth time. Patrick accused of chocking and drowning his wife in 2012. The sound of Cook being murdered was caught on her 911 call for help.
"We participate in rallies and all that, but this is where the difference is really made... this is where we really send the message," Harris said.
Patrick's defense attorney won more time to gather evidence, despite the fact the case was first set for trial more than a year ago.
Lawyers say the delays in this case are unusual, and may be caused partly by politics.
Outgoing District Attorney Craig Watkins ran some of his prosecutors against Democratic judges — including Judge Mitchell — who lost his seat in the primary.
"I don't think Judge Mitchell or any other judges that had opponents from the DA's office are going to do anyone any favors," said defense lawyer Pete Schulte.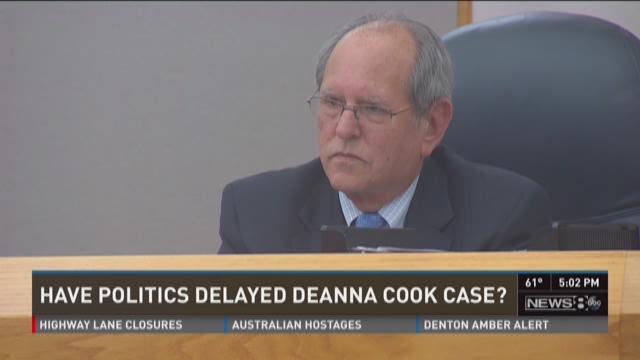 Mitchell has been criticized in the past for lowering bond on some domestic violence suspects, including Rocky Coronado, who was accused of kidnapping his four children at gunpoint and assaulting his wife.
Coronado got out of jail on the lower bond.
Harris said all this sends the wrong message to victims.
"We are loyal to victims, and we are passionate about what we do," he said. "This isn't over. It's not a game"
When District Attorney-elect Susan Hawk takes over in January, Harris will no longer be with the DA's office. He is still hoping to try the case against Delvecchio Patrick as a special prosecutor.