Former First Lady Barbara Bush is in "failing health" and has decided to not to seek additional medical treatment following a series of hospitalizations, according to a statement from a family spokesman Sunday afternoon.
Bush, 92, will instead "focus on comfort care" at her home in Houston and is "surrounded by a family she adores, and appreciates the many kind messages and especially the prayers she is receiving," spokesman Jim McGrath's statement said.
McGrath told KHOU that Mrs. Bush spent two days at Methodist Hospital earlier this month but decided not to return there when her health began to deteriorate. Husband George H.W. Bush was at her bedside Sunday afternoon and holding her hand, according to McGrath.
Sons Neil and Marvin and daughter Doro were also by their mother's side at the Bush residence. Sons George and Jeb have visited her in the past week. McGrath said both were "calling constantly" for updates.
"It will not surprise will not surprise those who know her that Barbara Bush has been a rock in the face of her failing health, worrying not for herself – thanks to her abiding faith – but for others," McGrath said in the initial statement.
More information about Bush's condition was not released Sunday afternoon. Comfort care typically includes preventing or relieving suffering for someone facing a life-threatening illness.
Both Barbara Bush and George H.W. Bush, 93, have dealt with health problems in recent years.
Early last year, they both spent time in separate rooms in the same Houston hospital, both being treated for breathing problems.
Sunday's announcement of Barbara Bush's declining health prompted an outpouring of support.
"Barbara Bush has a character that is as big, inspiring and iconic as Texas," Gov. Greg Abbott said in a statement. "Cecilia and I ask all Texans to join us in praying for Barbara and the entire Bush family during this time."
Former U.S. Senator Kay Bailey Hutchison, now ambassador to NATO, tweeted that Bush is "one of America's most loved women," and that "I join thousands in hoping she is comfortable and knows how loved she is throughout the world!"
United Nations Ambassador Nikki Haley tweeted that she was praying for Bush, "a woman of great faith, great strength, and an unwavering love of country."
Barbara Bush served as First Lady during her husband's presidency from 1989 to 1993. They have lived in Houston since leaving the White House.
PHOTOS: Barbara Bush through the years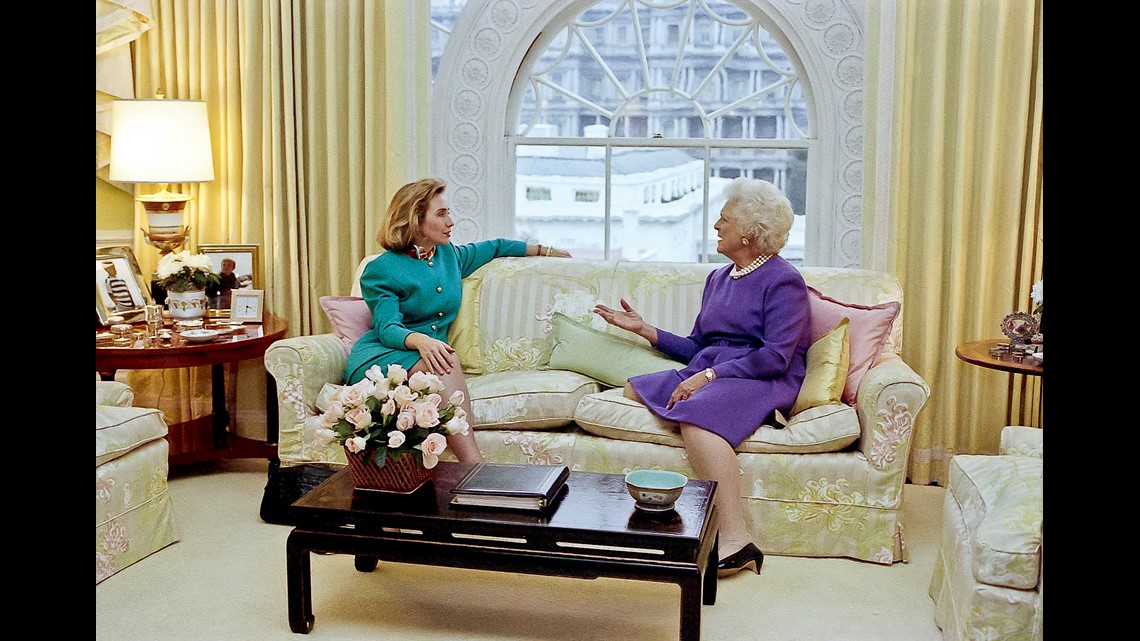 The couple met at a school dance in 1941, when he was 17 and she was 16. A year and a half later they were engaged.
George H.W. was on his way to becoming the youngest pilot in the Navy. Their long distance relationship was revealed in letters released last year by his presidential library. She called him Poppy. He called her Bar.
"I love you, precious; with all my heart," he wrote in a letter from 1943. "And to know that you love me means my life. How often I have thought about the immeasurable joy that will be ours someday."
They married in 1945 and had six children, including future President George W. Bush, who is now a Dallas resident.
In an interview earlier this year with Smith College Magazine, Barbara Bush revealed her secrets for a long life: good doctors and a great husband.
"I have had great medical care and more operations than you would believe," she told the magazine. "I'm not sure God will recognize me; I have so many new body parts!"
"Also, George Bush has given me the world," she continued. "He is the best — thoughtful and loving."