DALLAS — They operate in relative secrecy in downtown Dallas, not because they're trying to hide what they do. They're trying to protect the clients they do it all for.
"They prey on our most vulnerable girls," said Jennifer Tinker, who quietly cofounded a nonprofit called Poetic, which is silently making a remarkable difference in Dallas.
"For girls who have sex trafficking in their history, we have to ensure that they're safe and that we don't have anyone with bad intentions for our girls trying to find out where we are located," Tinker said.
The clients Tinker cares so much about are 40 young girls from Dallas County.
They average 14 or 15 years old. They were all recently housed in a juvenile detention center.
Most are victims of human sex trafficking.
"100 percent of our girls have a history of childhood sexual abuse," said Haesung Han, a clinical psychologist who co-founded Poetic.
Han was previously clinical director at Letot Residential Treatment Center in Dallas County.
"Girls would be with us there for sometimes six to nine months," Han said, and during those months she'd see significant improvement.
But transitioning from that structured environment back to a home where support is lacking, or to a group home with less structure, is difficult.
"And what I saw was that, in a matter of months, they would be re-victimized, not schooled, and lured back into the life of exploitation," Han said.
Han had done similar work in places like New York, New Jersey, Washington DC, and Boston.
"Letot is a remarkable agency with a phenomenal staff, but if you look at Dallas as a system, I think I was surprised by the under education of the girls and boys," she said. "I was surprised by the spending of mental health in Texas versus other states. So Poetic is specific for the needs of Dallas."
Poetic is not a residential center, but a day program for girls who've been released from the juvenile justice system and are victims of sexual abuse.
Poetic includes an on-site school, because Han believes education is the key to stopping the cycle of poverty and often leads to trafficking and exploitation.
"The large majority are two to three grade levels behind similar aged peers, so they've been undereducated for the vast majority of their childhood," she said.
Even though it is not a 24-hour facility, Poetic provides clients with 24-hour access to therapists and case workers.
Tinker says Han's deep expertise helped them develop the four-system approach – schooling, design classes, creative arts therapy, and trauma therapy – which they believe is key to helping the girls see what live as a survivor is like.
"Poetic girls are so resilient," Tinker said. "You think about a young lady who has experienced the level of trauma that our girls have experienced, yet she still has the courage every day to walk through our doors. We see beyond her trauma. We see all of her potential and all of her strength."
Poetic serves girls from ages 12 to 24.
The secret location and need to protect their clients' identities makes raising money and awareness a bit of a challenge. But when Dallas-based architecture and construction company The Beck Group heard what Poetic does, it stepped up to help.
The facility Poetic operates in is nice, but dated.
"The Beck Group said we're going to renovate and give you a brand new student center, a kitchen, a new bathroom that has a shower for girls, a washer and dryer, and a beautiful new creative art studio," Tinker said.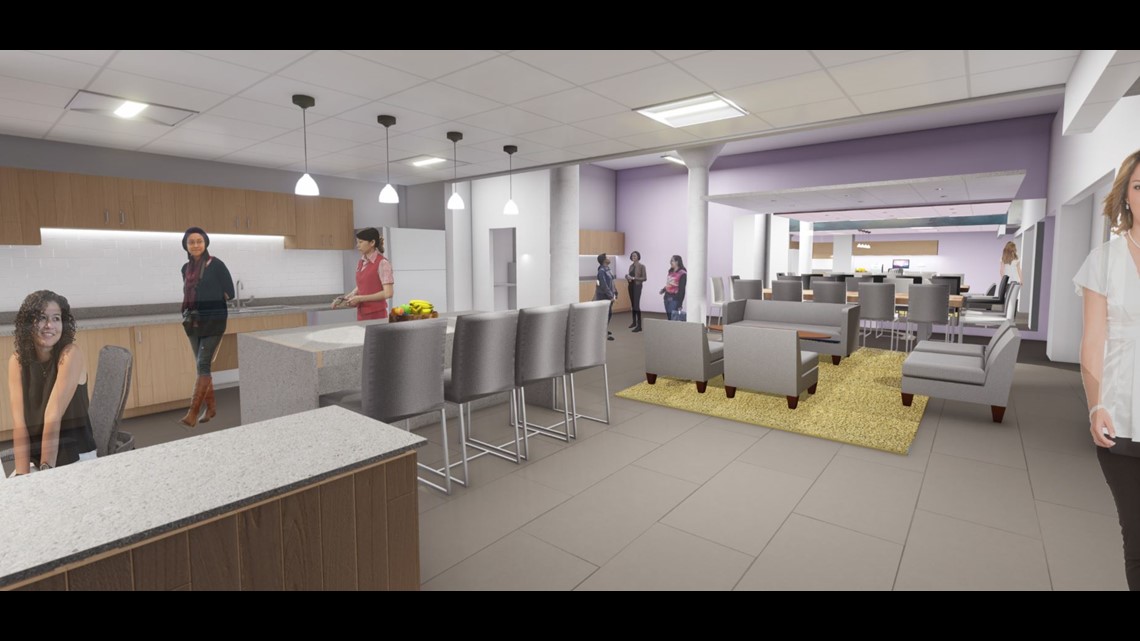 Poetic continues to look for help covering the cost of appliances for the new space. Tinker said donations of money, food, and art supplies are critically important.
They launched Poetic in August 2017 and are seeing results in their clients.
Han said one young woman with "a long history of being exploited and trafficked" has a part time job, a paid internship, and a dream to start her own business. She is on track to get a high school diploma.
"We know when girls have that kind of resilience, our girls are going to be the women that absolutely change the world," Tinker said. "That's what we see every day - future attorneys, future CEOs, future teachers. Those are poetic girls."