Dallas-Fort Worth is one of the hottest places in the country. And now that it's summer, it's only getting hotter.
This is not a commentary about the weather. It's an assessment of the real estate market here. In the past four years, homes here have gone from a median sale price of $149,000 to $215,000.
"If you do not want to pay top dollar or over top dollar, now is not the time to buy. You are going to pay a pretty penny to own a property in D-FW," said Leah Slaughter, owner of OmniKey Realty. She hasn't seen values and demand like this at any other time since she started her business in 2006.
"We surpassed 2006 prices a few years ago, so everything here is uncharted," she said.
Slaughter added that homes continue to sell quickly for more than the asking price, and that new listings are attracting multiple offers.
"Sometimes three or four," she said. "I had one house with 12 offers within the first three days."
That frenzy is part of the reason that Florida Atlantic University, in its most recent Buy vs. Rent Index, found that the Dallas market is starting to fall ill.
"I would describe the market as having a 'temperature' at this time," said Dr. Ken Johnson, who co-authored the report.
"I would rent right now, because on average, I would accumulate wealth better by renting," Johnson explained.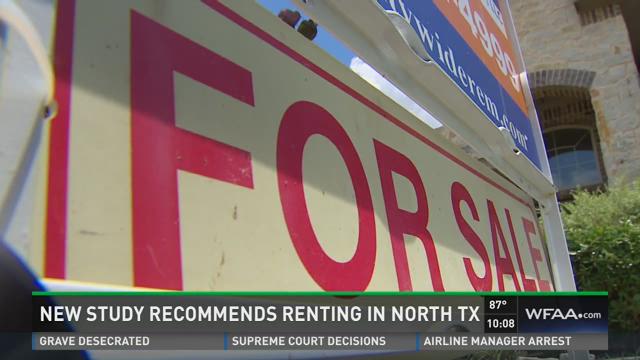 The idea is that renters would save money versus taking out a mortgage, and could do a better job of growing their money by investing in retirement accounts, the stock market, or savings plans than by owning a home and letting its value appreciate.
Johnson acknowledges rent has gone up here, too. But the cost of owning is rising almost three times as fast.
"Housing is growing at about a 9 percent rate; renting is growing at about a 3.5 percent rate," he explained.
That is why Ashley Franson is ready to put her Wylie home up for sale… again.
"It's almost like the stock market," she said. "You try to time it."
Originally she put it up last October, but then decided to wait. A little more than half a year later, realtors and appraisers are telling her its value has gone up substantially. "Probably about $20,000," Franson said.
She plans to sell and then become a renter. But even cashing in like that isn't easy. Her boss, Leah Slaughter back at OmniKey Realty, manages a lot of rental properties.
"I've got apartments I was renting for $500 to $600 that I have pushed to $800 to $900," Slaughter said.
She oversees about 750 rentals, and right now fewer than 20 of them are vacant. So whether you're looking to rent or buy, you can expect to pay more... and have less to choose from.
FAU's Johnson offers a few valuable tidbits that go beyond the headlines of the Buy vs. Rent Index:
If you are planning to stay in place for a long period of time, if you are not good at saving or investing money that you have left over each month, or if you are looking for a lot of amenities, you might be better off buying rather than renting — even though home prices are high.
Johnson expects the median price of homes in Dallas-Fort Worth — which has been rising substantially in recent years — to finally cool off by the end of this year and remain flat for a long period after that. He doesn't think there is a price "bubble" here that will burst, causing home prices in D-FW to drop precipitously.
However, he cautions that if North Texas real estate experiences another 9-10 percent growth in home prices again next year, the market would be in real danger of overheating.