PLANO — Every year, we hear those awful stories from the parking lot — when a child or a pet is left alone in a closed car.
According to the Texas Department of Family and Protective Services, an average of 38 children in the United States die from heat-related deaths each year. Now, a potential solution is being developed at the AT&T Foundry in Plano, where new ideas are fabricated into technology prototypes.
AT&T Foundry innovation coach Michael Albrecht says the new gizmo in this case is, "Basically magic in a box." It was dreamed up by Nancy Dominguez during her internship at the Foundry.
"The technology I used — I didn't even know what it was called before I started using it," she admitted.
But the UT Dallas mechanical engineering senior knew what she wanted to do. After a lot of research — and help from the team at the Foundry — she arranged some sensors and wires into a very rudimentary device that Albrecht describes as a "cardboard-and-duct-tape cigar box, basically."
Dominguez' invention was eventually refined into a 3-D printed case housing a thermometer, a wireless connection, and an infrared sensor — coupled with a motion detector that can see if something living is inside the car. Once the sensor recognizes that a person or animal has been left behind in the vehicle, it tracks the temperature.
When the air inside the automobile nears a level that would be considered too hot or too cold, the gadget sends a text message to the driver. If the driver doesn't respond quickly — and the person or animal remains inside the closed car — the device alerts emergency responders, passing along the car's location and make and model.
Albrecht said while the AT&T Foundry doesn't create commercial devices, it does fabricate prototypes that can be passed along to another developer to turn into an actual consumer gadget. When a developer gets in on a project, the process of taking it to market usually takes 18 months to three years.
This particular concept might appeal to developers not just because of its life-saving potential, but also because it could be incorporated into the electronics of a "smart car" along with other features, like an entertainment system or automobile self-diagnostic system. But such a device could also be sold separately so it could be installed in older vehicles.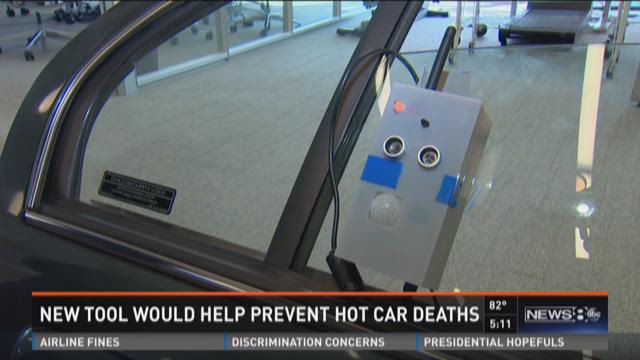 The device could also warn a driver about someone who might be hiding inside their car; and it could be incorporated in trunks to prevent people from being locked inside. Additionally, engineers are considering coupling the technology with other sensors, like carbon monoxide detectors.
Albrecht said this concept is "one of the higher potential projects we've had in the Foundry."
Since Nancy Dominguez was an intern when she created the device, she would not profit monetarily if it winds up in your next car.
"It helps with my resume," she said, and it may also help her get a job with AT&T after graduation.
The company has already shown a lot of interest in her work. But for Dominguez, the biggest payoff would be preventing any more of those awful stories from the parking lot.