ARLINGTON — There is still debate about the health effects linked to electronic cigarettes sold in stores like Vixen Vapors .
But David and Shaye Powell say there isn't much debate about a battery he bought to operate one.
"I went outside to help my grandmother out of a truck, and that is when it actually exploded on me," David Powell said about the incident, which happened last August.
He still has the cargo shorts with the e-cig's rechargeable battery melted into the pocket.
He purchased the power pack at the Vixen Vapors in Pantego last summer. A couple of days later, he said the battery suddenly blew up.
"At first, I was just trying to get those [pants] off to get away from the heat source, but it just kept going," Powell said.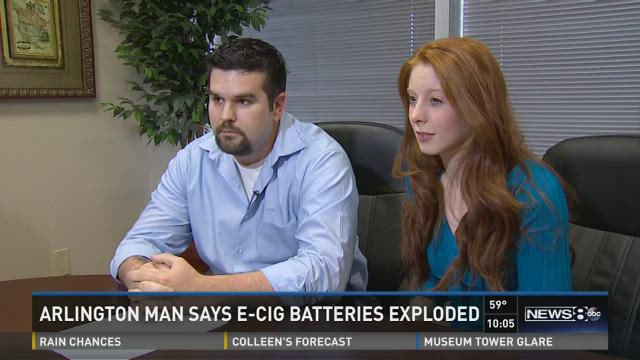 The Marine veteran was at Parkland Memorial Hospital in Dallas within hours, suffering from first- and second-degree burns to his thighs and scrotum. The burns were so severe he required months of treatment.
"They had to clean out the lithium and everything," he said. "They were giving me morphine, and it wasn't working at all."
David and his wife have now filed a lawsuit saying the store was negligent, and failed to warn customers of a potential risk.
"We want some answers, and want to make sure it's noticed," Shaye Powell said.
Jason Amon, the store's attorney, issued a statement, which says in part:
"We believe that if a product is defective, then its manufacturer should take responsibility. We didn't make the battery in this case…"
Since the August incident, Vixen Vapors has placed warning signs at its stores.
The Powell's attorney, Jim Ross, says the manufacturer is a Chinese company, and that the store is responsible because they elected to sell that battery line.
The lawsuit seeks more than $1 million.