FORT WORTH, Texas — The Humane Society of North Texas is postponing adoption events and is asking for donations as it tries to get an outbreak of distemper under control in its dogs.
HSNT has temporarily closed all of its dog adoption and animal intake locations. The shelter says other cases have been identified nationwide.
HSNT says it's currently isolating more than 350 dogs in its shelter or in foster care that may have been exposed to dogs testing positive for distemper, and are taking precautions to avoid a possible spread by temporarily stopping their operations and testing all dogs showing signs of upper respiratory illness.
Dogs testing positive include young puppies, but also older dogs, some of which are seniors. Each test is $105 and HSNT has sent over 140 tests so far, officials said Friday.
HSNT is working with the head of the University of Florida Shelter Medicine Program among other national industry leaders to help stop the spread to and get more dogs tested.
HSNT vaccinates all pets on intake but vaccines cannot protect dogs that have already contracted distemper before they got to the shelter as owner surrenders or strays.
How to help
So how can you help? HSNT is asking for donations, as well as blankets and towels -- plus to keep the staff in your thoughts and prayers.
"Our staff is devastated. We are beside ourselves and weary, yet championing for the wellness and lives of all the dogs currently tested, with more to come," said Cassie Davidson, director of communications. "HSNT will continue to stand in the gap. We will be alright in the end. It's a terrible journey right now....thanks for always being our supporters."
Distemper is a highly contagious and serious disease caused by a virus that attacks the respiratory, gastrointestinal, and nervous system of puppies and dogs.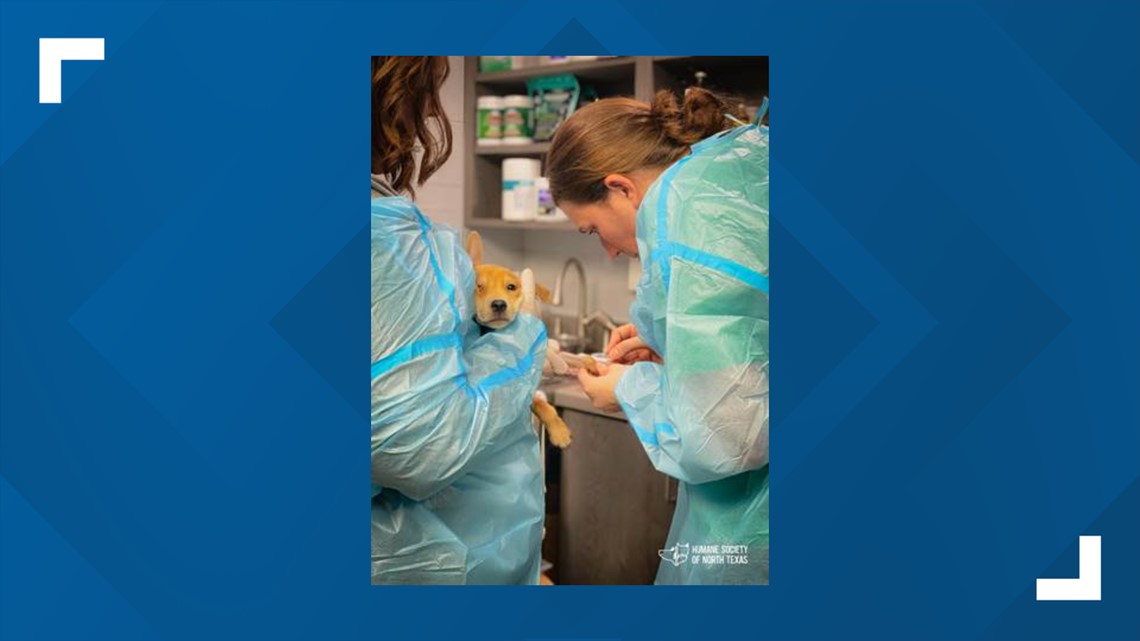 HSNT is also encouraging pet owners to make sure their flurry friends are current on required vaccinations, as they said they have been effective at protecting dogs from distemper.
They said they recommend new pets to be initially separated from existing pets in the household for approximately seven to ten days. HSNT also said puppies should be vaccinated at 6-8 weeks, and then every 2-4 weeks until 16 weeks of age.
In the shelter, HSNT said they begin vaccinations at 4 weeks due to it being a higher risk environment. You can contact them at 817-332-4768 or call your local veterinarian if you want to know more about vaccinations.
Adoption changes & postponements
HSNT also announced it's postponing the MEGA Adoption Event originally scheduled for July 24 and 25 at the Will Rogers Memorial Center in conjunction with the Fort Worth Animal Shelter. The event will be rescheduled in the future.
HSNT's Clinic will remain open to the public as it is located in a separate building with separate staff, and has no interaction with HSNT's shelter dogs.
They shared the news on a Facebook post with more information about other options for adoptions of cats and small animals, as they are not affected by this virus.
Cat and other small animal adoptions will be available at the Saxe-Forte (Fort Worth), Benbrook Waggin' Tails, Keller Regional, and Keller Welcome Home locations.
HSNT will also continue to adopt cats at the PetSmart Ridgmar, PetSmart Montgomery Plaza, PetSmart Bryant Irvin, and PetSmart Lake Worth locations.
City of Fort Worth shelters
While the Fort Worth Animal Care and Control operates separately from HSNT, the Fort Worth animal shelter management team now worries that this temporary closure will have an impact on the city's shelter operations.
They said they want to make sure the community knows Fort Worth's animal shelters have not had any distemper case and that they vaccinate all animals as soon as they get into the shelter.
Veterinarian and Assistant Director of animal welfare for the City of Fort Worth, Dr. Tim Morton, said that they "want all potential adopters, fosters and concerned residents to understand the commitment the city shelters take to protect our pets and adopters. Equally important to know, canine distemper is not a threat to dogs at home as long as they have been vaccinated for distemper prior to bringing a new four-legged family member into the home – no matter the adoption source."
The City of Fort Worth is now asking the community to help either by adoption, fostering pets, or volunteering at their shelters.
Adoption fees will be waived and all pets will be spayed/neutered, microchipped, and vaccinated.
You can find more information about adopting a pet or volunteering in Fort Worth by clicking here.