Deep Fried Chicken Noodle on a Stick.
Funnel Cake Bacon Queso Burgers.
That's what they were eating on a Texas State Fair Saturday a couple of weeks ago. A que of cars was lined up waiting for parking. The Ferris wheel was cranking, the midway starting to fill up.
Less than a half mile away, on a nameless concrete pad inhabited by a dumpster and a modest navy blue canopy, there was a boom box exuding a hymn. There were no amusement rides, just a couple of vacant lots, but the mood was just as celebratory as the fair.
It was Miss Rhonda's Free Lunch Saturday.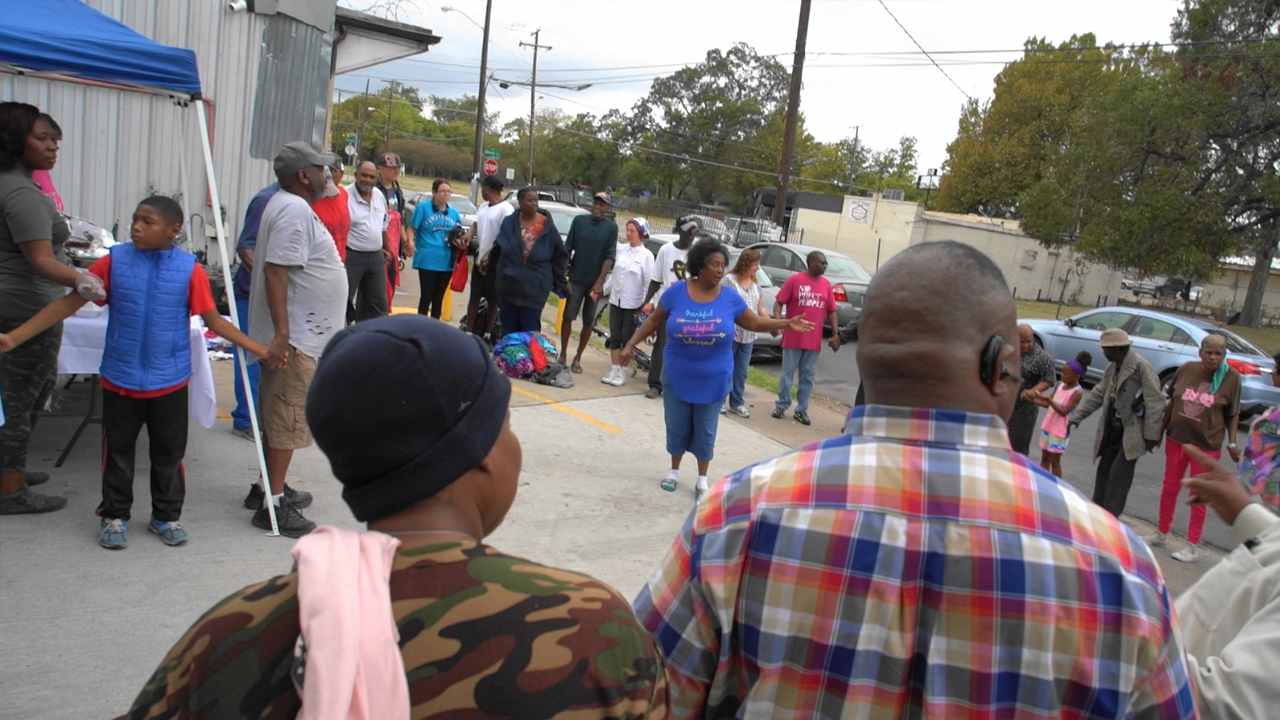 Rhonda Willingham has been on a journey for a couple of decades now.
"I was out on these streets for eighteen and a half years. I ran in these fields," she says, gesturing to the vacant lots. "I got high. I got drunk with everybody." Then, in 2007, "God took me from one side of the street to the other."
She reconciled with her parents, who despaired her life on the street. "My parents got to see me sober before they died," Ms. Willingham says.
They left her a tiny amount of money, which she used to purchase one of the vacant lots that had been her street home. "I promised God that I would come back to help out, because I'd destroyed the community for so many years. Selling drugs. Smoking dope."
Making It Count, Helping the Homeless
Ms. Willingham's ad hoc organization is the result. Every Saturday she arranges a free lunch for whoever wants it, served near her vacant lot. There is no ID required, no red tape, no registration, as at many homeless shelters around Dallas.
All a 'customer' needs to do is show up and eat. On a tarp spread out on the concrete are piles of clothing, also for whoever wants and needs them.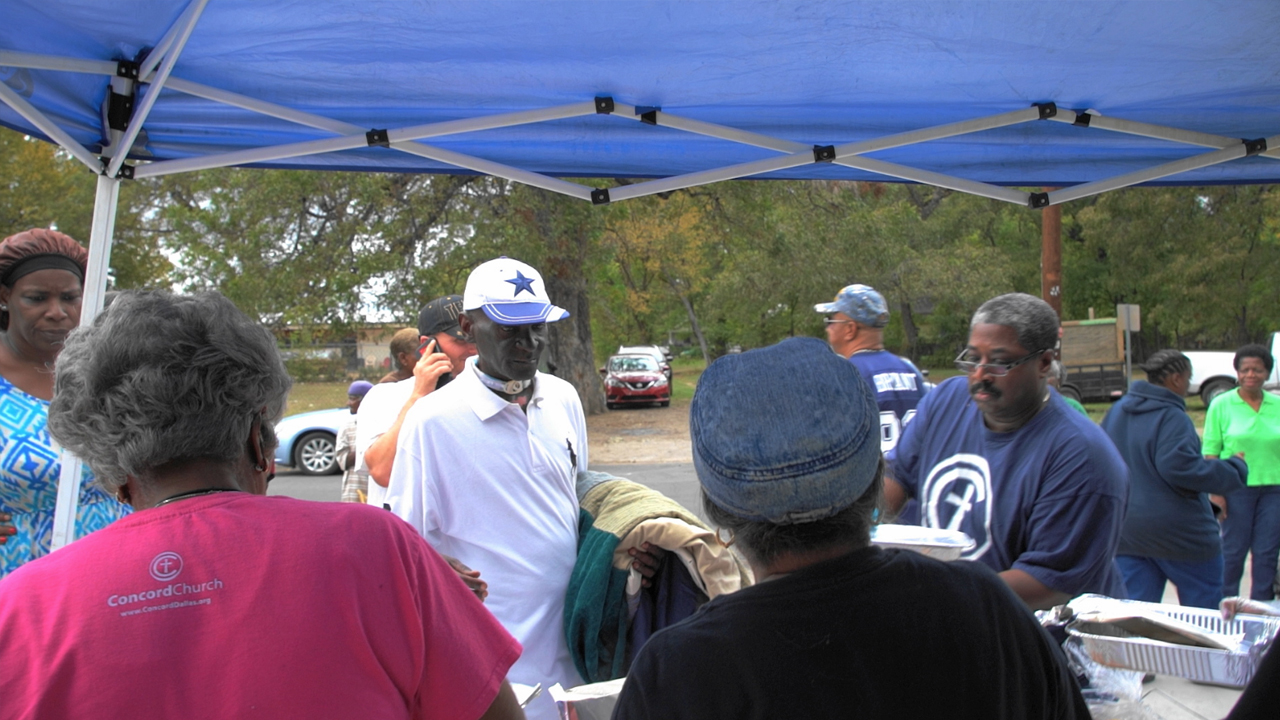 Two Saturdays a month, lunch is provided by churches; the other two, Ms. Willingham prepares herself. On this day it's Concord Church's turn, and a cadre of volunteers has reported for duty. In addition to cooks and servers, there's a 'Sewing Ministry,' which has quilted together blankets for the customers.
"In December it will be two years we've been doing this," Tanita Rivers tells me. "We used to do it under the (I-45) bridge, and then God blessed Rhonda. Now we've been coming here and the customers just show up."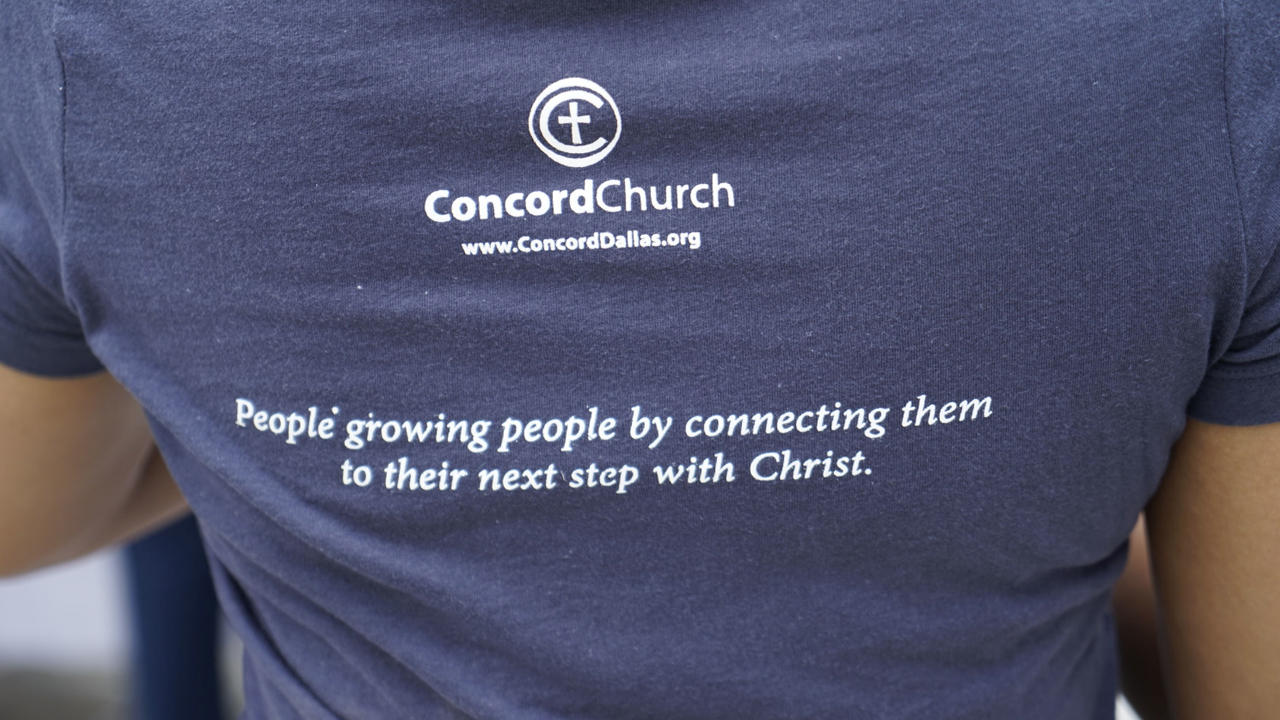 B.J. Bass is one of a handful of members who do the cooking. His signature dish is a styrofoam cup of chili. "We like to deliver the cup of chili in a plastic bag with a piece of cornbread, so they can eat it outside, even if it's raining," Bass says.
Every lunch served here is hot. Today there's noodle casserole, green beans, a dinner roll, the chili, a small piece of cake, and a bonus of a piece of smoked chicken. The menu expands or contracts depending on how much money there is in a particular week. "If we have to pay out of our own pocket, that's what happens," Bass says.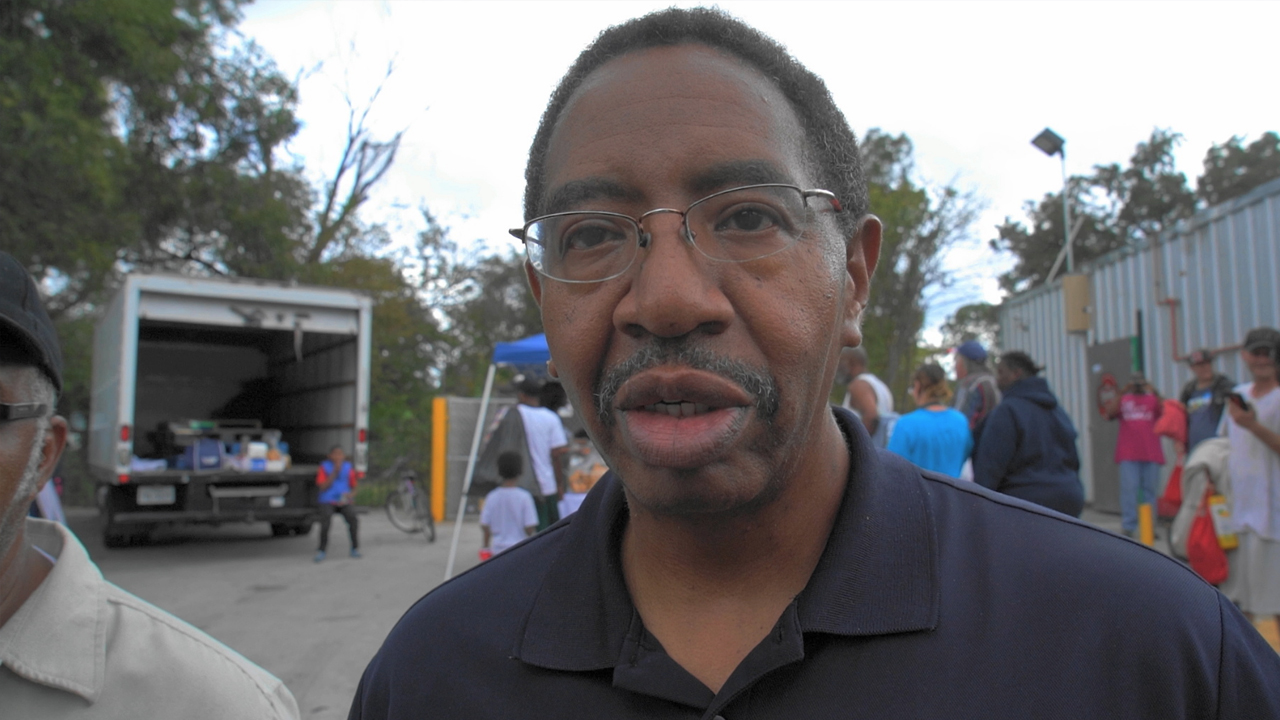 There's nothing to sit on. Still, customers stand around and talk to each other. "It makes a difference when people trust you" says Ms. Willingham. "They want to talk."
While I'm standing, a man starts talking to me. First, it's small talk, then rapidly evolves into a discussion about the death of his mother this year. Soon, he's dabbing his eyes, as tears come. "She passed at Parkland. I didn't think she'd go so soon. I thought my wife would be first. She's got cancer."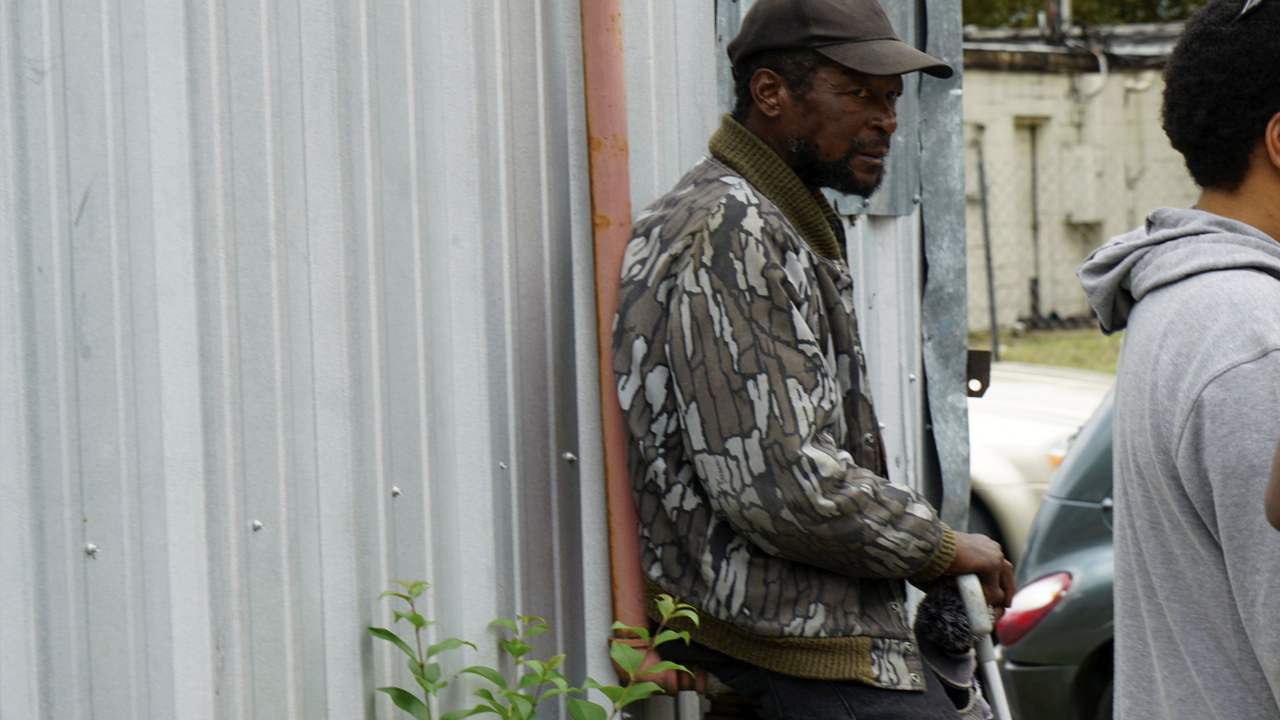 "People here are sick and tired of being sick and tired," says Ms. Willingham. A woman with a walker slowly pushes through the food line. A man with a tracheostomy tube, unable to talk, gives hand signals to a server, pointing to what he wants to eat.
Another, with a cane, leans against a wall, catching his breath. There is a lot going on here, but there is a kind of peace.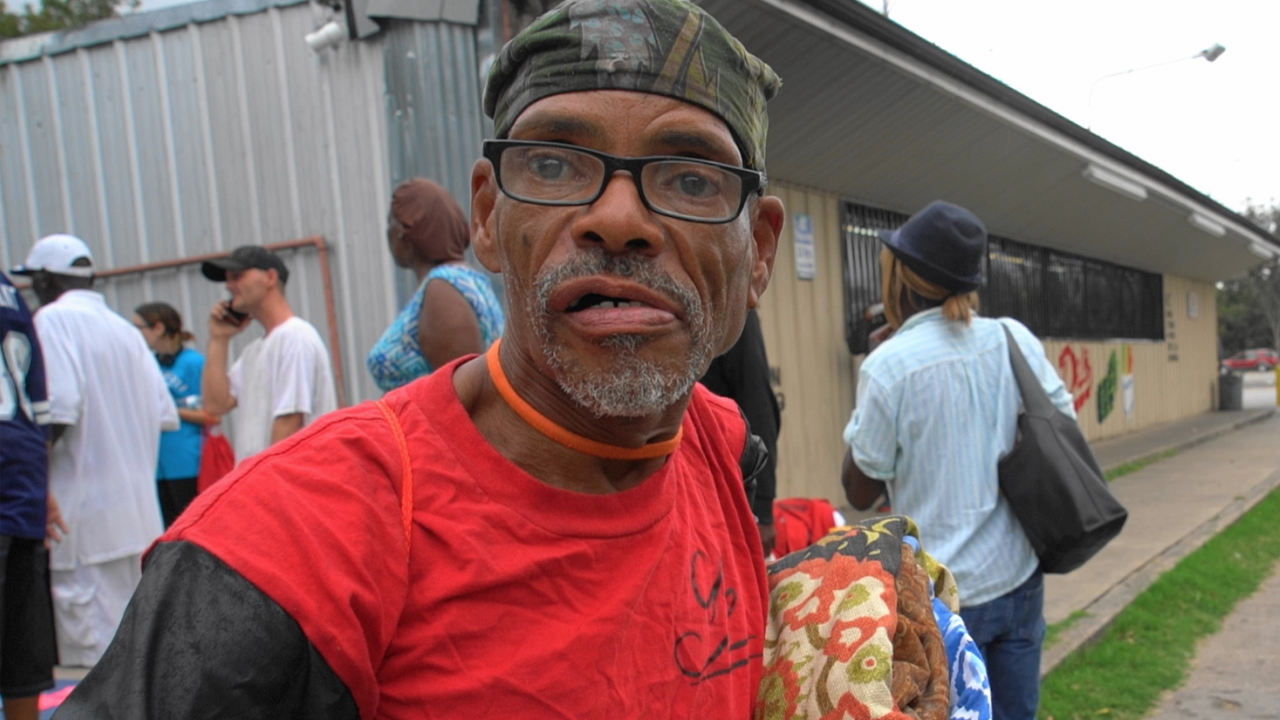 In Rhonda Willingham's mind it will get better. She hopes to build a resource center on her vacant lot, with washers, dryers and cots. And something almost as good as a free lunch on some days in sweaty Dallas.