HUNTSVILLE, Texas — When Damon West left prison it would be understandable to believe he would never want to go back. But the former inmate, dubbed the 'Uptown Burglar' for his theft and drug convictions in Dallas, is going back as often as he can to see how many other 'coffee beans' he can create just like him.
And his collaboration with Dak Prescott? That's another part of his success story too.
We profiled West back in 2020. The former UNT football star had injuries that led to painkiller dependence, addictions that led to a life of crime, and a sentence in Dallas County to 65 years in prison.
"I was a bad guy. I was a scumbag, Kevin," he told me as we drove past his old haunts and the Dallas County Jail where he says one inmate gave him the secret to turning his life around.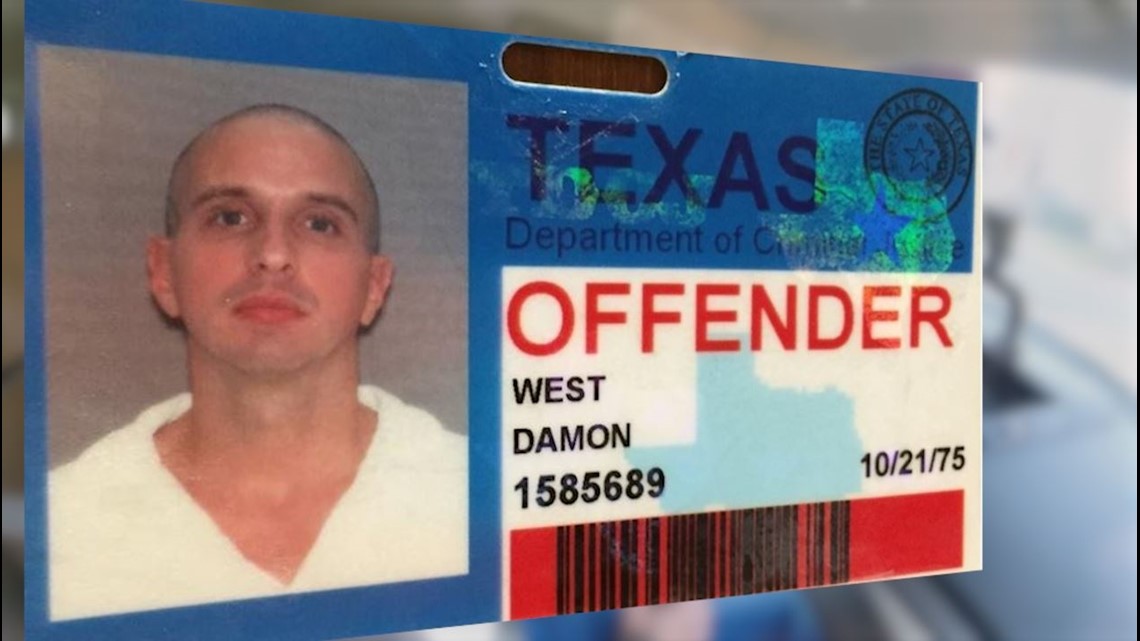 "This is like the place where I was reborn," he said standing in front of the jail. "If rock bottom was the day I got sentenced to life in prison, the rest of my life began in the cell up there."
The analogy he received from a cellmate was that prison, and life, are a lot like a pot of boiling water. You can become hardened like an egg, shutting yourself off from the rest of the world. Or you can become soft and weak like a carrot. Or, as he was encouraged, you can be like a coffee bean: it changes the water to coffee, just as he was encouraged to influence and change the prison world around him instead.
"The prison changed around me. It became a pot of coffee," he said on one of his speaking engagements in Dallas after he was released, on parole, for good behavior after just seven of those 65 years.
Through a remarkable chain of events, and some dogged determination, that led to a chance meeting with Clemson head football coach Dabo Swinney. He's a motivational speaker now to corporations and college athletic programs, a college professor teaching criminal justice at the University of Houston, and he's a best-selling author.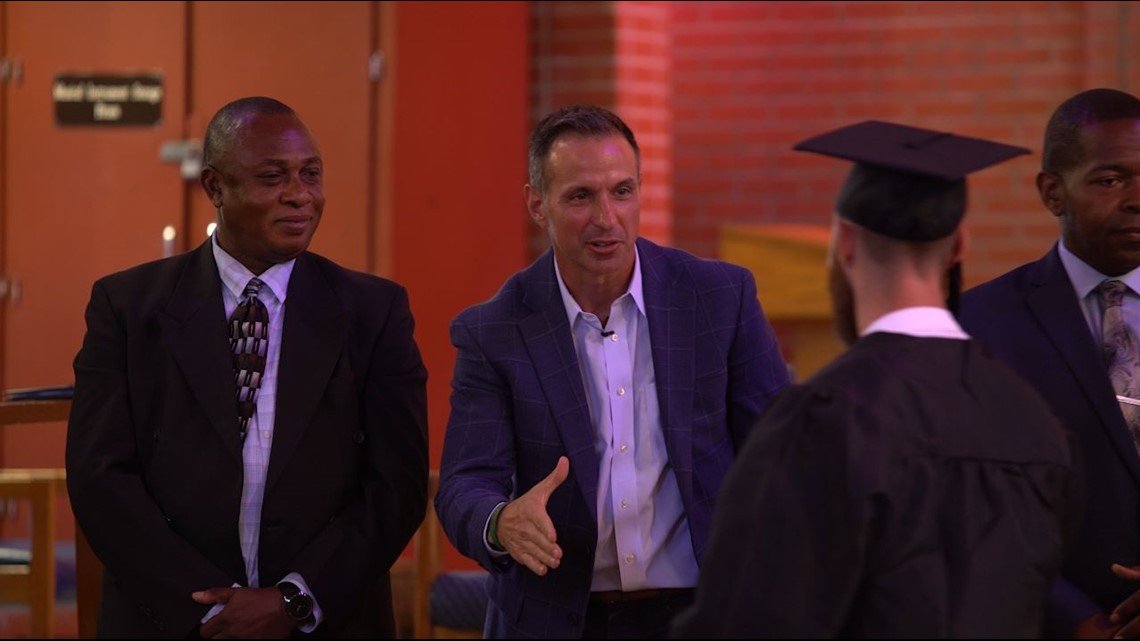 He's such a Texas Department of Criminal Justice success story, they invited him back, asking him to create a college-type course based on his books 'The Change Agent' and 'The Coffee Bean.'
That's why we were invited inside the Wynne Unit in Huntsville a few weeks ago to watch the very first graduates, in cap and gown, graduate from the program in a ceremony held inside the prison chapel.
"I want these guys to see and feel what success looks like," West said of the decision to put the 30 graduates in cap and gown and to invite their families to watch.
"If I can do it, you can do it, you know? So, that's good man," he told one of the graduates as he signed copies of his books.
Joshua Robinson from Atascocita, convicted of assault, was the valedictorian.
"We all make mistakes and our mistakes are not what define us," he said in his speech to his fellow inmates.
He told me the simple but powerful coffee bean message is working for him.
"To have a platform show you that you can be that coffee bean, you can transform the people around you. You know, by transforming yourself first and foremost," Robinson said.
Kamron McGruder from Fort Worth, serving nine years for robbery, promised the wife who got to see him graduate that a coffee bean is what he plans to be when he finally goes home.
"I'm a different guy right now," he said. "If you ask me if I'm ready, I say 10 times over. 10 times. I'm ready," he said.
The inmates got inspiration too from Lunda Wells, the tight end coach for the Dallas Cowboys. Damon West invited him to be the keynote speaker because he just happens to have a college criminal justice degree too.
"May God bless you guys. May God keep you guys. Keep going," Wells encouraged the inmates.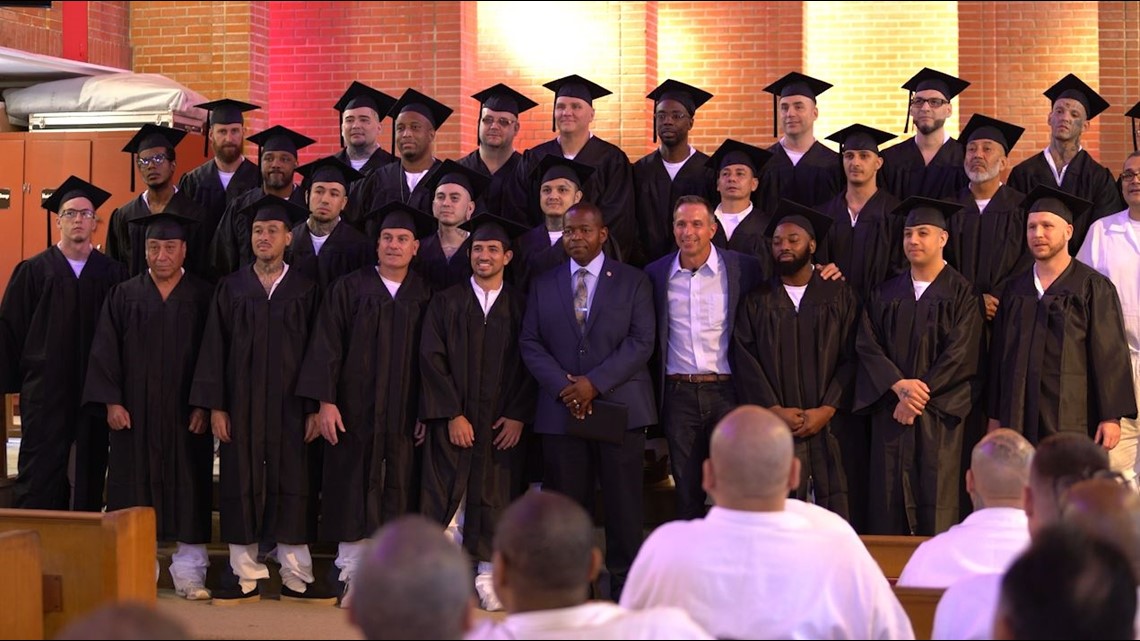 As for West, former inmate number 1-5-8-5-6-8-9, who watched the graduates hand his books to the next incoming class of inmates, his success story and this program may spread to every TDCJ prison.
"Just to be one of those tools now, I get to be part of the solution instead of part of the problem," he said.
And it may spread to Hollywood. There's talk of a limited TV series someday. Bringing his story and the message of the Change Agent and the Coffee Bean to the small screen is the focus of a new collaboration with a production company created by Dak Prescott. West counts the Dallas Cowboys quarterback among his close confidants now, too.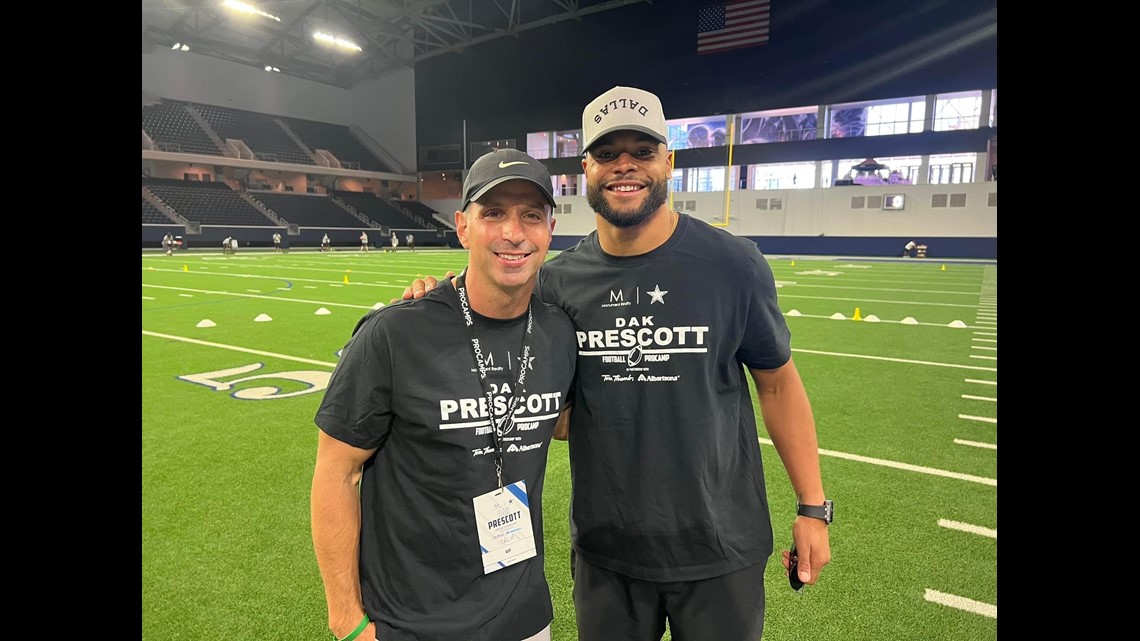 "My call to action to you," he said to the graduates of his program, "is you go out there and you go be a coffee bean. Be a coffee bean," he said as the inmates in the chapel gave him a standing ovation.
TDCJ says it plans to track the progress of these inmates to see if this program really works when they are finally released. West believes it will, just as it did for him.
"To be part of the solution today, that's everything. This is the stuff that keeps me sober," he said. "They believe in me and I won't misuse that."
Belief that a few more reformed coffee beans will soon be headed home.