MCKINNEY, Texas — For Brian and Cynthia Kidwell, the Christmas holiday is not just a season, but a year-long passion spanning 35 years.
The McKinney couple is well known for their hand-crafted heirloom Santas, and that has become a year-round project.
"A lot of our stuff is farm fresh," Brian laughed. "One man's trash is another man's Santa."
To achieve that "aged" look to Santa, the Kidwells have scoured the country's garages and barns looking for dated materials that can transformed. This is not a novel concept for the family, however.
"We definitely feel his presence in everything we do," explained Cynthia, referring to her father-in-law Al Kidwell. Al was an artist who created for fun and found the whimsy, even in the most mundane of objects.
Brian and Cynthia have certainly taken a page out of Al's book when it comes to creating. If Santa ever deviated from traditional red and white, Brian and Cynthia Kidwell have likely made it.
In early December the Kidwells were just putting the finishing touches on a 7-foot Louis Vuitton Santa. The handcrafted Santa required a $2,000 piece of luxury luggage to be stripped away and beautifully repurposed.
"Now, that'll put you in the holiday spirit, won't it?" Cynthia asked.
Married a blissful 37 years, husband and wife have been working side-by-side to make these handcrafted Santas. At one point, the pair was making 25 Santas a week. Now, they're made-to-order - and back-ordered for months because of the high demand.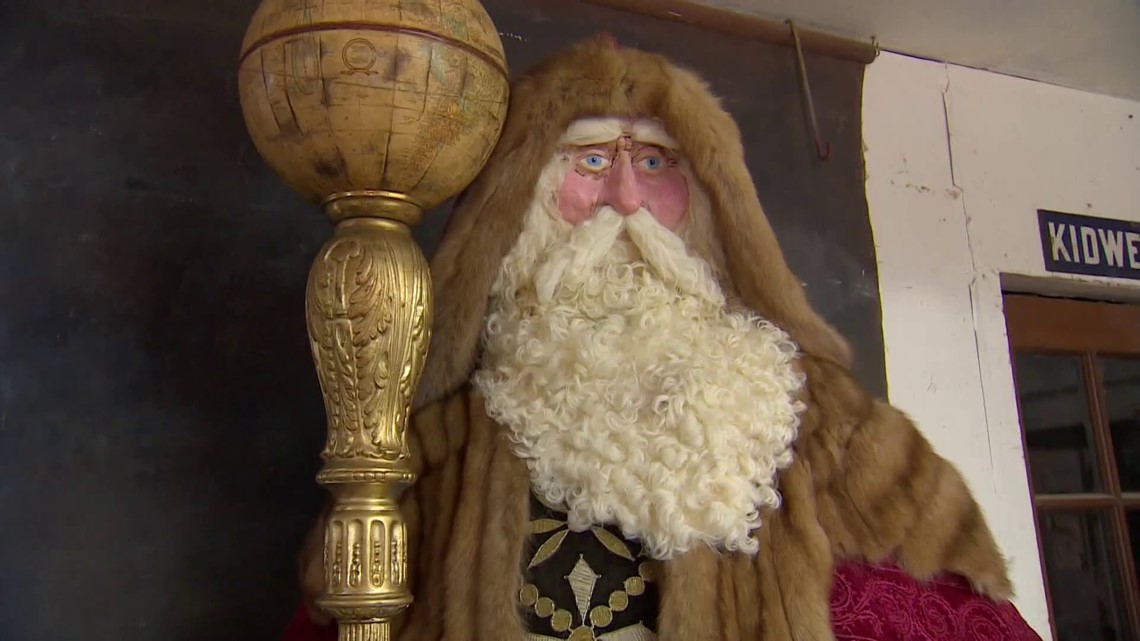 They might make Santas, but in this toyshop, they're really making legacy. Brian takes after his father in that, if he had a choice, he would only use his father's tools.
"His thumbprint is everywhere on everything we do," Cynthia said. But you soon realize it is not just his thumbprint, but his likeness you'll find somewhere else: on Santa.
"It was almost like he was doing self-portraits" Brian described. "All of these faces are faces that he sculpted."
Al bears an uncanny resemblance to the big guy himself. The molds Al once fabricated are being used to this day.
What Al started, a son and daughter-in-law have happily and quite successfully continued.
"The root of all of it, is gratitude," Cynthia said.