DALLAS — Being at Disney World or Disneyland feels like being in the middle of a Disney movie. But what if you don't have time nor money to travel that far?
"We are all about our worlds and our characters and bringing people into those worlds," said Dorothy McKim, special projects producer at Walt Disney Animation Studios. "And this experience brings you in even more so."
Inside, visitors are surrounded by scenes from some of Disney's greatest movies.
"You feel like you're right there with them," McKim said. "It's so exciting."
Guests can experience what it's like to be under the sea with Ariel or they can let it go with Elsa.
Anyone who's dreamed of being part of that world will feel like they're part of it.
"It is about hoping, dreaming and wishing," McKim said.
It takes about an hour to experience the entire attraction. McKim suggests arriving 30 to 40 minutes early to experience a pre-show put together by one of the Hamilton production designers.
Of course, it's not Disney World, but McKim says it is accomplishing the same thing.
"Just bringing joy," she said. "Just bringing joy into the world."
In May, WFAA received a tip from a viewer that the event was canceled and were notified her tickets would be refunded.
WFAA reached out to Lighthouse Immersive and received the following statement:
"Yes, Lighthouse Immersive has closed its production of Immersive Disney Animation in Dallas. We are currently working on contacting our guests and issuing refunds for ticket purchases, as taking care of our guests is our primary goal at the moment."
The following note is also posted on their website:
"Lighthouse Immersive regrets to announced that our production of Immersive Disney Animation in Dallas has closed. All ticketholders will receive a full refund. We apologize for the disappointment and inconvenience."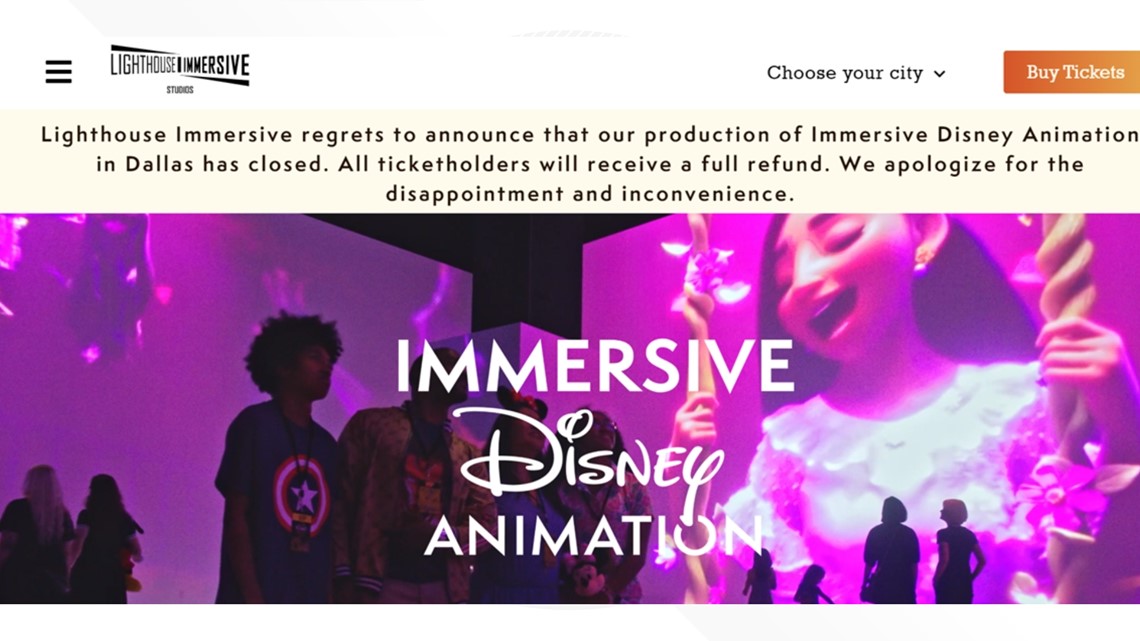 Other things to do in North Texas: