Steve Leaman of Leaman Container Inc. in Fort Worth says only two cities in the country are bigger markets for cardboard than Dallas and Fort Worth.
At no time of year is that more apparent than now. Internet orders get delivered in boxes; retailers receive orders packed in cardboard; relatives ship gifts to family members in it; and it all leads to a steady stream of what is known as OCC — old corrugated cardboard.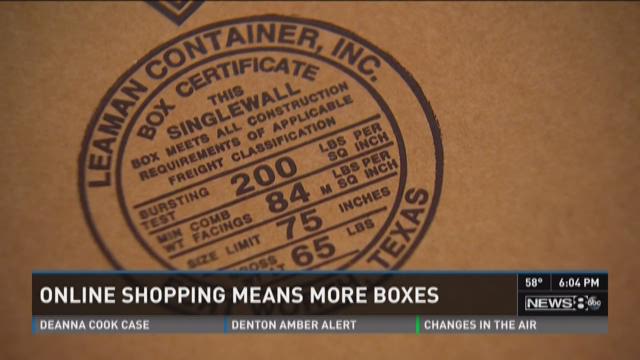 At cardboard recycler Pioneer Paper Stock Company in Dallas, this is the busy season of the year. General manager Terry Rayner's crew is processing 2,000 tons a week.
Trailers piled high with bales of cardboard are lined up and forklifts carrying 1,200-pound bales skitter around the courtyard. This time of year, processing cardboard is a round-the-clock operation.
"Some of it goes domestically, some goes to China, some goes to Mexico," Rayner told News 8.
The material is sold on an international futures market that fluctuates just like oil and wheat.
Although the market seems strong, based on strong numbers at FedEx offices and Amazon warehouses of the world, Steve Leaman — whose family has been in the cardboard business for 40 years — says appearances can be deceiving.
Paper industry statistics show per capita cardboard consumption in the United States has actually shrunk since 2009. Leaman says boxes are more numerous, but smaller.
"I would say there's an increase, and we've seen it in several customers in the smaller boxes," he said.
A higher percentage of every box sold is now made from recycled material. Those gifts you receive this year may never make it under the tree again, but you may see the box they came in.