'Brace for impact:' Remembering the Miracle on the Hudson
155 passengers. 155 survivors. 155 stores of fear, triumph and fortitude. Tuesday marks the 10th anniversary of "The Miracle on the Hudson," a flight that defied the odds, inspired the world and gave us all hope.
Tuesday marks the 10-year anniversary of US Airways Flight 1549, otherwise known as The Miracle on the Hudson.
Just minutes after takeoff, the Charlotte-bound jet's engines were taken out by a flock of geese. It was then that captain Chesley "Sully" Sullenberger pulled off a landing that is hailed as one of the greatest feats in aviation history, as he guided the disabled plane to a safe landing on the icy Hudson River, saving 155 lives and touching countless others.
"We had a miracle on 34th Street. I believe now we have a miracle on the Hudson."
:
It was a clear afternoon at New York's LaGuardia Airport on January 15, 2009. But boy, was it cold. After some light snow that that morning, it was about 20 degrees when US Airways Flight 1549 was cleared for takeoff.
Shortly after takeoff, a flock of Canada geese took out both engines. Captain Chesley Sullenberger immediately took the controls from his co-pilot when he knew there was no way they could get back to LaGuardia for landing. Air traffic controllers advised Sullenberger, affectionately known as "Sully," to attempt a landing at Teterboro Airport
PHOTOS: The Miracle on the Hudson, 10 years later

"There was a very loud pop and then we could smell something burning," said survivor Vicki Barnhardt.
Over the intercom, Sully told passengers to brace for impact. Without the use of his engines, the former Air Force pilot miraculously landed the plane on the Hudson River, saving everyone on board.
"I thought that was it," said Barnhardt. "As soon as I heard, 'brace for impact,' and to the point of hitting, I thought, 'that's it, it's over. We're done.'"
Brad Wentzell was in seat 21C. Moments after the plane hit the water, he helped a mother and her young baby get off the plane. He said the flight put his life in perspective and allowed him to focus more on his family.
"1549 was probably the best thing that has ever happened to me," Wentzell told NBC Charlotte. "As crazy as that sounds to say, it's true."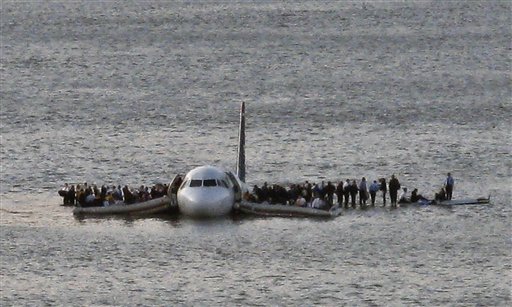 What happened next is etched forever into the memory of millions of people as the survivors evacuated the plane and stood on the wings atop the frigid river. Some people in the back of the plane had to stand on seats to keep their heads above water before they could escape.
"We had a miracle on 34th Street," said former New York Gov. David Paterson. "I believe now we have a miracle on the Hudson. This is a day to realize how blessed this city is."
A second chance at life
:
Multiple passengers have shared their stories of Flight 1549. And nearly all of them share a common theme.
NBC Charlotte has talked to a number of passengers on board the famed flight. And many of them share the sentiment that surviving gave them a second chance at life. And they all take it very seriously.
"I use a quote sometimes," one passenger said. "'You ask me why I came here, I came to live out loud.' I love that quote because it says what a lot of us feel now. We want to make sure we live our lives."
Despite it being a decade since the event, the crash is still vivid to those who experienced it.
"Every little bit of it," said Kristy Spears, who ended up on the fuel-soaked slippery edge of a wing. "It's just very crystal clear in my mind."
And while many of the passengers have moved on, gained strength and found a new meaning to their lives, it's important to remember that some have struggled. Damaging psychological effects remain a part of everyday life for these survivors.
"I have a permanent dent in my skull bone from banging my head on the seat in front of me," said another passenger.
Barnhardt said little things would remind her of the day she didn't know if she'd live or die. She contributed to a chapter in the book "Brace for Impact," that chronicled the crash.
"It says I was standing in waist-deep water in the aisle of the plane firmly believing we had sunk or we were sinking," she said.
In that moment, Barnhardt thought of her family; her husband and two children, then ages 2 and 6.
"My husband Mike erased the phone message of the last words I thought I would ever speak to my family," Barnhardt read from the book. "He didn't want to keep such a visceral reminder of that horrifying winter afternoon that he believed he had just become...a widower."
"You can't push a button to erase all the pain, the terror, the deep, deep sadness," she lamented. "Those echoes still live with me. I'm not sure they'll ever completely dissolve."
Flight 1549 finally makes it to Charlotte
:
Two years after landing on the Hudson River, US Airways Flight 1549 reached its destination.
Thousands of people lined Charlotte-area highways on June 10, 2011. That was the day the fuselage of Flight 1549 was delivered to the Carolinas Aviation Museum in west Charlotte.
"It's very meaningful," said Joan Garn. "I think of those poor people who must've thought that would be their last day on earth."
PHOTOS: US Airways Flight 1549 arrives in Charlotte

When the motorcade turned onto Billy Graham Parkway, crowds lined both sides of the highway and every overpass.
"That was awesome, man. I loved it," said Scott Hanson. "Something big like that going down the road, you don't see that often!"
Honoring a hero
:
From the silver screen to a late president's service dog, Sully quickly became a household name
Born in January of 1951, Chesley Burnett Sullenberger III, or as we know him, Sully, practically spent his entire life preparing for Flight 1549.
He obtained his first pilot's license at 14 and was appointed to the Air Force Academy as part of the Class of 1973. And before Tom Hanks played him in the 2016 film directed by Clint Eastwood, Sully met Hanks at an Oscars party. And if you can believe it, he was a bigger star than Hanks.
"I asked him, 'how are you handling all of this?'" Hanks said. "And he said, 'it's a little bit surreal, but enjoyable to a certain degree.' That's a pretty good description of celebrity."
And while Sully was fine with becoming a celebrity, his humility made it hard to reconcile with being called a hero.
"I've gotten over it," he told USA TODAY. "I made an intellectual compromise. I decided I wouldn't accept (that title) and take it on as my own mantle, but I would accept graciously their gift of gratitude."
And that's exactly how he's viewed by the survivors of the Miracle, including Denise Lockie, who said a candid chat with Sullenberger a few weeks after the landing helped her realize just how serious it was.
"I said to him how was this and he looked at me, 'what was your name' and he said it was dire and I said, 'can you explain that to me?' He said, 'Denise,' in his very Sully way of saying things, 'it was life or death leaning toward death,' and I'll never forget those words."
The movie Sully debuted in theaters on September 9, 2016. It grossed $125 million in the United States and another $115.7 million worldwide and owns the September record for the biggest global IMAX opening for a 2D film. It was critically acclaimed for Hanks' portrayal of Sullenberger.
Charlotte-based pilot Lori Cline said Eastwood had a simple goal with the movie.
"Are we doing it exactly the way you did it? Because he's very true to form and wanted it to be as realistic as possible. It's easy to watch from a pilot's standpoint and see that everything's very realistic," Cline said.
Sully's legacy continued when former President George H.W. Bush's service dog was named after him. Sully the dog captured the hearts of millions when he laid at the casket of Bush prior to his memorial service.
On Tuesday, the passengers and crew will be in Charlotte, where they will have a special toast at the exact moment the plane landed in the Hudson. Mayor Vi Lyles, former Gov. Pat McCrory and former New York Gov. Paterson will also be in attendance for the event.
A toast to life and another chance.