CLEVELAND -- Rock 'n' roll has new royalty.
The six inductees joining music's hallowed halls at the Rock and Roll Hall of Fame in 2018 are…
- Sister Rosetta Tharpe (award for early influence)
These six inductees were selected from 19 total nominees. Those not making the cut this year include Kate Bush, Depeche Mode, Eurythmics, LL Cool J, Radiohead, MC5, the Meters, J. Geils Band, Judas Priest, Rage Against the Machine, the Zombies, Link Wray and Rufus featuring Chaka Khan.
PHOTOS: 2018 Rock Hall inductees
Scroll down to read full bios on each of the inductees.
Four were first time nominees this year (Dire Straits, The Moody Blues, Nina Simone, Sister Rosetta Tharpe). Four also came from the top five artists in the Rock Hall's fan ballot (Bon Jovi, The Moody Blues, Dire Straits, The Cars).
To be eligible for induction, an individual artist or band must have released their first commercial recording at least 25 years prior. Ballots were sent to an international voting body of more than 1,000 artists, including current living Inductees, historians and members of the music industry to determine the 2018 inductees. Several factors are considered when selecting the inductees, such as an artist's musical influence on other artists, length and depth of career and the body of work, innovation and superiority in style and technique.
Cleveland will host the upcoming induction ceremony on April 14 in Cleveland's historic Public Hall. An edited version will air on HBO at a later date.
BON JOVI
Previous induction nominations: 2011
Year first eligible: 2008 (2009 ceremony)
Members included: Jon Bon Jovi, David Bryan, Tico Torres, Alec John Such, Richie Sambora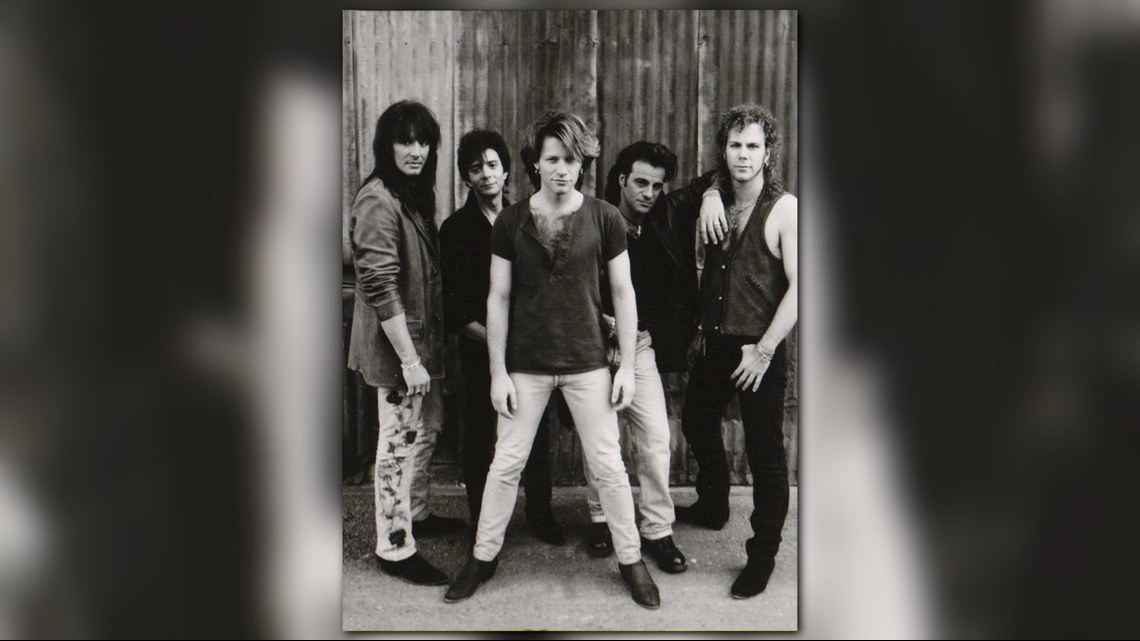 Hard-working musicians and prolific songwriters from blue-collar backgrounds in New Jersey, Jon Bon Jovi, Richie Sambora, David Bryan, Tico Torres and Alec John Such created a dedicated global following that spans every continent.
Along the way, they have carved out a place on the charts with their most familiar songs: "You Give Love A Bad Name," "Livin' On A Prayer," "Bad Medicine" and "I'll Be There For You" in the '80s; "Blaze Of Glory," "Bed Of Roses" and "Always" in the '90s; "It's My Life," "Have A Nice Day," the Grammy-winning "Who Says You Can't Go Home" and "We Weren't Born To Follow" in the 2000's.
Beyond the numbers – more than 120 million albums sold, more than 2,600 concerts performed in more than 50 countries for more than 34 million fans, including 2017's This House Is Not For Sale tour -- there is also Bon Jovi's enormous influence on innumerable young bands seeking to follow in their footsteps.
Despite personnel changes over the years, Bon Jovi steadfastly follows their own instincts, ignoring obvious trends and providing a model for other bands and musicians just starting out on their careers.
THE CARS
Previous induction nominations: 2016, 2017
Year first eligible: 2003 (2004 ceremony)
Members included: Ric Ocasek, Greg Hawkes, Elliot Easton, David Robinson, Benjamin Orr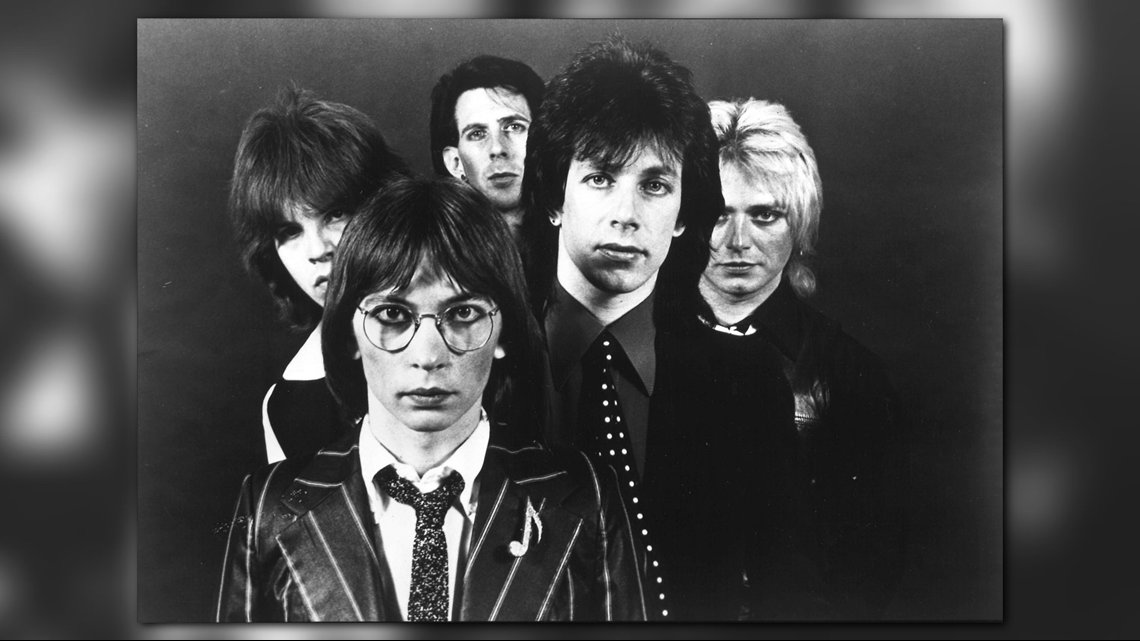 Founded in Boston in 1976 by singer-guitarist-songwriter Ric Ocasek and singer-bassist Benjamin Orr, the Cars were the ultimate New Wave dream machine: a hook-savvy super-charged quintet that fused 60s pop, 70s glam and avant-rock minimalism into a decade of dashboard-radio nirvana.
The band has a connection to Northeast Ohio as Orr was born in Lakewood on Sept. 8, 1947. He died Oct. 3, 2000 in Atlanta and is laid to rest locally at Saint Patrick Cemetery in Geauga County's Thompson Township.
Their epic ride of 13 Top 40 singles across six classic studio albums – including four straight Top 10 LPs – drove the fury and intellectual adventure of punk rock out of the underground, firmly and forever into the American mainstream.
Former hippie-folk compatriots, Ocasek and Orr were a natural yin-yang; Orr polished the terse, melodic grip and experimental vigor in Ocasek's songs with vocal-dreamboat magnetism. Guitarist Elliott Easton's rockabilly and surf-rock flourishes, Greg Hawkes' ingenious keyboard science and drummer David Robinson's futurist-Charlie Watts backbeat completed the design, already honed to maximum appeal on the Cars' 1978 self-titled debut album. That record's first three tracks, "Good Times Roll," "My Best Friend's Girl" and "Just What I Needed," were all hit singles.
Heartbeat City was the Cars' commercial apex, a Number 3 album that featured the ravishing ballad, "Drive," sung by Orr with broken-heart perfection. The group broke up in the late 80s. But the Cars' visionary bravado was evident in the 90s alternative-rock boom.
Nirvana played "My Best Friend's Girl" at their last-ever show in 1994, while Ocasek became a producer-of-choice for younger bands such as Weezer and Bad Religion. Orr's death seemed to end any hope for a Cars reunion – until 2011, when the surviving members issued Move Like This, a new studio album that proved the Cars always sound like this year's model, in every decade.
DIRE STRAITS
Previous induction nominations: Never
Year first eligible: 2003 (2004 ceremony)
Members included: Mark Knopfler, John Illsley, Pick Withers, David Knopfler, Alan Clark, Guy Fletcher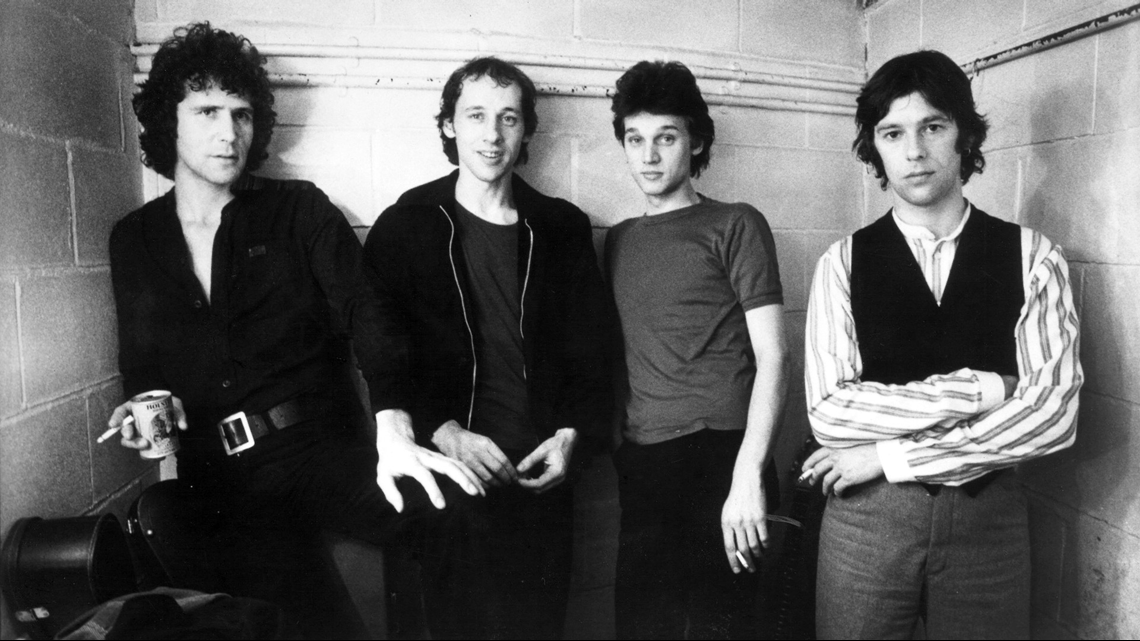 The opening lines of Dire Straits' "Brothers In Arms" – "These mist-covered mountains / Are now home to me / But my home is the lowlands / And always will be" – describes the career arc of a band who never lost touch with the inspiration and wellspring of creativity with which they began, even as they ascended the heights of worldwide phenomenon under the leadership of lead guitarist Mark Knopfler.
Their common touch was evident in their first hit single from 1978, "Sultans Of Swing," which described with affection a group of musicians who play for the love of the sound they ensemble rather than fame or fortune.
Counterpointed with Knopfler's stinging, uniquely melodic, and clean-edged guitar, Dire Straits stood in direct contrast to the punk rock enveloping London at the time; and they would refine their aspirations continually until the landmark 1985 Brothers In Arms.
Capturing the MTV cultural moment with "Money For Nothing," simultaneously satirical and yet open-hearted to how the public perceives a musician, or sympathetically illuminating the sibling warfare and unlikely hard-won battlefield camaraderie of quarreling nations that scars our times in the title track, Dire Straits – and later, Knopfler's solo career – presented a music that never shied from the complexities of the human relationship, or the soaring guitar solos that give us the will to rise above such potentially divisive conflicts.
With a universally acknowledged virtuoso musician, lyrically ornate and emotionally charged, Dire Straits set a standard of excellence and achievement that continues to resonate, a reputation that has only grown through the years. A band for all time.
THE MOODY BLUES
Previous induction nominations: Never
Year first eligible: 1989 (1990 ceremony)
Members included: Justin Hayward, Graeme Edge, John Lodge, Ray Thomas, Mike Pinder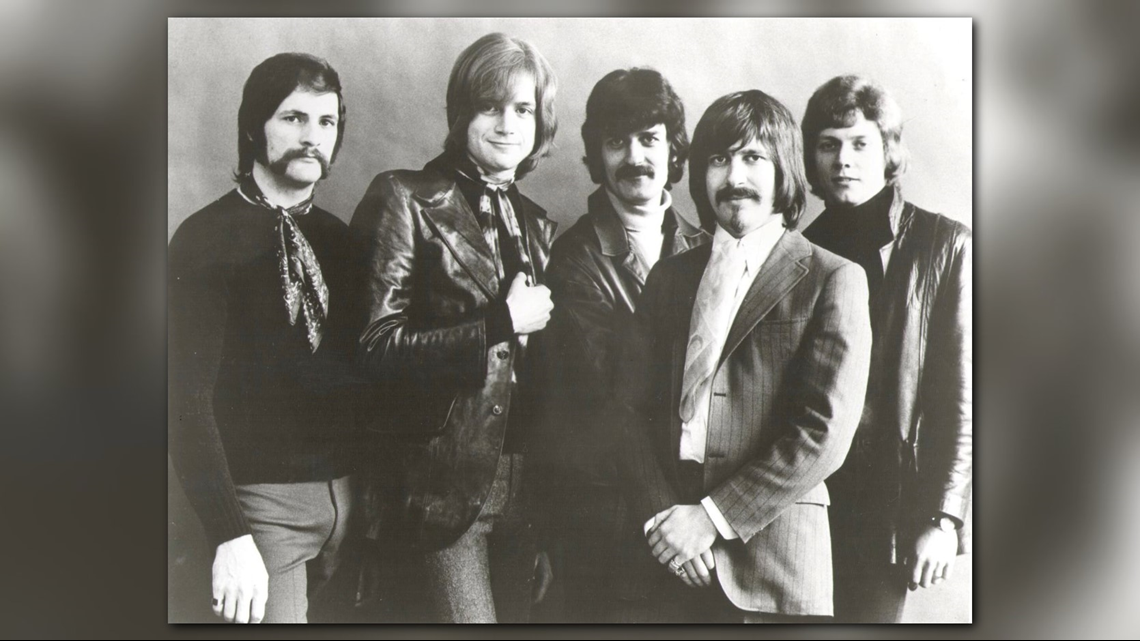 Formed in 1964 by Ray Thomas, Mike Pindar, and Graeme Edge the Moody Blues quickly rose to fame as a rhythm and blues based rock band, and within the year they had scored their first hit single in the UK, "Go Now." What happened next is one of the all-time great transformations in rock and roll history.
After the addition of John Lodge and Justin Hayward in 1966, the band worked with producer Tony Clarke to record the landmark concept album Days Of Future Passed. The record mixed symphonic orchestrations with a psychedelic rock band singing soaring melodies, spawned the hit single "Nights In White Satin," and is considered one of the very first progressive rock albums. This new sound influenced an entire generation of musicians including Yes and Genesis.
Throughout the adventurous explorations of the next nine albums the Moody Blues produced numerous hit songs that became staples of FM radio. In 1986, the Moody Blues teamed with veteran producer Tony Visconti to record The Other Side Of Life, and their innovative use of synthesizer timbres and textures opened up an entirely new sonic palate to explore. The album yielded the top ten hit "Your Wildest Dreams," and the band suddenly had an entirely new teenage fan base watching them on MTV.
In 2013, a Rolling Stone magazine reader poll listed the Moody Blues as one of the top 10 bands that need to be inducted into the Rock & Roll Hall of Fame. So, whether you are a fan of progressive rock Moodies from the 1960s, the band's synthesizer driven rock sounds of the 1980s, or have recently seen them playing for multiple generations of rock and roll fans, one thing is clear – the Moody Blues have created more than 50 years of exhilarating and significant music that has influenced countless musicians and rocked fans around the world
NINA SIMONE
Previous induction nominations: Never
Year first eligible: 1986
Members included: Nina Simone

"Nina could sing anything, period," Mary J. Blige told Rolling Stone when the magazine named Nina Simone one of the 100 Greatest Singers of All Time. And in some ways, that astonishing, unclassifiable range has made it especially difficult to assess Simone's legacy – often considered a jazz singer (particularly because of her masterful piano playing), she was classically trained, yet her nickname was "The High Priestess of Soul."
If anything, she claimed that she was a folk singer, and her dazzling repertoire – Israeli folk tunes, compositions by Bertolt Brecht and Kurt Weill, songs by the Bee Gees and Leonard Cohen and George Harrison, traditional ballads, spirituals, children's songs – remains unparalleled.
Simone's music provided the true soundtrack to the civil rights movement, and her inspiration as an artist and an activist has been celebrated by Lauryn Hill, Kanye West (who has frequently sampled her work), John Legend, Common, and Alicia Keys, who once wrote that "she made me want to live life, learn and experience it earnestly and use my voice to say SOMETHING!"
Simone's groundbreaking compositions like "Mississippi Goddam" and "Four Women" defined a songwriting voice that was proudly, defiantly black and female. Her radical rearrangements of other songs have been covered by everyone from George Michael to the Animals, Whitney Houston to Jeff Buckley. An icon whose tortured life was the subject of an Oscar-nominated documentary, Nina Simone was a unique creative force. "She was an overwhelming artist, piano player, and singer," said Bob Dylan. "Very outspoken and dynamite to see perform...the kind of artist that I loved and admired."
SISTER ROSETTA THARPE
Previous induction nominations: Never
Year first eligible: 1986
Members included: Rosetta Nubin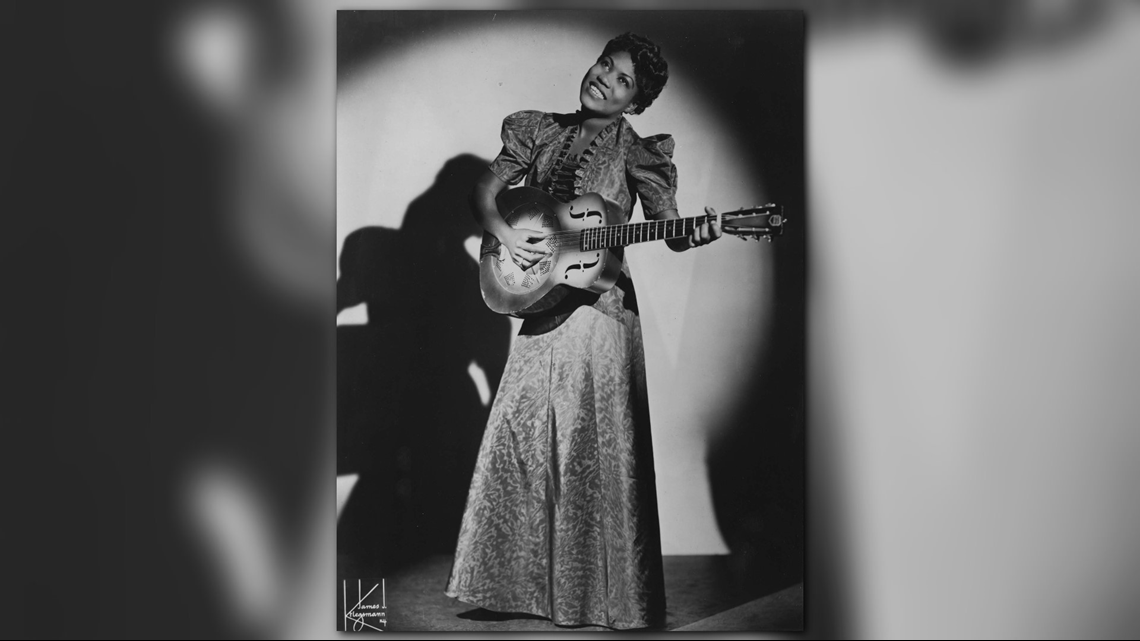 Sister Rosetta Tharpe is one of the essential figures in the history of rock and roll.
If she had not been there as a model and inspiration, Elvis Presley, Little Richard, Johnny Cash, Jerry Lee Lewis and other rock originators would have had different careers. No one deserves more to be in the Rock and Roll Hall of Fame.
Sister Rosetta became famous in 1938 with a record called "Rock Me." She was a star through the 1940's, a black woman singing gospel music to the accompaniment of her own driving electric guitar-howling and stamping.
Her 1945 recording "Strange Things Happening Every Day" has been credited as the first gospel song to cross over to the "race" (later called "R&B") charts – reaching Number Two and becoming an early model for rock and roll. She was a sensation, selling out arenas into the 1950's.
In 1947, Sister Rosetta was the first person to put a 14-year-old boy named Little Richard Penniman on a stage. It changed Little Richard's life – he decided right then to become a performer. In 1951, 25,000 fans paid to attend her on-stage wedding at Griffith Stadium in Washington DC. She was the hottest act on stage with a guitar.
She became a model for Elvis Presley, Carl Perkins and Jerry Lee Lewis. Johnny Cash called her his favorite singer and biggest inspiration. By the early '60s, the musical revolution she inspired had forgotten her – so Sister Rosetta went to England and played electric guitar for the young blues fans of London and Liverpool.
Without Sister Rosetta Tharpe, rock and roll would be a different music. She is the founding mother who gave rock's founding fathers the idea.